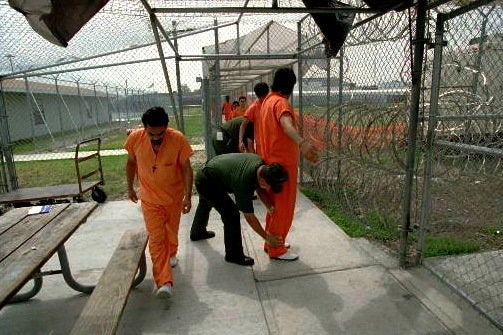 The Washington Post is set to roll out a major investigative series by by prizewinning reporters Dana Priest and Amy Goldstein, this time centering on the hot-button issue of immigration.
The upcoming series will revisit a past topic -- the United State's detention program. But instead of looking at terrorist suspects being sent to Guantanamo Bay, the Post is now exploring the government's detention of undocumented immigrants, presumably by the U.S. Immigration and Customs Enforcement.
According to a source with knowledge of the Post's upcoming articles, Priest and Goldstein's work, which is set to appear in print this upcoming Sunday, will be "stronger" than earlier investigative stories.
The Post has been reporting extensively on the terrorist detention issue since 2002. In 2004, Priest reported that the Defense Department had approved tougher interrogation techniques for use at the Guantanamo Bay prisoners, including sleep deprivation, exposing detainees to heat, cold and "sensory assault," and the use of loud music and bright lights.
The upcoming piece will look at a program that has gone relatively untouched upon by investigative reporters. Immigrant detention has been a major political issue since the 1996 Anti-terrorism and Effective Death Penalty Act. Since then, civil rights groups have protested as immoral the detention of immigrants awaiting their citizenship decisions or deportation. The issue has become increasingly controversial in recent years as the size and scope of the detention program has grown. In February 2006, the New York Times reported that a subsidiary of Halliburton had been awarded a $385 million contract to build "temporary immigration detention centers" in the United States for the Homeland Security Department.
That Priest is tackling the subject is particularly noteworthy in the journalism world. Her work exposing the both the government's rendition program and the poor conditions at Walter Reed medical center has been critically acclaimed and award-winning.
REAL LIFE. REAL NEWS. REAL VOICES.
Help us tell more of the stories that matter from voices that too often remain unheard.