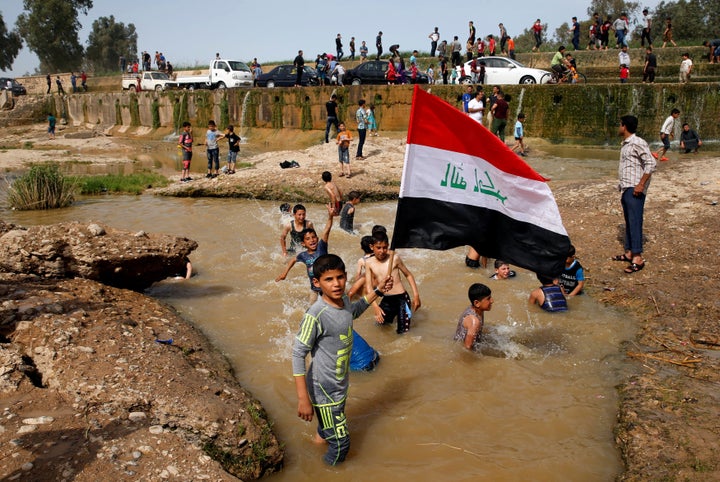 Nobody expected at the beginning of 2014 that a Salafist terrorist group would claim territory occupied by millions, declare a sovereign state and for three years, tie up the national armies in three Middle Eastern nations as well as elite advisors from a 60-nation coalition. It all happened so fast, punctuated by horrific, unprecedented tactics of the so-called Islamic State fighters as they advanced.
Now is the time for a reality check on the tactics and strategy Western nations are using. The U.S.-led coalition and the Iraqi army have reclaimed Mosul and by year's end, ISIS control of Raqqa will be no more. But the end of the war against jihadists is nowhere in sight.
Iraqi Prime Minister Haider al-Abadi announced the end of the battle against ISIS in Mosul on July 9, but scores of terrorists are still hiding in tunnels and catacombs of the Old City. This week, 20 were pulled from a tunnel, including three Turkish women. Bloody campaigns are expected to recover the smaller Iraqi cities of Tal Afar, 40 miles west of Mosul, and Hawija, near Kirkuk. The combat gains in northern Raqqa have slowed, according to Ali Sada, editor of Daesh Daily, an ISIS-focused news aggregator. The versatile terrorists have effectively deployed armed drones and new, motion-sensitive improvised explosive devices. ISIS has surprised the world by continuing to fight in Mosul in insurgent mode, becoming almost like a Matryoshka doll, portending that the battle for Raqqa will be costly.
But make no mistake: we cannot defeat jihadist terrorism simply by waging war on the field and overpowering the enemy. The key is to pursue a long-term strategy with the appropriate measures and policies applied to eradicate and prevent future terrorism. Here are some of the challenges that military commanders and government officials must overcome on the ground. 
'We were better off when ISIS was ruling Mosul because we were not threatened, and our possessions were not confiscated.'

Mosul resident
1. Ensure security for returnees.
For starters, ISIS is adept at blending into societies and continuing its terror by hiding among the local populations. For example, as a Kurdish official told The Independent, during a recent funeral in Rabia, a city close to Mosul, more than a dozen ISIS suicide bombers were discovered. The invisible ISIS sword hovers over the heads of local populations from Baghdad to the Kurdish region. The fear of ISIS coming back needs to be neutralized as soon as possible. People in the liberated areas must feel safe.
2. Restore trust in officials.
Likewise, the local population must have confidence and trust in the liberators. There are rumors of illegal executions in Mosul by the Iraqi Security Forces, and the alleged videos of them torturing civilians and throwing bodies off buildings do not help. Justice must exist to establish trust. Additionally, the corruption of officials, which has been endemic in Iraq since the days of Saddam Hussein, remains a great concern in the region. The rule of law must be sustained without bias.
3. Diminish sectarian and ethnic conflicts to ensure that ISIS cannot use them to its advantage.
Building rapport between government forces and locals is crucial. Sunni Arabs in Mosul are deeply disturbed by the alleged inappropriate actions of the security forces. A local Arab man recently told me during a phone conversation that he was blackmailed by the members of the security forces, who demanded he move his family out of his home or else be prosecuted as a former ISIS member. "At least we were better off when ISIS was ruling Mosul because we were not threatened, and our possessions were not confiscated," the man told me.
Blocking ISIS fighters attempting to flee is crucial.
4. Clear, hold and build.
General David Petraeus's slogan a few years ago was "clear, hold and build." "Clear" means removing terrorists from the neighborhood. "Hold" means beefing up local police and military defenses. "Build" means providing jobs and economic infrastructure. One of the reasons ISIS was able to recruit thousands of locals in Syria and Iraq was its control over the economy, forcing people to work for them to be able to feed their families. Rebuilding demolished towns and reestablishing the local economy are essential parts of this war.
5. Shut down ISIS cyber access.
Although many internet companies are trying to wipe terrorist content from their platforms, ISIS, al Qaeda and many other groups still push out thousands of ideological messages a day online. For example, the Turkish version of ISIS's official Telegram application channel where ISIS claims its attacks and provides daily updates has not been shut down for the last 10 days. Recently, ISIS was able to release and distribute a new volume of its online magazine, Rumiyah, in several different languages, along with a "lone wolf handbook" and a promotional video asking its followers to carry out attacks in the West. Social media and other internet companies must find ways to immediately block terrorist use.
Al Qaeda ― through its new brand in Syria, Hay'at Tahrir al Sham ― is already trying to take advantage of ISIS's defeat.
6. Block fleeing fighters heading for Europe and other territories.
Even though thousands of ISIS fighters have been killed, many fighters will try to establish themselves around the world, including in North Africa, South Asia, Turkey and Europe. Blocking ISIS fighters attempting to flee is crucial.
No doubt there will be a vacuum after ISIS. Iran has been trying to fill this vacuum by supporting Syrian President Bashar Assad's regime and local Shiite militias. Additionally, al Qaeda ― through its new brand in Syria, Hay'at Tahrir al Sham ― is already trying to take advantage of ISIS's defeat. It is welcoming fleeing ISIS fighters regardless of past conflicts.
Without providing real security in the region and easing the tension and conflicts among the populations in Iraq and Syria, particularly between Sunni and Shiite Muslims, there is a good chance terrorists will be able to recruit more young people. As soon as the cities are liberated, just and transparent security measures must be put in place. Job creation for the locals and education programs for the youth must be implemented straight away.
We can win this war, but we must choose innovation and adjust our tactics and policies for a better today and tomorrow. 
Calling all HuffPost superfans!
Sign up for membership to become a founding member and help shape HuffPost's next chapter
BEFORE YOU GO
PHOTO GALLERY
The Battle For Mosul