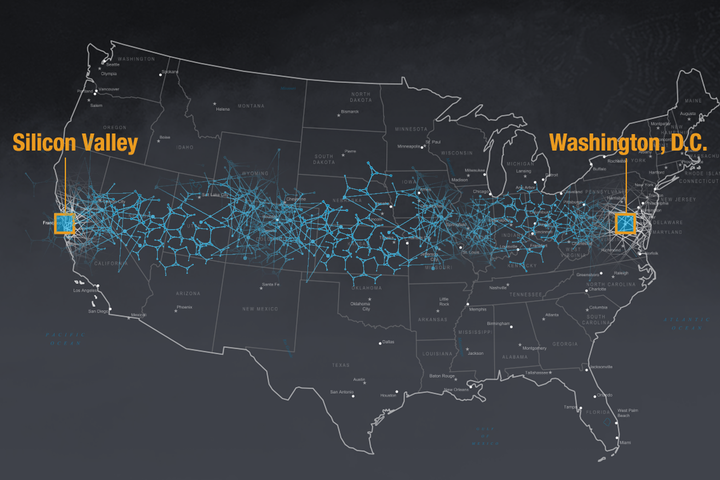 We are nearing an election that is certain to bring change to Washington. Regardless of the outcome, the next administration must continue the efforts within the national security community to leverage commercial innovation to complement traditional, government developed technologies. This rapid commercial technology development cycle offers the national security community a critical competitive advantage over its adversaries. For instance, Secretary of Defense Chuck Hagel first proposed–The Third Offset strategy. Private sector innovation is central to this initiative that calls for the technological superiority of our armed forces over existing and emerging threats. Current Defense Secretary Ash Carter operationalized this approach when he rolled out the Defense Innovation Initiative (DII).
With the U.S. at the epicenter of global technological innovation, the strategy should be a clear and obvious choice. Both our traditional adversaries and evolving non-state actors are exploiting technological innovation. However, what is simple in theory isn't always easy in practice. We have a proud and successful innovation legacy within the federal government. However, these institutions and processes that serve us well in some capacities can also impede new players and ideas. We must align past processes with the current landscape to optimize to meet the demands of the mission of protecting our nation.
Once upon a time, the federal government led the proverbial innovation train. Just recall our roles in two world wars, the post-war space race, and co-opts from defeated enemies. The majority of national security-related research & development emanated from the government. A Brookings Institution study suggests that 18 of 25 tech innovations from the 1950's and 60's were inspired by or emanated from government research. However, this is far from true today. A vast majority of innovative, groundbreaking R&D is funded by the private sector for commercial use by investors and corporations. The government remains a potentially lucrative market, but is not critical to success for many technology firms. Motivations and timelines for adoption are vastly different. To rapidly assess and adapt commercial innovations to support our national defense, the federal government's approach must adapt to reap the benefits.
Irresistible force meets immovable object
Given the global race for innovation, the driving focus in Silicon Valley, Austin or Boston is on getting solutions to market as fast as possible—fueling more growth and innovation. Even at the enterprise level, solution areas like cybersecurity and digital information analysis solutions are quickly developed and deployed. However, processes designed to protect the government often stand counter to this agile evolution, presenting commercial innovators with a series of costly, seemingly impenetrable fortresses. These include congressional oversight and funding, five year defense plans, program acquisition structures, mission needs statements and detailed requirements analysis. And that's all before the 'fairness' apparatus arrives in the forms of competitive requests for information (RFI's), quotations (RFQ's) and proposals (RFP's). On its heels are the various DFAR clauses, policies, contract structures, and old buying habits—all of these well intentioned processes fall like an avalanche upon innovation cycles. Many of these structures support 'cost plus fixed fee' or other profit controlling contract mechanisms designed for specification work on weapon systems not commercial tech use.
Further complicating these processes, funding often flows through contract vehicles controlled by government contractors less familiar with commercial tech, competing for LPTA, or "Lowest Price, Technically Acceptable" awards and incented to provide labor-centric solutions. Recent additions to the fortress are the emerging policies across government generated to address cybersecurity. Some of these directives drive the unintended consequence of making innovation cycles at commercial speed a total impossibility. Cloud computing is most certainly one to watch as the procurement requirements force vendors through a gauntlet of activities not seen elsewhere. Net: this landscape often makes the important technology players and innovators reticent to play, because the time to develop a solution is slow and likelihood of success is far diminished.
Mistakes are the portal to discovery
Even so, we can't place the entirety of the problem on government processes alone. Past commercial technology insertion does have a checkered history in DoD. The Enterprise Resource Planning (ERP) implementations in the 2000's were completed, but were entirely too slow and costly. All parties had a hand in it, but the structures outlined above created a poor environment for success. The government has used commercial database products often originating from DoD R&D efforts. In some more publicized cases, some companies have used program position to leverage higher fees after solutions were operational. We've even seen the government purchase and implement this technology only to find out they don't own the information they acquired with it. And now we have commercial tech companies engaged in high profile law suits against their government customers ostensibly for not using their proprietary technology. In response, we've seen a rush to embrace free and open source software, but this tends to foster an organic technology development mindset for all problems which often yields a slow and costly result. Through all this noise, we've learned a great deal. We can make the journey more cost effective and reach the destination more rapidly to meet the mission needs.
The DII with its Defense Innovation Unit Experimental (DIUx), are manifestations of the innovation imperative in the DoD, as is the Silicon Valley Innovation Program (SVIP) in the Department of Homeland Security. SOFWERX is an institution created to open the lines of communication from technology companies and decision makers at U.S. Special Operations Command (SOCOM). The purpose of opening up these previously guarded doors is to assist with collaboration, innovation, prototyping and exploration with industry, labs and academic partners with an end-goal of creating rapid solutions that enhance mission success. While these initiatives are a step in the right direction, they can be a distraction from the true issue at hand. As long as the resource flows and processes remain the same, we'll all be frustrated with the outcomes.
A most encouraging example is the CIA's selection of a private sector capability from Amazon Web Services as its cloud infrastructure partner under the commercial cloud or C2S contract. This addresses goals to lower infrastructure cost, reduce complexity and create easier to secure environments.
It's time to move faster because information technology is leaping forward at a fierce pace. Significant advances around in-memory high performance computing, processing and exploitation of information in mobile/disconnected operations, advanced analytics on big data with machine learning predictive analysis and natural language processing on unstructured documents, and graph database network analysis for uncovering relationships between nefarious actors and entities have become mission-essential discriminators. The ultimate goal is to bring this sizable investment in technology innovation to bear on the challenges faced by those charged with the all-important mission of national security.
Bottom line: industry and government must join forces instead of trying to "out-innovate" each other. The conversation should be ongoing to work collaboratively on creating the technology that meets the need of the mission. Policymakers at both ends of Pennsylvania Avenue need to encourage collaborative efforts with new policies, driving effective engagement and putting real dollars behind it.
Leadership will make the difference
To create more success, we must turn ideas into action. There are some well celebrated successes but just not enough. We can create all the excuses in the world—acquisition, traditional "waterfall" methods of systems development, program funding, etc. It's really a leadership issue. I recall former Secretary of Defense Robert Gates facing the acquisition machine when he worked to get Mine-Resistant Ambush Protected (MRAP) vehicles in the field to blunt the casualties driven by IED's in Iraq. In short, he told the defense procurement engine to resource the MRAP's and get them in the hands of the troops now or he would take his own actions to do so. The defense professionals made it happen.
Now more than ever, information is the key differentiator on the battlefield. Less than the best is simply not acceptable. We need a call to arms to bring commercial tech more broadly to the equation—not to replace all the work done today, but to complement it with the best our industry has to offer.
I invite you to join us as we explore the wave of change on the horizon with leaders from government and industry at the 5th Annual SAP NS2 Solutions Summit scheduled for October 25th in Falls Church, VA.
For more information, visit: SAP NS2
Calling all HuffPost superfans!
Sign up for membership to become a founding member and help shape HuffPost's next chapter