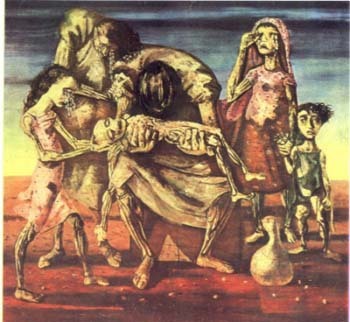 Be it in Ukraine, surrounded by the second largest stash of nuclear weapons on earth outside the U.S., or among the legions of child soldiers in Somalia, Congo and Sudan, or with bad luck, back on the Indochinese peninsula up to Bangladesh.
What better moment then for Paris, the once colonial capital and repeated site of peace treaty negotiations to host perhaps the greatest single artwork of the Twentieth Century dedicated to ending war, Candido Portinari's Guerre et Paix (War & Peace), the multi-panel mural that has for 50 years hung in the United Nations headquarters in New York.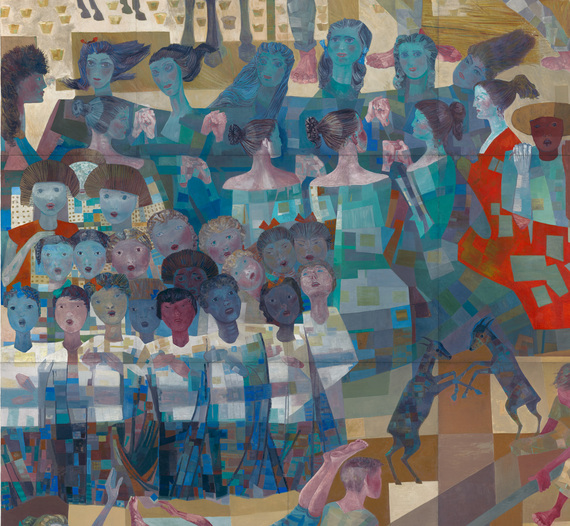 Neither abstract nor representational Portinari's masterwork blends chromatic pastels laid on in thick, angular lead-based impastos that convey sense of calm and conflict. Women grieve. Men scream. Mist creeps up. Families gather. The world and we are confronted with the endless dilemma: to arm and slay or to reflect and negotiate.
Freshly restored in Brazil, Portinari's homeland, and hung in Rio de Janeiro's municipal theatre before being flown on enormous cargo planes to Paris, War and Peace is on display in Paris's Grand Palais (which also houses just now a large collection of the late Robert Mapplethorpe's sometimes--no mostly--shocking photographs) until June 9. Normally hung on each side of the entryway to the UM General Assembly War and Peace normally can only be seen by UN delegates due to current security controls. Thus, the display in Paris offers the most intimate contact and chance to study the multiple stories Portinari tells in the work, depicting peoples and scenes from all over the earth.
Labeled "our unknown celebrity" by O Globo, Brazil's leading newspaper, two decades after his death, Portinari remains relatively little known in the United States--despite a rich trove of portraits commissioned by some of America's most important figures during the 1930s--from pianist Artur Rubenstein and violinist Yehudi Menuhin to the Rockefeller family. He was also commissioned to decorate the Hispanic branch of the Library of Congress just before the outbreak of World War II.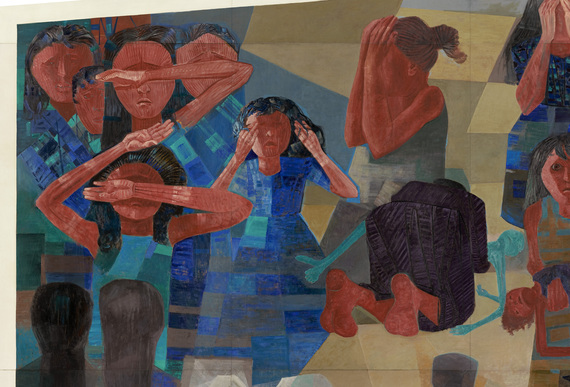 But once the war had ended, Portinari--the son of immigrant Italian coffee plantation workers--joined the Brazilian Communist Party, a reflection of his growing social conscience for the condition of the poor working in fields and factories. Not surprisingly he immediately lost favor in the United States. Portinari was incessantly hounded by the Brazilian police, partially due to pressure from the American government and took refuge in Uruguay and Argentina before returning to France, where he had studied during the Depression. His work was shown widely in Europe until he was commissioned to paint War and Peace.
Supported by two of Brazil's most important architects, Lucio Costa and Oscar Niemeyer, Portinari was invited to return to Brazil by a new regime in 1951 and was commissioned to begin work on War and Peace as a gift to the UN. Already gravely ill from saturnism, the so-called painter's sickness resulting from too much contact with lead based paint, he died in 1962. Because of his past membership in the Brazilian Communist Party Portinari was forbidden to come to New York to see the inauguration of the murals.
REAL LIFE. REAL NEWS. REAL VOICES.
Help us tell more of the stories that matter from voices that too often remain unheard.