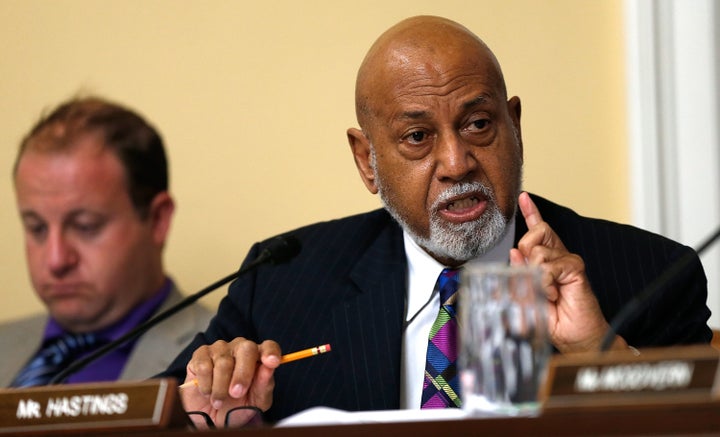 WASHINGTON -- Florida Rep. Alcee Hastings on Thursday became the latest Democrat to split with President Barack Obama over Iran, stating that he would not only vote down the nuclear agreement with the country, but would also draft an authorization to allow the U.S. to go to war with it to prevent it from getting nuclear weapons.
Hastings said he plans to introduce his war authorization on Sept. 8, the first day Congress returns from recess. The introduction will likely come before lawmakers can hold a vote on whether to rescind the president's ability to waive sanctions against Iran, as required in the nuclear deal. The Florida Democrat called it an "absolute necessity" to clear the president's path to use military force against Iran, "regardless of how Congress votes" on the overall Iran deal.
It is looking increasingly unlikely that Congress will have the votes necessary -- a two-thirds majority in both the House and the Senate -- to kill the nuclear agreement that was reached last month between Iran, the U.S. and five world powers. This means that Hastings' attempt to authorize military action against Iran is a forward-looking move aimed at pushing the next president to abandon the deal.
There is already a war authorization against Iran floating around this House, authored by fellow Democrat John Larson of Connecticut. The measure drafted by Larson, who plans to back the nuclear deal when it comes up for a vote, gives the president permission to use military intervention against Iran if its nuclear program becomes noncompliant with the terms of the agreement. 
Estimates by military experts say that airstrikes against Iran's nuclear facilities could set their program back two or three years, but could not irreversibly destroy the country's nuclear abilities. "The plain fact is, no one can make Iran unlearn the scientific and nuclear expertise it already possesses," national security adviser Susan Rice said at a conference hosted by the American Israel Public Affairs Committee, a pro-Israel lobby group, in March.
Hastings' push for a war authorization against Iran comes as other critics of the nuclear deal fire back at Obama for implying that opponents of the agreement are pushing the U.S. toward military conflict with Iran.
When Sen. Chuck Schumer (D-N.Y.) came out against the deal, he explicitly defended his decision as one in support of diplomacy over military action. "I will vote to disapprove the agreement, not because I believe war is a viable or desirable option, nor to challenge the path of diplomacy," he wrote in statement. "It is because I believe Iran will not change, and under this agreement it will be able to achieve its dual goals of eliminating sanctions while ultimately retaining its nuclear and non-nuclear power." Schumer insisted that the U.S. could abandon the agreement and renegotiate a better deal with more concessions from Iran.
Regardless, it is unlikely that this Congress will preemptively legalize a war against Iran. The U.S. military has been fighting the Islamic State in Iraq and Syria for over a year, and lawmakers still haven't gotten around to voting on the war authorization drafted by the White House in February.
Calling all HuffPost superfans!
Sign up for membership to become a founding member and help shape HuffPost's next chapter