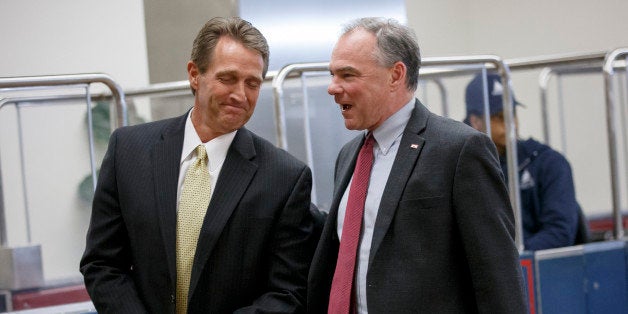 But on Monday, two senators introduced a bipartisan Authorization for the Use of Military Force in an effort to force a debate on the duration, costs and endgame of a military campaign that's already been underway for months.
Sens. Tim Kaine (D-Va.) and Jeff Flake (R-Ariz.) unveiled their proposal exactly 10 months after the U.S. began bombing the Islamic State, also known as ISIS or ISIL. Kaine has been a vocal proponent of a congressional debate and vote on authorizing the war, but Flake has been relatively quiet until now.
"Our military has been waging war against ISIL since last September, and Congress has been appropriating funds to pay for those operations," Flake said in a statement. "It's past time for Congress to formally voice its support of the mission itself."
Their AUMF has a few core provisions. It would allow the use of U.S. military troops only for protecting the lives of U.S. citizens and providing military support to regional partners in their fight against the Islamic State. It specifically prohibits the use of "significant U.S. ground troops in combat," except to protect the lives of U.S. citizens from imminent threat.
The Kaine-Flake proposal also would expire in three years and repeal the 2002 Iraq War AUMF. It includes a clause stating that the new AUMF is the sole statutory authority for U.S. military action against the Islamic State. That last provision is an attempt to move away from a reliance on a sweeping 2001 AUMF currently being used to justify military action against the group.
President Barack Obama has been directing airstrikes against the Islamic State since August. The Constitution requires Congress to declare wars, but in this case, Obama said he doesn't need lawmakers' signoff because of the broad authorities provided under the 2001 AUMF. Lawmakers disputed that point for months, so the president sent them a new, Islamic State-specific AUMF proposal in February, saying he welcomed a vote on it, even if he doesn't think he needs it.
Congress hasn't done anything since.
Democrats say Obama's proposal is too broad, Republicans say it's too restrictive, and their differences have given way to complacency. That means the U.S. is mired in a military campaign with no clear parameters. The U.S. has already spent more than $2.1 billion, participated in more than 4,000 airstrikes and sent 3,000 military personnel to Iraq in the effort.
To expedite an AUMF debate, Kaine and Flake plan to offer their proposal as an amendment to the 2016 State Department reauthorization bill, which the Senate Foreign Relations Committee is taking up on Tuesday.
A Kaine aide said the senator has been in talks with the committee's chairman, Sen. Bob Corker (R-Tenn.), about the AUMF, but didn't say whether Corker supported it or supported attaching it to the State Department bill.
"I appreciate the efforts of Senators Kaine and Flake to advance this important issue," Corker said in a statement. "The challenge remains that any new AUMF must create enough bipartisan consensus to become law and show that our country is united over the need to confront ISIS."
A White House spokeswoman said administration officials are "still reviewing" the proposed AUMF, but praised Kaine and Flake for pushing the issue in Congress.
"Despite promises of a robust debate and discussion, Republicans in Congress have thus far fallen short of their own commitments to give a new authorization to fight ISIL the serious attention it deserves, and we certainly hope today's development represents a turning point," said the spokeswoman.
Since House and Senate leaders have done nothing to make a war authorization debate a priority, lawmakers have few options for trying to force the issue. They can try to attach war authorization language to a bill that's already moving, which Kaine and Flake are doing, or they can look to obscure rules to try to force a debate. Last week, a handful of House lawmakers introduced a bill that could force a war authorization vote later this month thanks to a provision under the War Powers Resolution.
"I challenge my colleagues to demonstrate ... backbone on the issue of ISIL and finally come together to do what's right for our troops and our nation," Kaine said in a statement.
The full text of the Kaine-Flake AUMF is below:
AUTHORITY FOR THE USE OF MILITARY FORCE AGAINST THE ISLAMIC STATE OF IRAQ AND THE LEVANT

SEC. _1. SHORT TITLE.

This title may be cited as the "Authority for the Use of Military Force Against the Islamic State of Iraq and the Levant Act".

SEC. _2. FINDINGS.

Congress makes the following findings:

(1) The terrorist organization that has referred to itself as the Islamic State of Iraq and the Levant and various other names (in this resolution referred to as "ISIL") poses a grave threat to the people and territorial integrity of Iraq and Syria, regional stability, and the national security interests of the United States and its allies and partners.

(2) ISIL holds significant territory in Iraq and Syria and has stated its intention to seize more territory and demonstrated the capability to do so.

(3) ISIL leaders have stated that they intend to conduct terrorist attacks internationally, including against the United States, its citizens, and interests.

(4) ISIL has committed despicable acts of violence and mass executions against Muslims, regardless of sect, who do not subscribe to ISIL's depraved, violent, and oppressive ideology;

(5) ISIL has threatened genocide and committed vicious acts of violence against religious and ethnic minority groups, including Iraqi Christian, Yezidi, and Turkmen populations.

(6) ISIL has targeted innocent women and girls with horrific acts of violence, including abduction, enslavement, torture, rape, and forced marriage.

(7) ISIL is responsible for the deaths of innocent United States citizens, including James Foley, Steven Sotloff, Abdul-Rahman Peter Kassig, and Kayla Mueller.

(8) The United States is working with regional and global allies and partners to degrade and defeat ISIL, to cut off its funding, to stop the flow of foreign fighters to its ranks, and to support local communities as they reject ISIL.

(9) The announcement of the anti-ISIL Coalition on September 5, 2014, during the NATO Summit in Wales, stated that ISIL poses a serious threat and should be countered by a broad international coalition.

(10) The United States calls on its allies and partners, particularly in the Middle East and North Africa, to join the anti-ISIL Coalition and defeat this terrorist threat.

(11) President Barack Obama, United States military leaders, and United States allies in the region have made clear that it is more effective to use the unique capabilities of the United States Government to support regional partners instead of large-scale deployments of United States ground forces in this mission.

SEC. _3. AUTHORIZATION FOR USE OF UNITED STATES ARMED FORCES.

(a) Authorization.—The President is authorized to use the Armed Forces of the United States as the President determines necessary and appropriate against ISIL or associated persons or forces as defined in section _6.

(b) War Powers Resolution Requirements.—

(1) Specific statutory authorization.—Consistent with section 8(a)(1) of the War Powers Resolution (50 U.S.C. 1547(a)(1)), Congress declares that this section is intended to constitute specific statutory authorization within the meaning of section 5(b) of the War Powers Resolution (50 U.S.C. 1544(b)).

(2) Applicability of other requirements.—Nothing in this title supersedes any requirements of the War Powers Resolution (50 U.S.C. 1541 et seq.).
(c) Purpose.—The purpose of this authorization is to protect the lives of United States citizens and to provide military support to regional partners in their battle to defeat ISIL. The use of significant United States ground troops in combat against ISIL, except to protect the lives of United States citizens from imminent threat, is not consistent with such purpose.

SEC. _4. DURATION OF AUTHORIZATION.

The authorization for the use of military force under this title shall terminate three years after the date of the enactment of this Act, unless reauthorized.

SEC. _5. REPORTS.

The President shall report to Congress at least once every six months on specific actions taken pursuant to this authorization.

SEC. _6. ASSOCIATED PERSONS OR FORCES DEFINED.

In this title, the term "associated persons or forces"—

(1) means individuals and organizations fighting for, on behalf of, or alongside ISIL or any closely-related successor entity in hostilities against the United States or its coalition partners; and

(2) refers to any individual or organization that presents a direct threat to members of the United States Armed Forces, coalition partner forces, or forces trained by the coalition, in their fight against ISIL.

SEC. _7. REPEAL OF AUTHORIZATION FOR USE OF MILITARY FORCE AGAINST IRAQ.

The Authorization for Use of Military Force Against Iraq Resolution of 2002 (Public Law 107–243; 116 Stat. 1498; 50 U.S.C. 1541 note) is hereby repealed.

SEC. _8. SOLE STATUTORY AUTHORITY FOR MILITARY ACTION AGAINST ISIL.

This authorization shall constitute the sole statutory authority for United States military action against the Islamic State of Iraq and the Levant and associated persons or forces, and supersedes any prior authorization for the use of military force involving action against ISIL.
This article has been updated to include comments from Corker and the White House.
Before You Go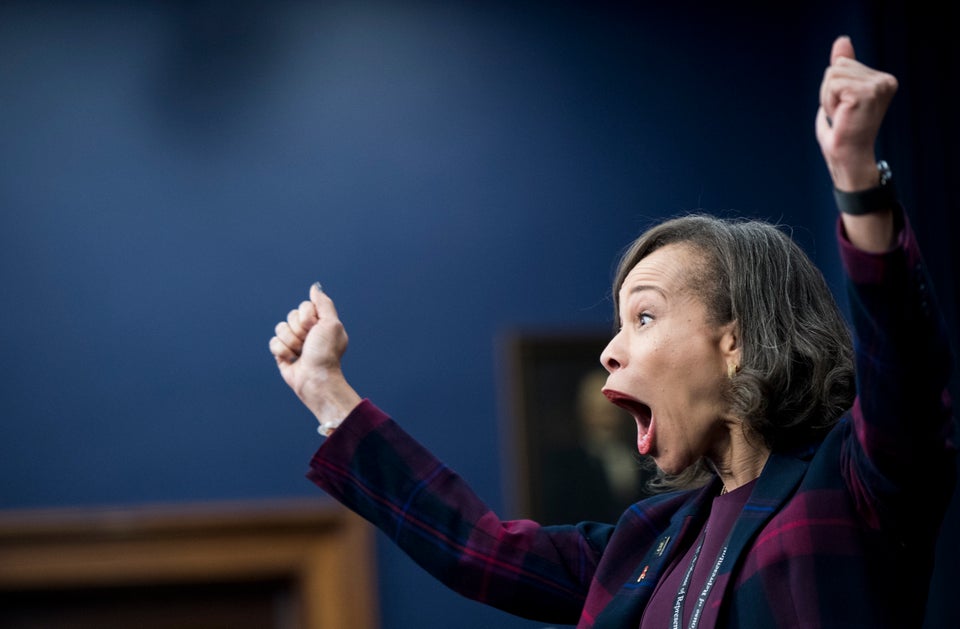 Scenes From 114th Congress And Capitol Hill
Popular in the Community