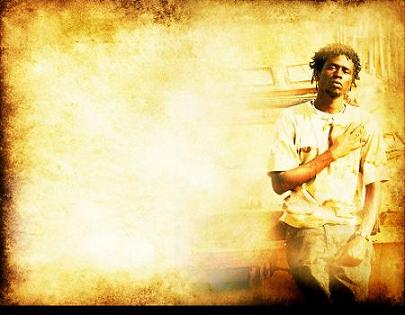 New indie documentary film War Child is a must-see. It tells, often to a rhythmic beat, the sad, courageous story of Emmanuel Jal, a young Sudanese man (he doesn't know his age, but assumes he was born around 1980) who was a child soldier during the Sudanese Civil War of the 80s, and became a successful Hip Hop artist, an astonishing accomplishment since it's a miracle he's even alive.
Jal's family is from south Sudan, where people are so poor many don't have even a shred of clothing to wear. When war broke out, his father became a member of the rebel Sudanese People's Liberation Army, fighting the controlling government for power over the southern region's resources. Jal stayed behind with his mother and siblings after his father went off to fight, until northern forces burned his village to the ground and murdered many of its inhabitants, including his mother. Jal's father was granted permission by the SPLA to have his son taken to Ethiopia to be educated. So Jal boarded a boat with 350 other children, all bound for the same school (or so they believed). But the boat capsized and all but 50 drowned. Jal remembers being underwater and seeing in his mind's eye his mother who continued watching over him, giving him the strength to fight for life. Having no other option, the surviving children walked the rest of the way to Ethiopia, which took about one month, most of them barefoot. Along the way, many died of starvation and dehydration, as the food supply ran out quickly. Jal and the survivors lived on urine and, eventually, after their companions died, by capturing and eating the vultures attracted to the corpses.
Eventually making it to Ethiopian refugee camp, it wasn't long before the children realized they'd been sent not to go to school, but to be trained as warriors, to learn to fire AK-47s and grenade launchers, in service to the SPLA. "But none of us were forced to fight," Jal says, in honesty. After seeing what the other side had done to their villages, to their families, they bore weapons willingly. Jal was eight years old.
Jal gives haunting renditions of firing behind bushes, seeing through the shrubbery men, women and children falling, of viewing the carnage afterward, of knifing one helpless man to death, the momentary sense of power he and his unit felt. He was involved in four large battles. When he'd first arrive at a village, he says, hardest thing was firing that first shot. But once he did, opening the unit's rapid fire, it got easier.
Eventually, a British aid worker, Emma McCune, found and befriended Jal. Jal is very likable, intelligent, and charismatic. In Ethiopia he learned several languages, including English and became a spokesperson for the children -- and the film includes BBC footage of him as a child speaking to reporters on behalf of the children and their role in the war. So, it's no wonder McCune took a liking to him and longed to rescue him. She was able to smuggle him aboard a plane bound for Kenya, and there enrolled him in school, where he realized he had a gift for words and music. He eventually became a Hip Hop star there, and continued his success in the West. Jal now lives in London but returns frequently to his homeland, now post-war, and hopes to build two schools. Portions of proceeds from this film will go to that effort.
Jal's story is told through a collage of current interviews of him, his friends and family, and experts on the Sudanese situation; former BBC interviews of him as a child by journalists covering the war; footage of the devastation done to southern Sudan during the war; and perhaps most beautifully and powerfully Jal's own upbeat reggae / hip hop music, a soundtrack of which is often played over footage of children happily clapping a hand to a gun, marching in steps that sometimes almost look like celebratory dance, of footage of fires eating up entire Sudanese villages, of fallen children, of decomposing corpses that look as if they're melting into the ground. These images range from disturbing to heinous, but somehow the rhythmic beat of Jal's words lessens the impact and makes the footage bearable, while the meaning of the lyrics edifies and provokes thought.
Jal, who attended the premier, though quiet, had an obvious charm and exuded a shy excitement about the movie, his stardom, and the schools he hopes to open in his homeland. But he retains the heavyhearted gaze of someone who's seen the worst of humanity.
Sad and horrifying as much of the action is, it ends up being a beautiful film with hints of hope and promise: at the end, Jal returns home to a jubilantly chanting circle of family and friends, all well and colorfully-clothed, and to a Sudan that looks more charmingly rural than war-torn. And of course the film is very educational. It's worth the cost of admission simply to hear Jal's story, to step inside another culture and experience something far outside of yourself. When I left the theater and walked out into NY with its high-rises and almost ridiculously oversized toy stores and horse-drawn carriages awaiting tourists to transport through Central Park, I found myself in a bit of shock. The best kind of art will do that of course, rattle you loose from your bearings, forcing you to confront what you know.
The movie opens this Friday, November 14th at the Village East cinemas, and in Washington DC on December 5 at E Street cinemas. If you're not in either city - one of the unfortunate problems with small films is getting large-scale distribution - visit the website, where you can download the film or purchase a DVD. Also, visit Jal's MySpace page to hear his compelling music.
REAL LIFE. REAL NEWS. REAL VOICES.
Help us tell more of the stories that matter from voices that too often remain unheard.