I've spent the last several years writing a book titled, War Is Not a Game, which (shameless self-promotion alert) has just been published by Rutgers University Press. The title comes from a protest staged by about 90 members of Iraq Veterans Against the War in 2007 at a Black Expo job fair in St. Louis. There, an Army recruiting booth featured a simulation game called "America's Army," whose website proclaimed itself to be "The Only Game Based on the Experience of Real U.S. Army Soldiers." These 90 real U.S. Army soldiers and real U.S. marines wanted to let it be known that they thought this was a crock.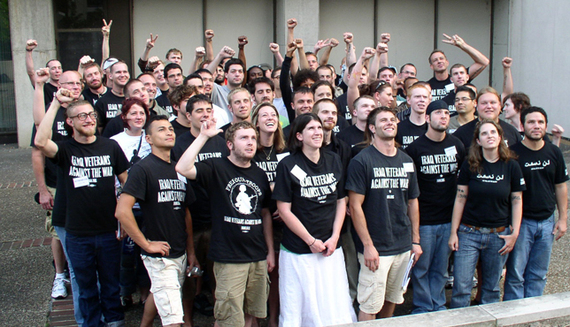 War Is Not a Game tells the story of a group of veterans who fought in Iraq and Afghanistan, then returned home, disillusioned but determined to end those wars. Now, rhetorically, it would be better to write that they fought those wars, then returned home to fight against those wars -- and there's my problem: It is very difficult to talk about this subject without resorting to metaphors and memes of war. Worse yet, it's difficult to talk about much in popular culture without such tropes. War is so often portrayed as a seductive spectator sport, one that civilians seem most eager to engage in when they have, as the saying goes, no skin in the game. So somewhere along the way, I began collecting examples of how war comes to us as a game and vice versa.
At summer camp, I played Capture the Flag, my nephew loves playing paint ball, my father taught me how to play chess; I come from an antiwar family and no one thought anything of it. However, eight Nobel peace laureates did take issue with NBC's reality show, Stars Earn Stripes, in which the likes of Todd Palin and other minor celebs were paired with the likes of Navy SEALS and other past and current warriors to earn money for charity by competing in faux military "missions." The laureates asked the network to cancel the program; NBC didn't, but it lasted only one season anyway.

The whole culture's a little confused about warfare as a form of play, even when we recognize the difference between pretend and real, imagination and action. I'm not in the camp that believes a kid's life is ruined in direct proportion to the number of hours spent hunched over an Xbox, but I do marvel at how we teach our children to come up with better ways than hitting to resolve disputes, then join in such family fun as a Veterans Day event at Old Sturbridge Village a few years past, where "children [could] join the Sturbridge Militia and learn drilling exercises." Fortunately, the muskets weren't loaded.
Also not loaded, at least, not literally are video games, such as Call of Duty: Black Ops (tagline: "There's a soldier in all of us.") which sold 5.6 million copies in its first day on sale in 2010. It's been superseded by newer versions, which sold even better. Our fingers aren't pulling any real triggers either when we play the piquantly named apps, Modern War ("World Domination is now within your grasp"); Overkill ("Overkill is about loving and upgrading your gun..."); Gaza Assault: Code Red; or Bomb Gaza.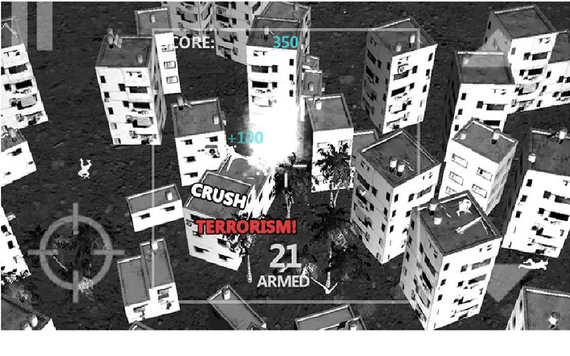 Google pulled these last two from its Play store after a spate of public outrage, appropriately enough, on Twitter.
Nor was anything detonated earlier this month when a retired Army sergeant dropped to his belly, slithered up the catcher's mound, and pretended that the baseball he was throwing in the ceremonial pitch at a SF Giants-Nats game was a grenade. The fans went wild.
The Uzi was loaded, however, when a 9-year-old girl visiting a shooting range on the Arizona-Nevada border lost control of her gun and killed her instructor with a shot to his head. This took place at Bullets and Burgers, an outdoor shooting range, rated highly on TripAdvisor, and described on its website as "superior to all other Las Vegas ranges with our unique 'Desert Storm' atmosphere and military style bunkers." Visitors can choose from a wide range of fully automatic rifles, including the Barrett Sniper Rifle, the Browning BMG .50 Cal (aka, the deuce), and the Desert Eagle, as well as "the actual firearms used in several Hollywood hits including The Terminator and Rambo II." This adventure doesn't come cheap, but along with the opportunity to fire a big gun with a sexy name, you get eye/ear protection and burgers and fries. I'm not making this up, though I wish I were. I know there are countries where children armed with submachine guns roam and kill and not by accident, but I can't imagine a sane culture in which a nine-year-old child needs to learn how to handle an Uzi.
So apparently war is a game. Because here's my grandson, age 7, calling me away from my computer to play cards. His game of choice? You guessed it: War. He deals, we play, I note the irony. But after half-an-hour, we agree that War is boring. He forfeits and we go down the street to shoot some hoops.
Calling all HuffPost superfans!
Sign up for membership to become a founding member and help shape HuffPost's next chapter