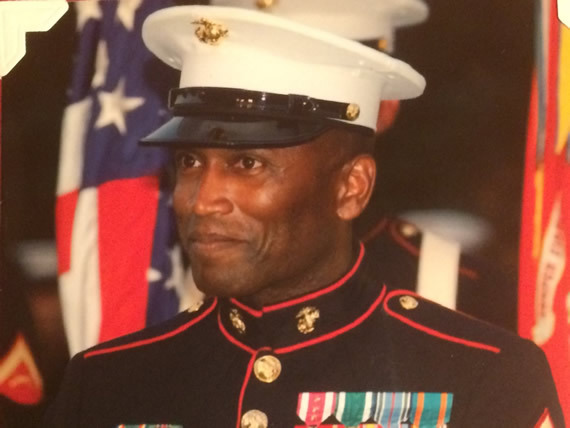 Who could have imagined that a poor, black, immigrant child could become the top enlisted leader in the Marine Corps and a U.S. Ambassador? Our founding fathers envisioned that the United States would be exactly the place where that could happen. And many great Americans, who helped me along the way because they too believed in equal opportunity, made it happen.
I was born in the 1950s to a poor, single, teenage mother on the Caribbean Island of Trinidad and Tobago. I was named me after a Cricket player who was famous there. There was domestic violence and turmoil in my home and I often stayed with relatives. My best childhood memories include nighttime visits with my grandfather to the beaches of rural Toco and watching American military films. I collected returnable bottles to earn the price of admission.
My mother left for the United States to become a domestic worker and sent for me a few years later. The first photo ever taken of me was for my immigration paperwork. I remember waiting in line for my visa at the U.S. Embassy where my office is today. At age 14, I flew to the United States as an unaccompanied minor.
It was 1970, the height of the anti-Vietnam War demonstration period, and our housing project in the Kenilworth neighborhood of Northeast Washington D.C. was plagued by drugs and violence. But I kept my head down and took an after-school job cleaning government office buildings. On my walk to work every day, I passed a Marine Corps recruiting office. I would slow down and look in the window, thinking of those war movies, and one day the recruiter came out and said, "Why don't you come in?"
I joined the Marine Corps at age 17 and spent my 18th birthday at boot camp. I thrived there: I found the sense of belonging, family and structure that my life had lacked. I started out as an airplane mechanic, worked hard and moved up the ranks, often ahead of schedule. Soon I became a naturalized U.S. citizen.
By 2003, I was Senior Command Sergeant Major for the 3rd Marine Aircraft Wing, responsible for some 17,000 Marines. We were staged in the Kuwaiti desert preparing for the U.S. invasion of Iraq when I got a surprising phone call summoning me back to Washington to be interviewed for the post of Sergeant Major for the entire Marine Corps, about 250,000 Marines.
I flew back quickly for the interview and returned immediately to Kuwait to take part in the invasion. Two months later I was selected to be the 15th Sergeant Major, the top enlisted Marine in the entire corps.
On the June 2003 night of my posting to that position, I drove past some of the office buildings I used to clean on my way to the ceremony at the Marine Barracks in Southeast DC, not far from the housing project where I grew up. I held the post of 15th Sergeant Major of the Marine Corps for four years, during the height of the wars in Iraq and Afghanistan.
In 2007, I retired after 34 years. In 2008, I spoke at the 2008 Democratic National Convention in support of Barack Obama. And in 2014, I was confirmed to represent him as U.S. Ambassador to Trinidad and Tobago, the country of my birth.
My story was made possible only by American leaders who saw my potential for making a contribution to this society, free of prejudice against my poverty, my race, my accent and my immigrant status. They mentored and encouraged me, understanding that what creates a great community, a vibrant organization and a magnificent country is the vision to give everyone an education and the opportunity to succeed.
I am humbled and honored to represent our nation as a U.S. ambassador. I'm also proud to be named a Great Immigrant by Carnegie Corporation of New York. Millions of immigrants like me have enriched our country, broadened our diversity and strengthened our democracy. Now I strive every day to make the world a place where everyone has the kind of opportunity I had.
The author was named a "Great Immigrant" by Carnegie Corporation of New York as part of the philanthropic foundation's July 4 tribute to naturalized citizens.

John L. Estrada is the U.S. Ambassador to Trinidad and Tobago. He served 34 years in the U.S. Marine Corps retiring as the 15th Sergeant Major, the top enlisted Marine from 2004 to 2007 during the height of the wars in Iraq and Afghanistan.
Calling all HuffPost superfans!
Sign up for membership to become a founding member and help shape HuffPost's next chapter