There is war on the streets of New York.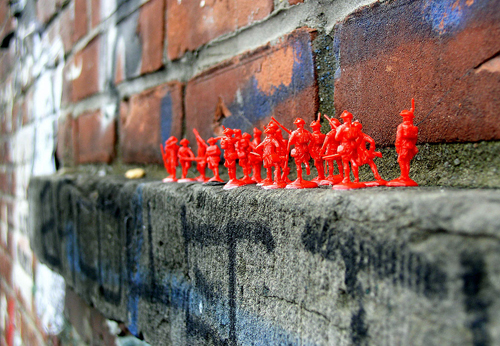 © Jaime Rojo
For two years, street artist General Howe, a high school art teacher and historian, has been staging the Battle of Brooklyn by installing war scenes in New York where war was actually fought hundreds of years earlier. Mounting miniature memorials, General Howe carefully glues toy plastic soldiers in period uniforms on window sills, lamp posts, and inside drain pipes. Other times he places handmade plaques, grave stones, wheat-pasted skeletons and even bones of papier-mâché on historical sites.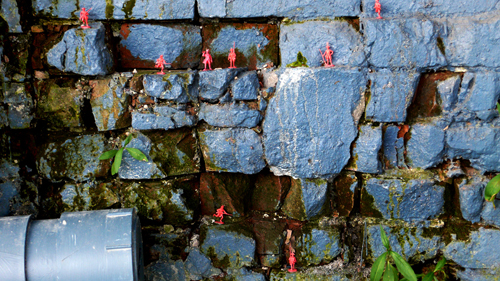 © Jaime Rojo
Part childhood fantasy play, part homage, his tiny staged wars can provoke a passerby and provide a window to a world where soldiers hide behind giant soda cans and troops get stuck in chewing gum. Playtime aside, inside the mind of this most unusual of street artists lies a deep commitment to honoring the sacrifices of soldiers of war. He deploys installations to teach forgotten history -- and to rattle the apathy toward the current US wars.
In a recent interview with us, the General gave us his view of the battle.
"I make war in Brooklyn. Did you know the Revolutionary War was fought in Brooklyn? Did you know we're at war in Afghanistan and Iraq? It's easy to forget we're battling in foreign lands against invisible adversaries. I bet you know more about Call of Duty: Modern Warfare 2. This is why I make war in Brooklyn."
BSA: How did you get interested in U.S. history?
General Howe: I used to work in the United States Senate and was exposed to U.S. government, politics, and history all day, every day. If I found something interesting I would explore it further in the Senate Library. After reading the book 1776 by David McCullough I realized that a portion of the Revolutionary War (now known as the Battle of Brooklyn) went down in the neighborhoods I lived and travel in within Brooklyn.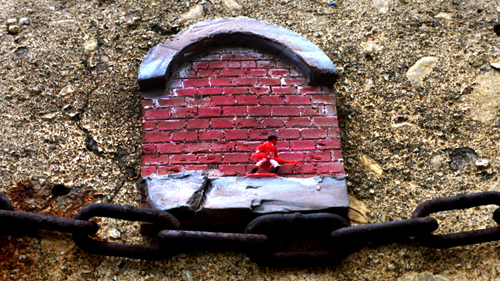 © Jaime Rojo
I've been researching locations and events of the Battle of Brooklyn for about three years now. For example, the area of the Brooklyn Navy Yard was a bay filled with British prison ships. Over ten thousand patriot soldiers died in those ships due to poor conditions or torture. Places where we live, work, eat and socialize are the same places where people fought, killed and died during the revolution. Coincidentally, I find a lot of street artists working in these same locations.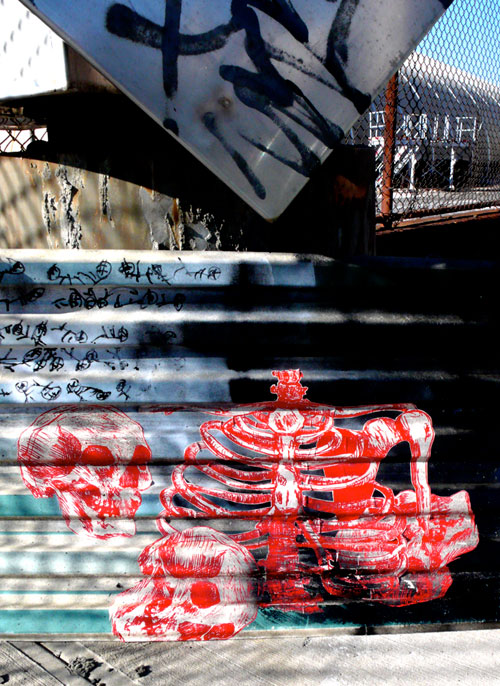 © Jaime Rojo
BSA: In your art you work with in installations and collage, do you go back to memories of your childhood playing with toy soldiers?
General Howe: Childhood experiences have become a big part of my process. If you watch a five-year-old play, they have so much magic and imagination going through them that is hard to match as an adult. The battles I make are influenced by all the pretend battles I fought growing up. Reflecting on the countless hours I would spend with my friends or by myself hunting down bad guys with plastic guns or spears made of tree branches was so intensely creative. I try to tap into that same energy.
BSA: When you are manipulating and carefully placing your figures, do you worry that they will be stepped on?
General Howe: No way, part of the reason I became interested in street art was the ephemeral quality the work attains once placed in the street. The environment, nature, or people will unpredictably change the work. In one installation someone melted all the soldiers down to figurative stumps. Another person tastefully rearranged a battle inside a hollowed out log. Whether they're playing with or destroying a battle, the fact that they're spending time to do that and having an experience is why I create work in the street.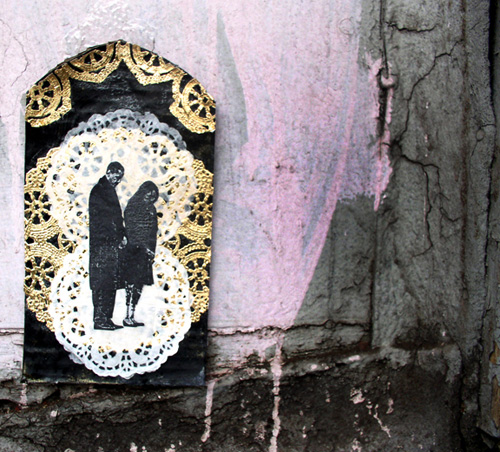 General Howe incorporated imagery of President Obama and Iraqi War Veteran Tammy Duckworth at the Tomb of the Unknown Soldier into this stylized tombstone on New York's streets.© Jaime Rojo
BSA: Is there a central message that you want to convey with your work and installations?
General Howe: There isn't really a central message, more like a central goal. The goal of my work is for the viewer, or participant, to have an experience of reflection on his or her own experiences. Be it, war, childhood, or anything else that comes to the surface. We were attacked on 9/11 and we've been fighting two wars in the Middle East. It seems like that is all easily forgotten in our daily life.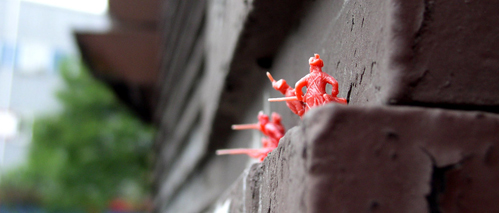 © Jaime Rojo
Related
Popular in the Community