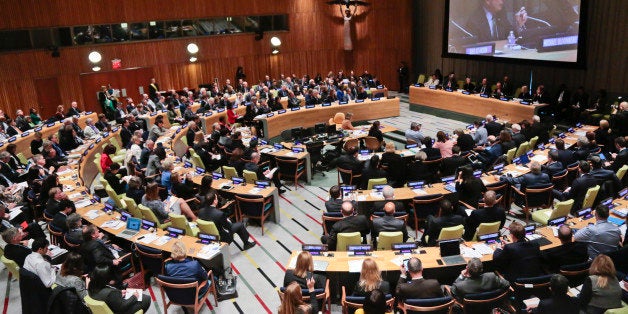 In April, the world will come together to talk about drugs. The United Nations will host a General Assembly Special Session on Drugs (UNGASS), the most significant high-level international drug policy event in almost two decades. At the last UNGASS in 1998, the international community met under the slogan "A drug free world - We can do it!" and committed itself to this unrealistic goal. Fortunately, we've come a long way since then. This time, when global leaders meet at the UN to discuss drugs once again, the farce of a drug free world will be far away. Influential voices from around the world are calling for new approaches to drug policy, countries and cities are experimenting with innovative reforms, and a global movement has emerged calling for an end to the failed prohibitionist policies of the past. From April 18 to 21, people from all over the world will be descending upon New York City to demand change.
The UN shapes international drug policy. National drug laws must adhere to three UN treaties on drugs that prohibit the production and supply of certain drugs, and criminalize people who use them. The most significant of these treaties, the Single Convention on Narcotic Drugs, was ratified in 1961, over half a century ago. These treaties represent an outdated framework from a bygone time. There is ample evidence of the overwhelming failure of drug prohibition, and the human costs associated with it. This includes mass incarceration for drug offenses in the US, hundreds of thousands killed in drug war violence in Latin America, insufficient access to treatment and harm reduction services around the world, environments and livelihoods destroyed in forced crop eradication, and thousands executed for drug offenses, not to mention the fact that neither drug use nor supply has diminished.
At the 1998 UNGASS, instead of using the opportunity to critically evaluate the global drug control regime, countries decided to perpetuate the failed policies of the past. But things have since shifted. There is growing consensus even within the UN that these policies do not work. And we have a strong movement of individuals and groups affected by the war on drugs that will come to NY in April to appeal to the UN to use the historic opportunity of this UNGASS to charter a different path for international drug policy. These groups will be rallying under Stop the Harm, a diverse, broad, and powerful movement of organizations from around the world who have united around one common purpose: rectifying the catastrophic failures of the current global drug policy regime through campaigning for a new course firmly grounded in health, compassion, and human rights.
· Faith leaders taking lead will kick off the week of February 15th in Houston, Texas during the Samuel DeWitt Proctor Conference where hundreds of African American faith leaders will be educated on the UNGASS and will connect with drug policy reformers around the globe, uniting under the Stop the Harm umbrella to call for a more compassionate and just global drug policy. They will also be developing a multi-faith statement on drug policy reform, holding high level faith and policy events in New York and Washington DC, and utilizing important religious holidays and observances to highlight the plight of those impacted by the global drug war.
· Making drug war devastation visible, encouraging debate, and demanding change are at the heart of the Caravan for Peace, Life, and Justice, comprised of families whose loved ones have disappeared or been killed in mindless drug war violence in Latin America as well as indigenous peoples, faith leaders, rights defenders, policy experts, health workers, student movements, farmers, and informed citizens all working together to end this war. The Caravan will begin in Honduras on March 28and travel to El Salvador, Guatemala, Mexico, and Texas before flying to DC and continuing on to NY, arriving on April 18 for a day of protest, reflection, and prayer on the eve of the UNGASS.
· Dedicated to amplifying the voice of the global youth on matters of drug policy, Students for Sensible Drug Policy is bringing hundreds of students to NY to demonstrate their opposition to the drug war, and its harmful impact on communities in the US and around the world. They will be hosting a series of art installations representing the harms of the drug war at Bryant Park on April 18 and holding events at Foley Square and the UN along with their allies.
· The crowd gathering in NY will be joined by International Families Against the Drug War, a global coalition of family members that have lost loved ones to overdose, incarceration, violence, and other harms associated with drug prohibition. Families involved with Anyone's Child: Families for Safer Drug Control and Moms United to End the War on Drugs will join with others from Canada, Mexico, Kenya, Afghanistan and the Philippines. They will hold a press conference at the UN to tell global leaders, face-to-face, that their drug policies are harming our children and relatives, and that current drug laws are causing far more damage than the drugs themselves.
· The leading US organization working to dismantle the drug war, the Drug Policy Alliance will host an invite-only meeting of its allies and partners, national and international, at Columbia University over the weekend preceding the UNGASS, to consider the most important work to be taken up after the UN session has concluded.
· Prominent high-level individuals will also be adding their voice to the UNGASS debate. The Global Commission on Drug Policy, comprised of former presidents of Colombia, Mexico, Brazil, Chile, Switzerland, Poland and Portugal, along with other notable figures such as Richard Branson, and former UN Secretary General Kofi Annan, will be advocating to current world presidents, both before and at UNGASS, to redesign policies to reflect a more humane and effective way of dealing with the negative impacts of the current strategy. Global Commissioner and Former UK Deputy Prime Minister, Nick Clegg, recently wrote an article urging Europe to pull its weight on the international stage for drug policy reform.
· Not only will be people be mobilising on the ground ahead of the UNGASS, but online, too. Already individuals from around the world have started to demand action from their governments at the UNGASS through a series of videos, highlighting the urgent need for reform, from ending the death penalty, to implementing an approach based on compassion and human rights.
· Women too are calling for an overhaul of global drug policies as rates of incarceration of women skyrocket across the world. A group of more than 50 organizations representing every continent have joined in a Women's Declaration calling on the UN to consider harms women and their families face under punitive drug laws, and demanding change that promotes women's human rights.
· Support. Don't Punish is a global advocacy campaign that brings together activists, affected communities and policy makers under a common message: that the harms caused by the war on drugs can no longer be ignored - it is high time to adopt drug policies that protect the health and human rights of people who use drugs. As part of the Support. Don't Punish global advocacy campaign, activists will mobilize at the UNGASS to call for the end of the war on drugs and promote policies grounded on health and human rights.
· Over 1,000 individuals and organizations have endorsed the Harm Reduction Decade Declaration, launched by the former president of Switzerland Ruth Dreifuss. Signatories include the Kofi Annan Foundation, Richard Branson, the Elton John Foundation and UNAIDS Asia and Pacific. The Declaration calls on governments to adopt harm reduction as a key principle of drug policy throughout the next decade and to redirect 10 percent of the resources that they currently spend on ineffective punitive responses to harm reduction.
· And just last week, the largest national Latino online organization, Presente, launched a petition asking President Obama to address the UNGASS and "call for a change of direction from the failed "War on Drugs" towards common sense drug policies that prioritize public health, harm reduction, and human rights."
· With decades of experience collecting evidence on the catastrophic outcomes of drug policies, scientific experts from around the world are calling on the UN and national governments to put the needs of communities first. Instead of basing success on the number of drug busts or seizures, drug policy should be evaluated on its health, safety, development, and human rights impacts. Such an evaluation would undoubtable show that we need an entirely different approach, one based on evidence, not ideology.
UNGASS 2016 is going to be a watershed moment. It is time that the health, safety and rights of human beings take center stage in the international drug control regime. Current UN drug treaties maintain that the "health and welfare of mankind" is their primary objective, but it is clear that this cannot be achieved if governments continue to criminalize, stigmatize, penalize and incarcerate people who use drugs. We must use this momentum for change to demand evidence-based policies that effectively deal with the risks associated with drug use and misuse, while maintaining respect for human rights and our compassion for individuals everywhere.
Hannah Hetzer is the Senior Policy Manager of the Americas for the Drug Policy Alliance. Suchitra Rajagopalan is pursuing her Bachelor of Laws at the University of Mumbai and is currently interning for the Drug Policy Alliance.
Popular in the Community