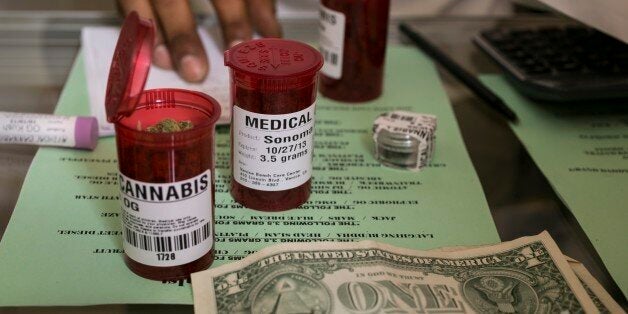 In cooperation with our longstanding partner Crowdrise, The Huffington Post is celebrating its 10 year anniversary by focusing on the promise of the next 10 years. We're highlighting causes that are near and dear to our ethos -- causes where we believe meaningful progress can be made in the coming decade -- and empowering readers to act and take part. Join us!
For more than 20 years, Kevin* lived in a parking garage in downtown Seattle. Homeless and addicted to crack, he had been arrested dozens of times for trespassing, drug activity and low-level property crimes.
"He was a fixture in the neighborhood," Lisa Daugaard, a Seattle-based public defender familiar with Kevin's case, told The Huffington Post. "Everyone thought he would die in that garage."
Then, three years ago, authorities decided to try something different. Instead of arresting Kevin and sending him to jail as they had done so many times before, they referred him to a case manager. The case manager met on a regular basis with Kevin, who was not required to give up his drug habit under the new arrangement.
Little happened in the beginning. Kevin continued to stay in the garage and use crack. But eventually, slowly, his life began to change.
First, at the encouragement of his case manager, Kevin rented a subsidized apartment in a neighborhood in West Seattle. He still slept in the parking garage every night, but would meet his case manager at the apartment for lunch most days. Then, he began going to the apartment by himself, gradually moving his belongings inside.
Now, three years into his relationship with his case manager, Kevin has left the garage permanently and lives at his apartment full-time. He even pays the rent with his own money.
"It's a day and night shift," Daugaard said. "It wouldn't have been possible if authorities had done what they normally do. Instead, they treated him like a human being."
Kevin's metamorphosis was made possible by Law Enforcement Assisted Diversion, a pilot program in Seattle that Daugaard helped launch in 2011. LEAD is a collaboration between police, public defenders and case workers that seeks to help drug addicts kick their habits and reintegrate them into society, rather than letting them cycle from the streets into jail cells and back. And if early results are an indicator, the effort is succeeding. Last month, an independent analysis by researchers at the University of Washington found that LEAD participants are 60 percent less likely to reoffend than their counterparts who have not been involved in the program.
The rest of America has taken notice. Santa Fe launched a LEAD program last year, and cities from Atlanta to Buffalo to San Francisco are exploring what it would take to implement their own.
"The criminal justice system is designed for punishment and is a blunt and ineffective system when it comes to addressing public health issues," Theshia Naidoo, an attorney at the advocacy group Drug Policy Alliance, said last month in a statement released in conjunction with the LEAD analysis. "LEAD demonstrates that transformative results are possible. A collaborative approach, which engages the community and treats all participants with respect, is not only more humane than the criminal justice model -- it is more effective."
Since President Richard Nixon first declared substance abuse "public enemy number one" in 1971, America's war on drugs has developed into a bloated and ineffective boondoggle. The U.S. government spends more than $51 billion a year on a system that favors arrests and incarceration over treatment and support. In 2013, 1.5 million U.S. citizens were arrested for nonviolent drug crimes, a majority of whom were minorities and/or from low- income communities. One in 110 Americans is currently behind bars -- the highest rate of any country in the world.
"We're turning to the criminal justice system to solve problems that are ultimately about health and well-being," said Gabriel Sayegh, managing director of policy and campaigns for the Drug Policy Alliance. "We're using entirely the wrong tools to address a very substantial and very real problem."
In order to effectively address substance use, Sayegh explained, the U.S. needs to stop allocating funds to programs that punish addicts, and instead focus on helping them. And, he added, those who have been trapped in the criminal justice system for drug-related crimes -- especially blacks and Latinos -- deserve the opportunity to have their records expunged so they can fully rejoin society.
"There has got to be a process in which we can honestly and truthfully account for the serious harms that have been caused by these policies and practices," Sayegh said. "The devastation of this war has been felt by poor and minority communities for decades."
Local programs like LEAD can help address these problems with the drug war by giving users the help they need rather than relying on a punishment-first approach. In the longer term, however, an increasingly viable alternative to the status quo is to decriminalize drugs, which has proven a successful strategy in other countries. Since Portugal introduced one of the world's most sweeping decriminalization efforts in 2001, teenage drug use, drug-induced deaths and HIV/AIDS rates have declined, while the number of individuals receiving treatment for addiction has increased.
While the U.S. still has a long way to go before it makes such changes nationwide, the tide has started to turn at the state and local levels. Twenty-three states have legalized marijuana for medical purposes, 19 states have decriminalized the possession of small amounts of the drug for personal use and four states and the District of Columbia have ended marijuana prohibition entirely. Access to overdose-prevention drugs like naloxone is expanding. Kentucky, one of the states most devastated by the nation's heroin epidemic, recently introduced a policy change, spurred by a HuffPost investigation, that allows addicts tied up in the state's court system to continue taking prescribed opioid treatment medications.
"We are slowly beginning to make adopt these kinds of laws, even in conservative places," Sayegh said. "It's a long-awaited look in the mirror for us as a society."
*Name has been changed to protect the subject's privacy.
Matt Ferner contributed reporting.
Popular in the Community