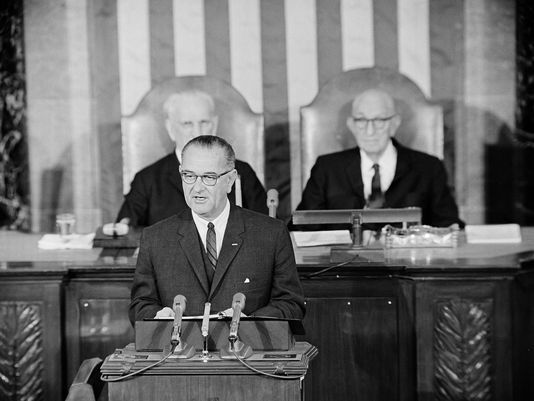 This year marks the 50th anniversary of President Johnson's War on Poverty. It was a multifaceted effort to tackle poverty in America and gave us initiatives that are still helping people today, such as Head Start, Food Stamps, Job Corps, and Medicaid.
Last week, my colleague on the Budget Committee, Rep. Paul Ryan, put out a report: "The War on Poverty: 50 Years Later." Let's be clear, this report is nothing more than an ideologically bankrupt battle plan to attack the poor. Not only does this report disregard current and respected data in the field, this is a callous look at the state of our country.
Republicans are continuing their attack on the social safety net with tired proposals that fly in the face of the evidence. Republicans continue to try and gut the safety net at the expense of families, children, and the elderly.
Republicans have cherry-picked their favorite statistics to make a point. Their report claims that since 1965, the poverty rate has 17.3 and in 2012, 15 percent. Now, what Republicans have done is used what's called the "official poverty rate," which even Republican expert witnesses have admitted is a flawed way to look at poverty in America. The use of the official poverty rate has distorted the numbers to paint the picture Mr. Ryan wants to paint.
What works best, among economists and academics across the political spectrum, is the "supplemental poverty rate," which shows the impact of safety net programs like SNAP (formerly called Food Stamps). When we use that number, we see rates in 1967 of 26 percent and 16 percent in 2012. This shows a vastly different picture. While 12 percent is still far too high, we have made significant progress since the launch of the War on Poverty, and we can continue to see this progress if we continue to make the right kind of investments.
I continue to believe that the most important voices in this debate are being left out. Mr. Ryan, as Chair of the Budget Committee, as refused to allow people living in poverty a chance to testify at his hearings. And while I have arranged to have those stories and testimonies inserted into the record, what we really need is for everyone to come to the table to discuss how to eradicate poverty in America.
In addition, I have a bill, HR 2182, The Half in Ten Act, which would set a goal of ending poverty in our country, with the initial goal of cutting it in half in ten years and ensure that we coordinate anti-poverty spending on the federal, state, and local level. We can eliminate poverty, if only we have the political will. It will take political action and community support.
To lead us on the path toward ending poverty, we need investments in job creation and training, proven anti-poverty programs and early childhood education, and to open access to high-quality college education, as laid out in the budget that President Obama released this week. In stark contrast to Rep. Ryan's report, the president's budget lays out a vision for the future that supports families, encourages growth, and creates opportunity for all.
Now is the time to recommit to the goal of ending poverty in our country and say that the same values that launched the War on Poverty 50 years ago are still alive today: that in the richest and most powerful country on earth, we protect the vulnerable and won't leave anyone behind.
REAL LIFE. REAL NEWS. REAL VOICES.
Help us tell more of the stories that matter from voices that too often remain unheard.