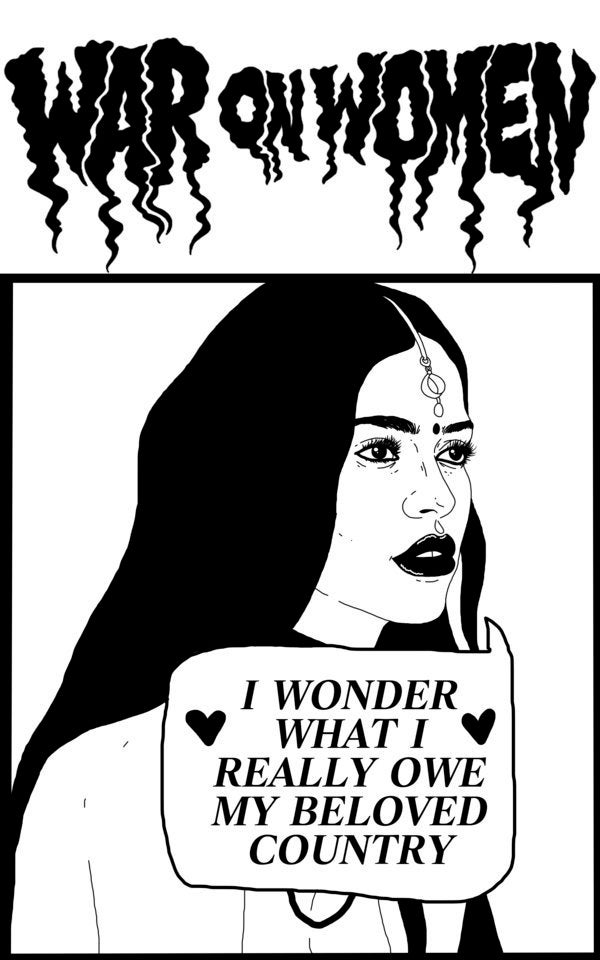 One such group, a self-described "feminist hardcore punk band" aptly called War on Women, will perform an acoustic show Sunday in Washington, D.C.
Their lyrics ― bluntly worded, logically argued dismissals of the patriarchy ― also apparently make for great protest posters. At least, that's what artist Hexelot has showed us with her latest project, which turns the messages delivered by one of her favorite bands into visual rallying cries.
"I just really wanted to celebrate all women," Hexelot told The Huffington Post in an email. "Whether that be women of color, women not born biologically female, women that practice religion outside Christianity. All women."
The artist chose lyrics that she thought "really focused on the angst and frustration one can feel as a woman" but that were "still hopeful about the future."
"I don't want to flatter myself by saying I'm making their lyrics more powerful," she said. "I think I just emphasized their original message by showing who this message is for."
Lyrics like "Give! Us! The! Pill!" and "We are not weak, we are brave" are graced with girlish flourishes like hearts and exclamation marks in the works "because it made the drawings look a little gooey and traditionally (as much as I hate this word) 'girly,'" Hexelot said, adding that she hoped to flip "the preferred image of women looking and acting a certain way."
"I hear a lot of groups make songs nowadays that talk about equal rights, which is great, but the songs are always so calm," Hexelot said.
Calm is not her speed. She's concerned that there is no space to discuss and validate "true anger" of gender inequality, lest the women expressing it be labeled "feminazis" or otherwise not taken seriously.
"My overall hope for what people take away from my drawings and the music is that they don't need to remain silent," she added.
A timely message heading into the forthcoming march.
Calling all HuffPost superfans!
Sign up for membership to become a founding member and help shape HuffPost's next chapter