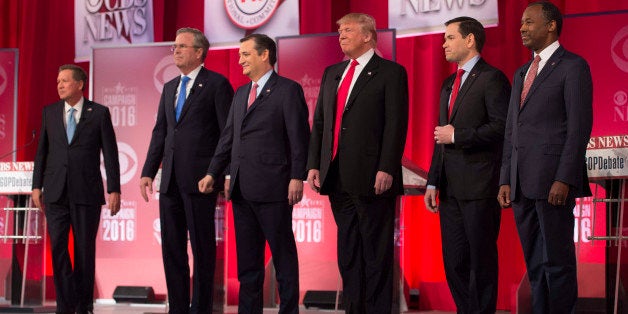 After two primaries, Republican candidates for president Ted Cruz and Marco Rubio have developed a contentious rivalry as they battle to be the viable alternative to Trump mania in their party. But on one issue, the use of force over diplomacy, an issue that has become the backbone of the GOP, they agree. Evidenced by a somewhat less-than-thoughtful approach to dealing with ISIL:
"This is a clash of civilizations...there is no middle ground on this. Either they win or we win."
"We should carpet bomb" the Islamic militants and find out whether "sand can glow in the dark."
These two quotes -- the first by Senator Marco Rubio and the latter by Senator Ted Cruz -- are ostentatiously descriptive of where the GOP is today on foreign policy. With the added irony that these two senators were elected as Tea Party candidates standing for conservative fiscal policy.
After the neo-cons led by the George W. Bush administration racked up by some accounts almost three trillion dollars of debt in the wars in Iraq and Afghanistan. The tea party wing of the GOP that swept into Congress in 2010 promised fiscal austerity and a balanced budget.
Today these presidential hopefuls would now make former VP Dick Cheney proud. Rubio and Cruz are changing the message of a chameleon Republican party from Tea Party conservatism to a once again war party where spending on war and massive defense budgets gets a pass. The echoes of Cheney's pronouncement that "budget deficits don't matter" reverberate again.
Foreign policy never leaves center stage in American politics and with the December terrorist attack in San Bernardino, CA a brighter light has been cast as terrorism being the number one existential threat to us. Even as statistics clearly show that issues like random gun violence pose a far greater risk to most Americans over the last 15 years. Both parties realize the symbolic menace of foreign terrorism. On the democratic side, candidate Hillary Clinton will use her resume on foreign policy to surely convince voters that Bernie Sanders is not ready for the now famous 3 AM call.

In the Republican party that would be only the appetizer. Their full course menu would be to expound on the debate stage that ISIL or Iran or Syria requires military intervention at any cost. In their paradigm the world is a safer place when America is strong. And strong is defined as when we display our ability to engage in armed conflict.
Donald Trump has consistently reported that he not only wants a temporary ban on Muslims coming into the U.S., but he wants to spend whatever amount it takes to build our armed forces to the point that it will strike fear in the heart of every country on earth.
Their rhetoric on the campaign trail and their bluster about an alleged weak Obama administration on national security has defined their foreign policy. War has become their zero sum solution.
This never more evident than their response to the negotiated peace treaty between America and its partners with Iran on nuclear disarmament. You would be hard pressed to find in any speech made by these Republican candidates where the word diplomacy or the organization the United Nations is mentioned. And sadly those who are asked to fight these seemingly endless wars come home to a nation that is insulated by the media of its brutal consequences and therefore ignores what it would rather not see anyway.
With looming primaries in Nevada and South Carolina and Super Tuesday next month, Americans more importantly Republicans and Independents must decide if "making America great again" means making America a war protagonist.
In the 20th century after WWI (the war to end all wars) and WWII, the epiphany was to gather all nations and form the United Nations. An organization that would employ diplomacy and not violence to settle disputes between nations and help eliminate the tragic consequences that war brings to those who survive: hunger, poverty and society's dysfunction. Diplomacy was to be the next evolutionary step in man's quest to climb the rungs to a higher ground of humanity.
Popular in the Community