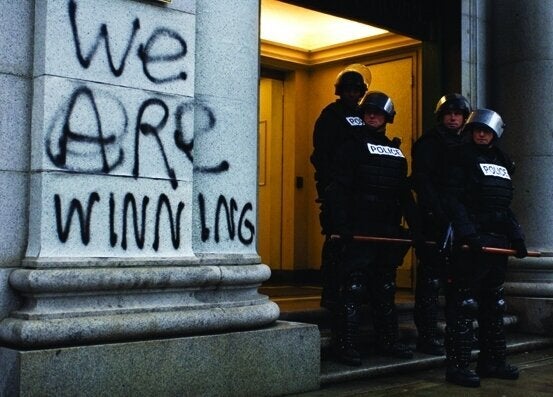 The most dangerous intersection in Grand Rapids, Michigan, may be Division and Fulton, though not for the most obvious of reasons.
For the past six years, a group known as Peace Presence has held weekly vigils at the site, including cardboard signs encouraging passing traffic to "Honk for Peace" and "Pray for Peace." In a 2007 interview for Rapid Growth Media, Peace Presence founder Illene Van Brugen said the group tries "to keep [the signs] positive." As for the honks, in 2007, Van Brugen stated the group was sustaining "as many as 450 an hour."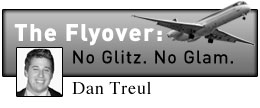 Not bad for a region nationally known for its Dutch Reformed brand of conservatism. It's no wonder that Grand Rapids was selected by the McCain-Palin camp for a good ol' fashioned town hall... and what better stage than the community college field house -- tickets required, of course, available at your local Republican Party office.
This reporter, curiously, was unable to attain one. Huh.
Luckily, those outside the field house decided to stage their own drama, and this one for free. Billed as a "non-partisan" protest that just happened to fall upon the date of McCain's visit, a march for "human needs, not war" took up lines on the campus of Grand Rapids Community College as those privileged enough to obtain tickets filed into the field house.
As we walked from Veterans Memorial Park (at Division and Fulton), the chants and energy of the protesters reflected the non-partisan intent of their mission, although their paraphernalia betrayed their stoicism.
"Think People," read a sign carried by a man in a gas mask and fascist officer's hat. Above the letters was a depiction of Palin. "Really?" was scrawled in the corner.
"I'm John McCain and I approve this lie," another said.
By far the most creative sign I saw all day, however, was one belonging to an older man, seemingly far removed from the youth that dominated the protest. Standing before one of the College's academic buildings, the man's sign read, "McCain-Palin: sign up here for Economics 101 - Just $287.00 + 3 credits!!"
Led by an American flag, a large banner proclaimed: "OUTSOURCE MCCAIN."
Although the prevailing attitude among the protesters was thoroughly one of anger against McCain, there was no evidence of overwhelming support for Obama. A few carried Obama signs, and many wore his campaign buttons, but most adhered to the protest organizer's desire that the event remain as neutral as possible.
"Our theme today is funding for human needs, not for war," said Jeff Smith, a member of ACTIVATE Grand Rapids, which organized the protest. "What we really need to do is cut the military budget and start funding education, healthcare, etc."
Smith recently traveled with several other members of ACTIVATE GR to St. Paul to protest the Republican National Convention.
"Several of our members were arrested," Smith said. "I've never seen the police that militarized in the United States...they were arresting people before the protests even got started."
I asked him if ACTIVATE had planted any protesters inside the field house.
"I'm not at liberty to say," he said, laughing.
In advance of the protest, ACTIVATE did distribute a substantial flyer, however, calling upon "the people who politicians claim to represent to hold politicians accountable and demand that they end the U.S. occupation of Iraq. By immediately ending the occupation...the U.S. could redirect much of the spending towards human needs."
It's this issue that, it appears, many young voters in Grand Rapids are struggling with. According to Anna Thiakos, a student at Aquinas College and a spokesperson for ACTIVATE, "A lot of college-age students are starting to see their friends go to war, and they see Obama as addressing that."
Still, Obama's position on Iraq isn't a lock among young voters.
"A lot of my peers are fed up with the watering down of the parties," said Janelle Lind, who, like Thiakos, also attends Aquinas College in Grand Rapids. According to Lind, the lesser-of-two-evils effect is "definitely" in play amongst college-age voters.
ACTIVATE is calling upon an immediate and total removal of American forces from Iraq, throwing the group's most fervent supporters into what might rightly be described as political limbo. But that's not discouraging them from voicing their frustration.
As the old guard of Grand Rapids -- and that description cannot be well disputed -- filed into the field house, yet another sign was hoisted above the protest line, quoting roughly from Joy Division:
"Leaders of men -- born out of frustration -- won't grant us our salvation."
"You're so old," called one protester across the line. "It's time to change the rules."
Somewhere beyond the barricade, I could hear the honking.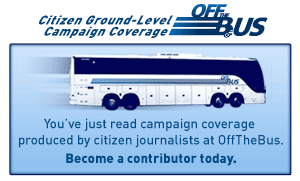 Related
Popular in the Community