"I was supposed to be in class," said Betty Sandy Moses, age 32, "but war stopped me." Betty, who grew up in Sudan before the nation split in two, was forced to quit school at primary five. She was eager to give her two children the education that she missed.
Joyce Jamba was left to raise eight children on her own when her husband died. She earned a little money here and there, enough to cover school fees, uniforms, and supplies for only four of her children. She still dreams of her own education.
Sudanese women like Betty and Joyce were denied an education due to constant war, dislocation, and the dominance of ideology and norms that discouraged efforts to educate women. Independence for South Sudan brought new educational opportunities for women and girls, but not enough to satisfy the need.
South Sudan still ranks at the bottom in global education; only 44 percent of children are enrolled in primary school. The percentages are worse for girls. A girl is deemed unworthy of an education because, once married, she no longer contributes to her family. Yet there is a growing body of evidence on the benefits of educating young women and girls. Nobel Prize winner Amartya Sen was among the first to link women's education to reduced child mortality and fertility rates. Social scientists at the World Bank connect women's education to a range of positive social outcomes, including social cohesion and per-capita growth.
In Burundi, President Pierre Nkurunziza has announced that he will seek a third term in office, which threatens to plunge the country into conflict. Protestors were killed and many more injured in recent clashes with police. Youth militias are going door to door injuring and killing people, and more protests are planned. Aid organizations ceased activities; many have evacuated staff. The government closed several radio stations. Police raided their offices and cut off communications.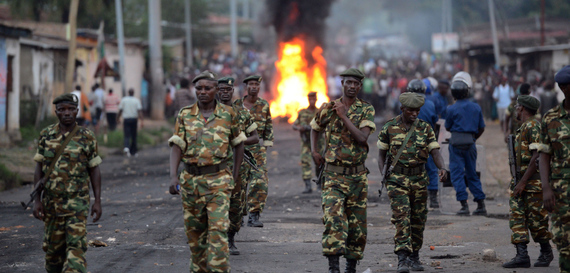 Source: Foreign Policy
Over 25,000 refugees fled the country. President Kagame in Rwanda stated that he will act immediately if ethnic-based violence occurs. The United Nations and human-rights groups believe that the country is at high risk for mass atrocities. Burundi may become another South Sudan.
Schools are closing. The Akilah Institute for Women, the only college for women in East Africa, with campuses in both Rwanda and Burundi, suspended classes a week ago, and with the situation uncertain, it is unclear when it will be able to reopen. We told the students, whose futures seemed so promising a year ago when the campus first opened, to stay home where they would be safe.
Women and girls in Burundi, like South Sudan, could lose their chance at an education. "Evidence has been mounting on the pivotal role that educating a girl or a woman plays in improving health, social, and economic outcomes, not only for herself but her children, family and community," writes Rebecca Winthrop, who directs the Center for Universal Education at Brookings. Educated girls are less likely to marry early and less likely to contract HIV/AIDS, according to Akilah's 2010-2014 Impact Report.
Girls' access to primary education around the world has improved and is almost on par with that of boys. There is a substantial drop-off at the secondary school level, and women fall off a cliff between secondary and higher education. The result is that young women across East Africa lack the education and skills necessary to find good jobs and achieve financial independence.
"Lower educational attainment places a major constraint on women's economic participation," which has stagnated globally, according to the Full Participation Project recently released by the Clinton Foundation. It also impacts self-confidence and aspirations. Each year of schooling boosts an African woman's economic prospects and results in 10- to 20-percent higher wages.
Burundi is the world's fourth-poorest county and is still recovering from a brutal civil war that ended just a decade ago. The current conflict, if Rwanda and South Sudan are any example, suggests that women and girls are at heightened risk not only for increased gender-based violence but for losing their hard-won educational gains and, ultimately, a pathway to a better life. It is a risk that impacts all of society.
We have learned that global, multilateral efforts in the region are weak-kneed and often ineffective. Regional leaders should prepare to intervene; the African Union should commit to the world that Burundi's presidential elections will not become a prelude to another civil war or genocide. Swift action is needed in Burundi before it's too late for the tens of thousands of women like Betty Sandy Moses, whose education and ability to contribute to her country was stopped by war.
Karen Sherman is the Executive Director of the Akilah Institute for Women and a Senior Associate on Women's Economic Empowerment at the Georgetown Institute for Women, Peace and Security. She is the author of the forthcoming book Commuting to Kigali.
REAL LIFE. REAL NEWS. REAL VOICES.
Help us tell more of the stories that matter from voices that too often remain unheard.