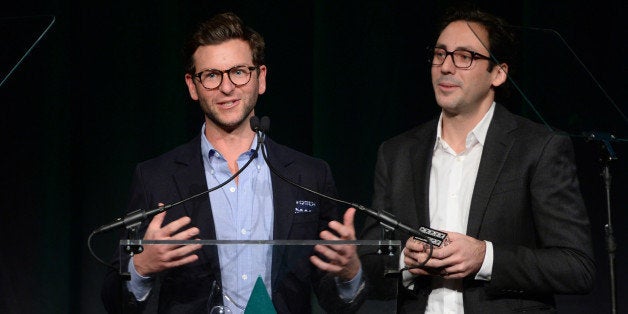 The online eyewear retailer, which is just five years old, has expanded rapidly during its short lifetime. The company's annual revenues top $100 million, according to the magazine, and it has opened brick-and-mortar locations across the United States.
By manufacturing its own frames, Warby Parker avoids the usual price markup that makes other eyewear retailers more expensive. Most Warby Parker glasses start at $95. Meanwhile, at retail locations for Sunglass Hut or Oliver Peoples, both of which are owned by Italian eyewear giant Luxottica, prices for in-house brands such as Ray-Ban, Persol or Oakley soar to match those of the designer brands they're sold beside, including Chanel, Dolce & Gabbana and Prada.
For every pair of glasses Warby Parker sells in the United States, it donates one to its nonprofit partners. The partners then train people in developing countries to give eye exams and sell glasses to their communities at affordable prices.
But Warby Parker has really burnished its reputation with strong customers service built on a core value of empathy.
Fast Company's Max Chafkin writes that the company's success is due to its "founders' fanatical focus on brand and execution."
"We look a lot for self-awareness and for empathy [in our employees]," co-CEO Neil Blumenthal said in an interview with the The Huffington Post in 2013. "I think it's really hard to serve customers well if you're not empathetic. I think it's hard to collaborate with others if you're not empathetic. I think the people that are the best at customer service are the ones who are the most empathetic."
Just last year, Wired magazine asked in a headline: "Is Warby Parker too good to last?"
The company has begun expanding offline, with a flagship location in Manhattan's posh SoHo neighborhood and stores in eight other cities.
Still, Warby Parker has managed to maintain its empathetic ethos.
In February, the retailer sent a customer in Atlanta a $20 gift card to her local bar after she told Warby Parker staff while picking up her new frames that her car had been stolen. Last October, the company rolled out a new next-day delivery program in New York City, where for an extra $50, customers could get a new pair of glasses delivered in 24 hours.
"We are incredibly honored," Blumenthal and co-CEO Dave Gilboa said in a statement to HuffPost. "The week it was announced just so happened to be Warby Parker's fifth birthday and it was the best way to celebrate five unbelievable years."
This story has been updated with a statement from Warby Parker.
This page contains materials from The Huffington Post and/or other third party writers. PricewaterhouseCoopers LLP ("PwC") has not selected or reviewed such third party content and it does not necessarily reflect the views of PwC. PwC does not endorse and is not affiliated with any such third party. The materials are provided for general information purposes only, should not be used as a substitute for consultation with professional advisors, and PwC shall have no liability or responsibility in connection therewith.