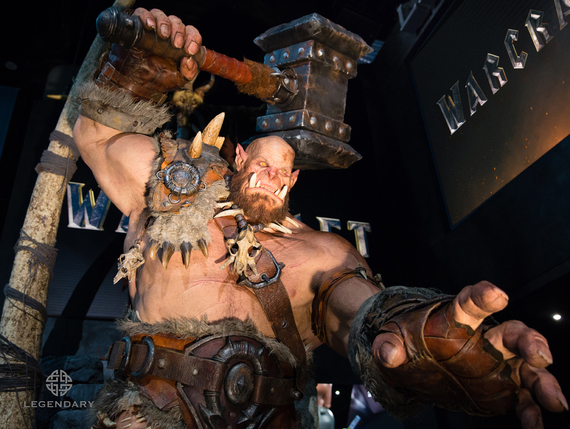 Azeroth comes to San Diego this weekend as Legendary Pictures and effects company Weta Workshop reveal two major character sculpts and weaponry from director Duncan Jones' anticipated fantasy epic Warcraft at San Diego Comic-Con.
And we joined Jones for a walkthrough and exclusive look at the characters of Ogrim Doomhammer and King Llane of the Alliance before the sculpts were revealed to the public on Wednesday's Preview Night.
Based in the fantasy realm of Azeroth, the June 2016 epic Warcraft -- based on Blizzard Entertainment's video game franchise -- revolves around the early encounters between humans and orcs. But when attendees enter the convention hall, the world of fantasy and motion capture special effects won't seen so far away.
Instead, the massive, battle-scarred and toothy Ogrim looks ready to throttle anyone brave enough to come close to him at the Legendary booth. He is perched on a shelving of rocks and vanquished enemies, clasping his hammer in his right hand, while the left looks ready to snatch up a human-sized snack. Meanwhile, Llane is flanked by soldiers, appearing regal in glinting steel armor, ready for battle at the Weta booth (appropriate since Weta was behind most of the physical costumes, armor, and weaponry seen in the film).
Meanwhile, Duncan Jones looks downright giddy; he has a good reason to be.
Not only is this the first time he had seen the Comic-Con sculpts, beyond concept art as it came together, but the director of Moon and Source Code is putting the finishing touches on his film. After joining the project in 2013, and directing from a screenplay he co-wrote with Charles Leavitt, he said he has about eight or nine effects left to work on, but that there is a pretty complete film -- one which is getting a big push at Saturday's Legendary panel at SDCC.
In the following interview, Jones spoke about seeing the Weta creations in person, as well as his mindset heading into the con with Warcraft, and what attendees in the hallowed nerdy ground of Hall H might witness on Saturday.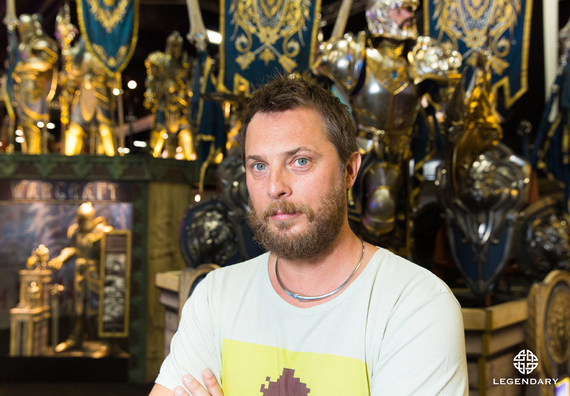 What was your initial thought upon seeing these Warcraft sculpts?
It's so cool because we've been working on this film for a while now, and the VFX shots have been coming in all the time. They look exquisite and amazing, but to actually see him in person - the physical presence of Ogrim and how thick and huge he is -- is really cool.
The sculpts from Weta are stunning. There is also King Llane and a whole troop of soldiers, which is magnificent. And that's the armor we used in the film. It is an amazing installation.
Do you think this will serve as a way for fans to get into this movie?
Absolutely. This will give people a great sense of the scale of these heroic characters. Ogrim is a pretty large dude, and Llane is very impressive I his armor. I think they're getting to see an awful lot of stuff, some of which was actually used in the movie as well. It is more than just an exhibition of the style; a lot of this is from the film.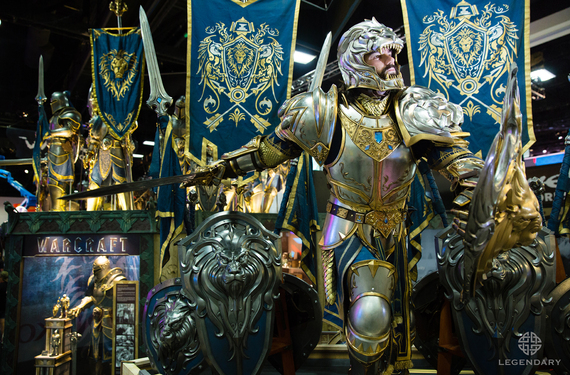 As a fan of the Warcraft games and sci-fi, talk about how this kind of installation impacts you when you're bringing a film to the con.
I think the sculpts themselves are icing on the cake. Just the fact you get to go down to Comic-Con, there with a film, makes it a ridiculously exciting experience. I used to go down to the con before I had films involved, so going from just being a fan seeing other people's stuff to going down with something of your own ramps up the excitement level even more.
How important is Comic-Con for a film's unveiling?
It is an exponentially growing event for genre films. There is a pretty huge spectrum -- from science fiction to super heroes to fantasy and beyond -- and we certainly have something where we want to promote this new world. And stake a claim for the fantasy territory that used to be pretty exclusively for the Lord of the Rings films and Tolkien. We have a whole new take on fantasy that we want to show to that audience.
In May Wired ran an interview with you where you said you still had about 50 out of 1,000 effects shots left to work on. So how close is the film to completion?
That number is down to about eight or nine shots left. Our scoring is done, and we're doing some final mixing. We are doing tweaks to the color grade, but we pretty much have a complete film now. I think everyone is feeling pretty strongly that we have something we can be proud of. The release date is exceptional for us. It is going to be the same release date as Jurassic World was this year, and that's a good place to be.
So you can pop open that bottle of champagne and celebrate at the con?
Maybe, but not just yet. I don't want to tempt fate. But I am feeling really good about the film. I've shown it to a few people I really trust who are more than happy to be blunt and honest, and they said good things.
You're working with Industrial Light and Magic for the digital effects, but also with Weta for costumes, weapons, etc. Will you discuss your working relationship with these two giant houses?
Weta has both the digital side and the physical side to the work they do. We used them for a vast amount of the physical side of creating assets, and sculpts for photomatching on set. Weta did a huge amount with us to realize this world. They are phenomenal at what they do. We have also, obviously, been able to work with ILM on the postproduction on the CG side. Their work has also been outstanding. They're bar has been raised in order to compete with the work Weta Digital does. I think there is a fantastic battle going on between two titans, as far as Weta and ILM trying to one up each other with each film. Right now I think ILM has done an extraordinary job with our film.
This is the very best place you can be in. You want competition and want skilled people wanting to show what they can do in competition with each other. Right now Weta and ILM are doing the best work.
What can we expect from the panel at the con?
There is an awful lot of stuff going on. I am very unsure how much I can talk about. They want to make the reveals as surprising as possible. We do have the panel with most of our main cast there, and we are going to be showing ... something that should be a great taster of what to expect from the film. We are doing so much stuff I'm hoping I'll be given time to actually enjoy the con.
What do you want to take home from the booth?
Actually, there is something that I really want to take home. Over by the Ogrim sculpt, there is a small window that has Garona's Dagger. That's very important in the film, and I'd love to get that.
Finally, what is a suggested photo op pose when fans see the sculpts?
I think the thing to do is be realistic. You're going to get your ass kicked by either Llane or Ogrim, so you should probably be in a death pose.
If you have a chance to see that Ogrim sculpt, you're really in a perfect place to be pummeled. Maybe you don't do a death pose, because it looks like he's about to do the first hit. But I don't think you'll survive it. So: Fear! Fear is the thing you want to channel.