If you, like us, have already binged your way through Netflix's "Queer Eye" reboot, you'll be familiar with Tan France, the show's impeccably coiffed fashion expert.
France is responsible for overhauling and refining each participant's wardrobe in a way that makes sense for them. For Bobby, a father of six kids, that meant finding some solid basics at Target. For another man, Tom, that meant checking out a local vintage store.
"It was really important for us to make sure that this was an accessible version of the show," France told HuffPost. "I didn't want to be that style guy on the show, that's like, 'Go to Dolce [& Gabbana]!' I don't go to Dolce. I can't afford that. Why would I think somebody else, who clearly needs a lot of help ― why would I take them to a store like that?"
On the show, France provided plenty of helpful style tips ― the rolled-up shirtsleeve was one of his favorites ― and even taught viewers all about the difference between fashion and style. During Episode 7, "Below Average Joe," France explains: "Style is not fashion. Fashion is not trendy after a season. Honestly, I couldn't give a shit about fashion. Style is dressing the way that you feel confident and what is appropriate for you, your age, your body type."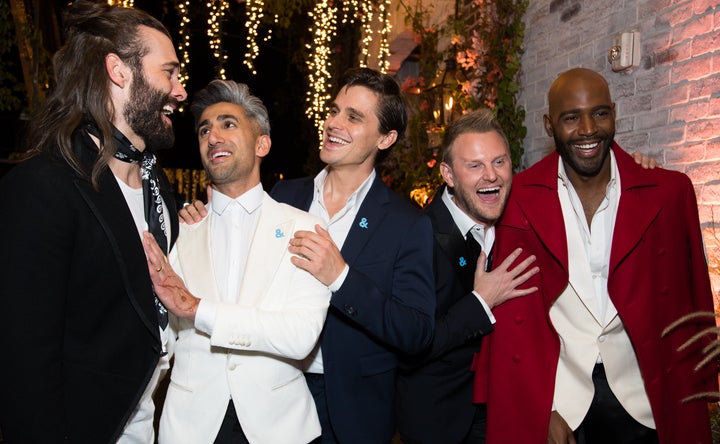 After the show premiered on Netflix, France spoke about the distinction once again on social media. He told HuffPost he received over 2,000 messages from fans in response to his Instagram story on the topic, which he posted last week. When we spoke, he elaborated on what he meant.
"I love fashion and a fashion trend, if it works for me. If it doesn't, I couldn't care less about it," he said. "It doesn't matter if crop tops are hot that season ― if you don't feel comfortable in crop tops [...] don't wear [them]. I don't care how fashionable it is. I would rather you stick with something that's more classic or more appropriately you. You're going to feel more attractive, sexier, and that, to me, is great style. I actually don't give a shit about trends."
Unsurprisingly, then, when we asked France to share his top five wardrobe staples every guy should have in his closet, trendy pieces didn't make the cut.
For all the guys out there who might not know where to start when it comes to stylish dressing, these five things are a good start:
1. A Good Suit
"Preferably dark, [and] well-tailored," France said. "I'm not saying it has to be custom-made, but just tailored and fit to your body. I say dark, because then it's appropriate for a funeral, or a wedding, or any occasion, really."
2. A Great Pair Of Shoes
Shoes are an area the men featured on the show weren't so well-versed in, France said, noting, most of them "don't have a good pair of shoes that actually look clean and new and fresh."
The style expert explained that shoes "don't have to be brand new as long as you keep up on them to make sure they're clean."
3. A Great-Fitting Pair Of Jeans
"Jeans can make or break a look, and if it's not a good-fitting pair, if they don't flatter your body, it doesn't matter what else you've got on, it's not going to look good," he said.
4. A Great White T-Shirt
"A really good-fitting white tee, I think, is great for everyone," France said. "You can wear it with a pair of jeans and trainers, or a pair of pants with nice shoes, you can wear it under your suit. Having a good white tee that's going to fit you well, that's got nice fabric, I think will see you through years and years. And it's classic. You can wear that when you're 20, 30, 40, 50; it will still look great."
5. A Nice Pair Of Boots
"Boots are a great transition shoe. You can wear them as a casual look or a more formal look. And if a man's struggling with what he should wear for a daytime or evening [occasion], a boot will see you through both," he said.