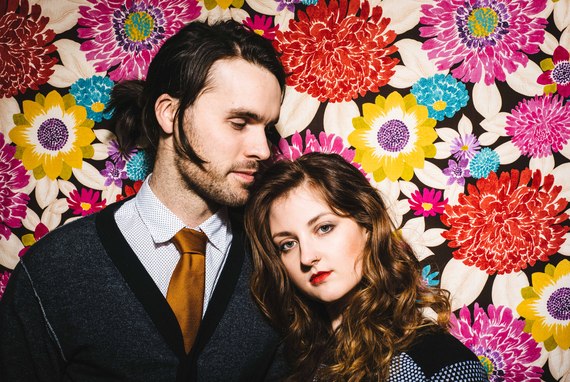 A prism is a transformative object that takes a steady stream of white light and refracts it into its constituent spectral colors. Like magic, the white light is scattered into the colors of the rainbow, showing us the light's inner being and true form. This transformation also occurs with music. As invisible sound waves and vibrations enter our ears, our brain acts as a prism and transforms it into music. Entering a prism is both physically and symbolically a journey that leaves you different than you were before.
As the dream-pop genre gains momentum in the indie rock circuit, the ethereal duo Warehouse Eyes stands out with their airy tones and psychedelic soundscapes. Their newest EP, Prisms, floats us through a hazy, Technicolor mirage where we emerge in a rainbow reverie. A sonic journey through innocent love, recurring dreams, hallucination, and new beginnings, Prisms is a well-rounded EP that reflects the many facets of human emotion.
Based in Minneapolis, Warehouse Eyes has been on an East Coast tour that will conclude with a final Midwestern stint. Jennie Lawless (vocals, synth) and Christopher Williams (vocals, keys, synth) find inspiration in the complexities of sound design as well as from artists such as Patti Smith, John Darnielle and Bob Dylan. Warehouse Eyes began when Lawless moved to Minneapolis in 2012 and teamed up with Williams to create musical alchemy. Their early work consisted of playing simple, original, piano pop songs and covers. As their musical chemistry began to spark, they gradually morphed into a five-piece band to keep up with the energy and complexity their songs demanded. Although they most often play as a five-piece with Kevin Scott (bass), Matt Vannelli (guitar) and Alex Young (drums), Lawless and Williams still often perform as a duo, showing their intimate and emotive roots.
Their first EP, Carvings, was released in 2014 and consisted of ethereal ballad-style tracks which put them on the musical radar. While Carvings garnered them positive feedback from the press, Prisms is truly the group's launching point as they have evolved and discovered their signature sound. With a more diverse assortment of tracks than Carvings, Prisms shows their skills in sonic design, arrangement, harmony, and lyrical depth. While love is the inspiration behind the EP, they found a way to refract the many hues of love through dreamy soundscapes and carefully curated lyrics. "Love was the light; the prisms are the songs that allow us to talk about other, less expressible things," says Jennie Lawless.
"I Think I Can Live With It," the first track and video release off of Prisms, showcases Williams' ingenuity on analog synthesizers and sequencers. Lawless' haunting vocals enchant the listener as she casts her musical spell. "I Think I Can Live With It" is a song about rejecting who you have been and accepting who you now are. The video's narrative parallels the lyrics by depicting the endless cycle of rejection and renewal that is childhood. Prisms is a mystical odyssey through a daydream, reminding us of the many ways in which love can be expressed.
Popular in the Community