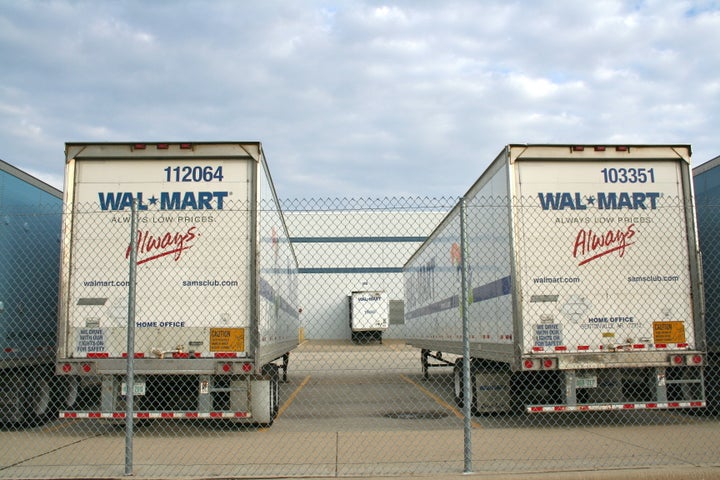 Nearly a hundred warehouse workers in California who spoke up about alleged wage violations and unsafe working conditions fear they now may lose their jobs.
The workers, most of whom load and unload goods destined for Walmart stores, filed a class action lawsuit in the fall against staffing company Rogers-Premier Unloading Services, their employer, and against Schneider Logistics, the company that's contracted by Walmart to oversee the Riverside County warehouse. The workers contended that they often weren't paid the legal minimum wage or overtime and were threatened with termination when they complained.
Now, the workers say they've been notified by management that their jobs will be end on Feb. 24, when a contract between Rogers-Premier and Schneider apparently comes to a close.
Erin Elliott, a spokeswoman for Schneider, said that the move was "solely the decision of Rogers-Premier" and that the company will no longer provide workers to the Schneider facilities in Elwood, Ill., or Savannah, Ga., either. Rogers-Premier did not respond to a request for comment.
Daniel Lopez, who has been loading trucks at the warehouse since 2009, said he was notified both orally and in writing that his job would end next month. "They just asked us to stay on with them until that day," said Lopez, 32.
Problems at the warehouse first came to light in October, when the California labor department announced it had launched an investigation into alleged labor law violations. Two staffing operations at the facility were cited for not properly maintaining time records for their workers and hit with fines totaling more than $1 million. Six workers filed the class action lawsuit on the heels of the state inspections, alleging they were routinely short-changed on their paychecks and required to work in excessively hot conditions.
Warehouses like the Schneider facility commonly use temporary workers who are paid low wages and labor without benefits. As HuffPost detailed in an article last month, allegations of wage theft and other workplace abuses are common at the warehouses in the Inland Empire area of Southern California, one of the largest distribution nexuses in the world. The workers at such facilities -- many of whom are Latino immigrants -- may be employed directly by small labor agencies, but they often move products for the benefit of mega-retailers like Walmart.
Officials with Warehouse Workers United, an advocacy group leading a unionization effort in the Inland Empire, predict that the Rogers-Premier workers will ultimately lose their jobs because they spurred a state investigation and sued their employer.
"Either they're getting fired as retaliation or because the company can't make any money" while under scrutiny from investigators, argued Sheheryar Kaoosji, an organizer with the group. "Either way, it shows a problem."
Some of the workers held a demonstration with members of Occupy Riverside outside the warehouse on Wednesday morning. The group is calling on Schneider to make sure that the workers find continued employment at the warehouse through another staffing firm. Schneider spokeswoman Elliott says, "If we have openings, we would deal with them in the ordinary fashion, through screening and hiring."
In the lawsuit filed in October, the workers contended that they "spend their workdays performing strenuous, unskilled physical labor in an environment where the temperature often exceeds 90 degrees." When they questioned their paychecks, their bosses "routinely responded with threats of retaliation and actual retaliation, including by sending the inquiring workers home without pay, refusing to give them work the next day ... and imposing other forms of discipline on them," according to the lawsuit.
Lopez said that there were times in 2009 when he worked double shifts several days in a row and never received overtime pay. He added that when he started at the warehouse he was paid at an hourly rate, but he was eventually switched to a "piece rate" under which he was compensated based on the number of trucks he loaded.
In the lawsuit, the workers say that they were told their pay would rise under the piece rate plan, but that, in fact, it went down.
Lopez said he has been looking for work at other warehouses, although he hasn't had any luck yet.
"Because we know our rights, we spoke up," Lopez said. "And I'm glad we spoke up. We're not going to have a job, but I don't regret it."