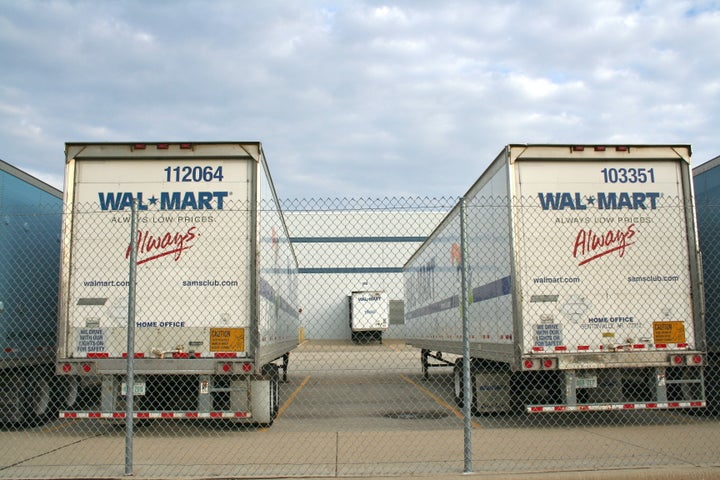 A group of warehouse workers in Southern California has gone on strike, vowing not to return to work until their employer addresses what they describe as unsafe working conditions in the warehouse.
The roughly 30 workers are employed by a temp agency to work in a warehouse in Mira Loma, Calif. The warehouse moves goods bound for Walmart stores, according to Javier Rodriguez, one of the striking workers. The workers walked off the job on Wednesday morning, claiming they had to work in freight containers that became dangerously hot in the summer heat.
"Priority number one for me is the water," said Rodriquez, a forklift driver who's been at the warehouse for ten months, working about 32 hours a week for $10 per hour. "We don't have clean drinking water. We don't have the proper equipment to work with. The equipment is broken and that puts our health and safety at risk."
The around 30 workers are not represented by a union, making their walkoff a particularly risky gambit. The strike, however, shouldn't come as a great surprise to those who've followed the labor strife in the warehouses of California's Inland Empire area.
Workers there, as in the warehousing hub of Joliet, Ill., have filed labor complaints and lawsuits against their employers in recent months, claiming everything from legal violations to threats from supervisors and the denial of rest breaks.
Labor activists are trying to organize workers in the area. Many of those who've gone on strike at the Mira Loma warehouse and at other warehouses in the area are affiliated with the union-funded group Warehouse Workers United. Elizabeth Brennan, a spokeswoman for the group, said the Mira Loma workers are striking over general conditions in the warehouse.
"Its really hot," Brennan said. "There's no air conditioning, but there aren't even fans. There's not adequate access to water, and the quotas are really high. The other complaint I hear is the equipment is often broken. They're asking for those basic improvements."
According to Brennan, the workers are employed by the staffing company WareStaff, and the warehouse is operated by the company NFI. Both companies are based in New Jersey. Officials could not immediately be reached for comment at either company.
Warehouses have sprouted up throughout Riverside and San Bernardino counties in California in recent years, with the area serving as a primary entry point for goods manufactured in Asia and destined for U.S. retail stores. In addition to a lot of new jobs, the growth of supply-chain work in Southern California has brought complaints of harsh working conditions, particularly for the temporary workers laboring on the bottom rung. Most of the striking workers are what are known as "lumpers" -- manual laborers who load and unload products from trucks and containers. Such workers often earn close to the minimum wage and have no benefits or reliable work schedules.
In a class-action suit filed earlier this year, workers at a warehouse in the Inland Empire claimed a contractor had devised an "unlawful scheme" whereby the employees worked overtime without additional pay. Last year, a separate group of workers filed a suit against the same company, Schneider Logistics, claiming the company had shorted them on their pay. Both suits are still pending.
On Thursday, several of the striking Mira Loma warehouse workers will begin walking what they've described as a 50-mile, 6-day "pilgrimage," which will end at a warehousing area in downtown Los Angeles. The walk is meant to bring attention to conditions at the warehouses to the east in the Inland Empire.
Rodriguez, a U.S. citizen from Mexico, said he decided to go on strike in part because of the pressure that comes with the job.
"We work under a lot of pressure by management, with high quotas of production," he said. "For me as a forklift driver, I have to work really fast and move really fast, and there's always the possibility that I could hit somebody with the forklift."
As for walking off the job, "I'm worried," Rodriguez said. "I have a family that I support, a wife that's pregnant... and two children as well. But the real issue here is that even if I continue working I would get hurt. It's about taking a stand now and making those changes possible."
Related
Before You Go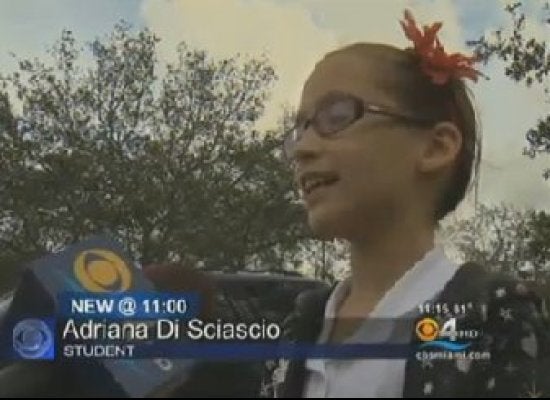 Nightmares That Involve Walmart
Popular in the Community