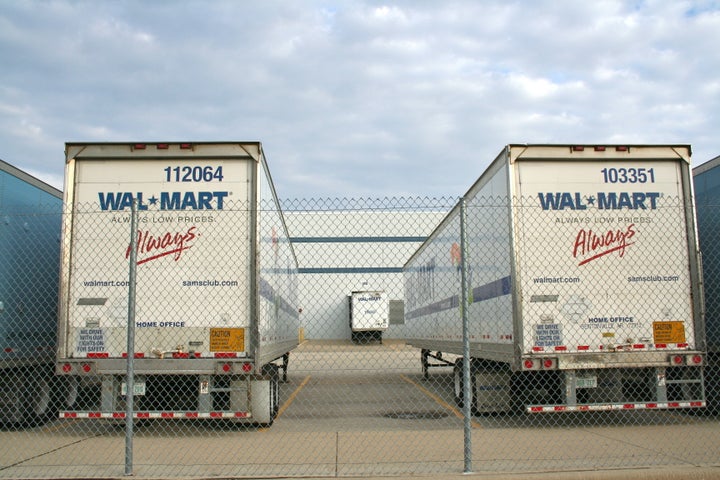 A strike among warehouse workers in Southern California has spread to northeastern Illinois, where a group of workers at a distribution center for Walmart goods walked off the job over the weekend.
The walkout by roughly 30 employees of a labor agency in Elwood, Ill., near Joliet, mirrors another strike, begun last week, by another group of 30 warehouse workers in Mira Loma, Calif. Both the Illinois and California facilities handle products headed to Walmart stores throughout the country, although none of the workers in question are directly employed by the retail giant.
The individuals in California went on strike over what they described as unsafe working conditions at the warehouse, while those in Illinois walked out claiming that supervisors had retaliated against them after they brought a list of grievances to management.
Phillip Bailey, a worker at the Elwood warehouse, told The Huffington Post that he and some 30 colleagues on Saturday brought a petition to their employer, the logistics company RoadLink, demanding a living wage and regular hours. (Bailey and three other workers had filed a lawsuit against RoadLink two days earlier.) According to Bailey, the supervisors told the group of workers they were temporarily suspended, and the workers then went on strike.
"They retaliated against us for delivering the petition," said Bailey, who earns $10 an hour loading and unloading boxes. "People are sick of taking it -- the constant speed-ups, never knowing when you'll go home from work. ... My major complaint is we don't know when we're going to leave."
A spokesman for RoadLink did not respond to a request for comment on the allegations.
The Illinois workers, most of whom live in the Joliet area, announced their strike on Saturday in Chicago at a rally in support of the Chicago Teachers Union, whose members gained national attention with a strike launched more than a week ago amid contract negotiations with the city. The warehouse workers are not represented by a union, although many of them are affiliated with a labor group, Warehouse Workers for Justice, that has union backing.
The Illinois workers share many of the same complaints as their counterparts in California: They contend that they work in dangerously hot shipping containers and that they have to use broken and unsafe equipment, according to Leah Fried, a spokeswoman for Warehouse Workers for Justice. Many of them are temporary employees earning close to the minimum wage without regular schedules, she said.
"They're really frustrated. Any time they speak out, there's retaliation," Fried said. According to Fried, many of the workers on strike labor in a section of the warehouse responsible for affixing shipping labels to boxes.
Dan Fogleman, a spokesman for Walmart, said the company has investigated the claims by workers in California and Illinois and found them to be either "unfounded" or, if legitimate, "addressed." The conditions at the warehouses in question are "consistent with the conditions in our own warehouses," he said.
"We take the allegations being made very seriously," Fogleman said. "We've conducted a thorough review of the situation and are in the process of taking additional steps to help ensure that workers at all levels of our supply chain are treated with dignity and respect." He also said Walmart is developing a system for random inspections of facilities where it contracts with third parties.
"This isn't really about Walmart at all," Fogleman added. The worker groups "are both union-funded, union-backed organizations. Their focus is growing union membership, which yields more revenue and political clout."
In their proposed class action lawsuit filed this past Thursday, Bailey and three other workers accuse RoadLink of violating minimum wage and overtime laws, saying they were required to show up early and stay after work, though they weren't paid for such time. The additional unpaid hours, they argue, pushed their real wages below the legal minimum. They also claim they were paid "straight time" for hours that they worked beyond 40 per week.

Allegations of unfair labor practices have become common in the warehouses of Illinois and Southern California. Both regions function as major shipping hubs for American retailers, with the Inland Empire serving as an entry point for products from Asia and Joliet serving as a gateway to the Midwest and beyond. As HuffPost reported last year, many of the workers employed in the warehouses are low-paid temps with few benefits and little job security, susceptible to workplace injuries and sudden layoffs.
With the help of advocacy groups, warehouse workers have filed a slew of labor-related lawsuits against their employers over the past two years, suing the temp agencies as well as the logistics companies that actually manage the warehouses. Like the former RoadLink employees who filed suit last week, many workers claim they've been shorted on their wages.
Labor activists have talked for months of the possibility of a strike among warehouse workers in the two regions. Although the employees wield little power -- the industry is largely union-free, thanks in part to the proliferation of so many temp agencies -- a large-scale strike could potentially disrupt the supply chains of major American companies, creating ripple effects well beyond the distribution hubs. But so far, neither strike has attracted the number of workers needed to do that.
The two groups representing many of the striking workers -- Warehouse Workers for Justice in Illinois, and Warehouse Workers United in California -- are not affiliated, although spokespersons for both have said they stand in solidarity with one another on their strikes.
The California workers are on the tail end of what they've billed as a six-day, 50-mile "pilgrimage" from the Inland Empire to a warehousing district in downtown Los Angeles. The workers said they embarked on the trek to draw attention to their working conditions. One of the strikers, a forklift driver named Javier Rodriguez, told HuffPost he had walked out partly because of the productivity demands put on him by his superiors.
"We work under a lot of pressure by management, with high quotas of production," Rodriguez said. The strike, he said, "is about taking a stand now and making those changes possible."
This story has been updated with comment from Walmart.
Support HuffPost
The Stakes Have Never Been Higher
Related
Popular in the Community