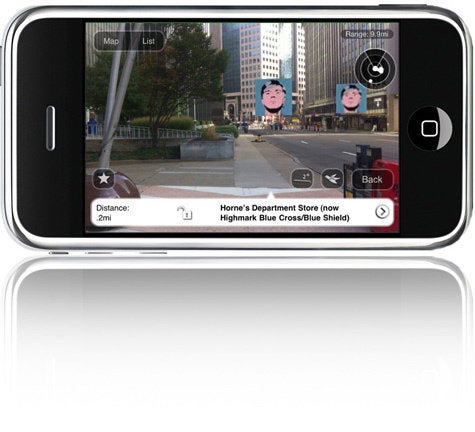 "I don't know where the artificial stops and the real starts." - Andy Warhol
When we first saw the pictures from the
, we got a little creeped out. Imagine walking down a Manhattan street, holding a smart phone in front of your face and watching icons of the late artist's face pop up whenever you pass a landmark from his career. It's just so, you know, Warhol.
The app, actually a layer for augmented reality browser
, takes data from the camera on your iPhone or Droid device and plasters one of Warhol's pop art self-portraits onto places he left his mark. You can see him at his Factory (now an underground parking structure) or Studio 54 (still Studio 54, but only in the sense that the Rolling Stones are still the Rolling Stones). You can even see him at his birthplace in Pittsburgh, in front of a normal-looking house that's only interesting because it's linked to Andy Warhol™. Sound familiar? When he was alive, he made a career out of drawing our attention to things that hardly seemed worth talking about. In death, it seems, he's doing the same thing.
But don't take this the wrong way. We love the app. We just think it's equally fun as a conceptual piece. After all, it's hard to get excited that you're standing outside CBGB when you look up and see that it's turned into a John Varvatos. But when you see the big, blue and pink face hovering above it, you know deep down that "Drella" is still plenty alive.

Popular in the Community