The Andy Warhol Foundation for the Visual Arts, one of the nation's largest patrons of arts institutions, programs for arts education and artistic expression, today announced that it is
demanding the "reinstatement of censored art work or (it) will cease funding all Smithsonian Institution exhibitions." At the center of the controversy is a work of video art by artist
David Wojnarowicz's, A Fire in My Belly, which was a part of Hide/SEEK: Difference and Desire in American Culture, an exhibit currently on show through mid-February at The National Portrait Gallery in Washington, D.C. A still from the artist's video shows an image of a crucified Christ being overrun by ants.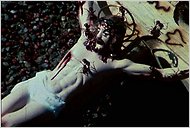 Such an image is apparently enough to get the attention of House GOP Leader John Boehner who demanded the piece be removed from the exhibit, stating that its inclusion was an inappropriate use of taxpayer dollars. Bowing to pressure from Republican leaders in Congress, the Smithsonian institution capitulated and decided to remove the work of art, found objectionable by an elite, rather than stick to its curatorial standards.
Nearly two months into the exhibit's run, the show has proven to be a curatorial success, garnering enormous praise from art critics around the world. The removal of a single work of art from a large exhibit suggests that freedom of expression is always subject to reinterpretation inside the Washington beltway.
What's at stake? In addition to the loss of its curatorial credibility and artistic standards, the Smithsonian could find this move of censorship a very costly misstep. The Warhol Foundation already gave $100,000 to underwrite Hide/Seek, and it has also committed in total $375,000 in the past three years to Smithsonian institutions. Upon seeing the exhibit, Foundation Director, Joel Wachs, exclaimed he wished the Foundation had provided double the amount of support given. However, that gravy train is finished, at least for now. Losing the future prospect of that sort of financial support should get the attention of any arts organization.
Congressman Boehner may feel as though he won a victory, but it will ultimately prove empty. The media attention and public discourse afforded to his actions will likely provide a stimulant for increased dialogue about issues he'd prefer to keep in the closet: issues about gay civil rights, DADT, censorship, and the role of government in the arts. While the removal of Mr. Wojnarowicz's, A Fire in My Belly, will surely be characterized as an abuse of power and an act of censorship, it may ultimately become a very public symbol of just how far we are from living in a society that truly defends freedom of expression. Boehner may find he's opened a can of ants he should have left alone.
A copy of the Director's letter's text follows:

December 13, 2010

Mr. Wayne Clough
Smithsonian Institution
SIB Office of the Secretary
MRC 016
PO Box 37012
Washington, D.C. 20013-7012

Dear Mr. Clough,

The Warhol Foundation is proud to have been a lead supporter of Hide/Seek: Difference and Desire in American Portraiture, but we strongly condemn the decision to remove David Wojnarowicz's video A Fire in My Belly from the exhibition. Such blatant censorship is unconscionable. It is inimical to everything the Smithsonian Institution should stand for, and everything the Andy Warhol Foundation does stand for.

Although we have enjoyed our growing relationship during the past three years, and have given more than $375,000 to fund several exhibitions at various Smithsonian institutions, we cannot stand by and watch the Smithsonian bow to the demands of bigots who have attacked the exhibition out of ignorance, hatred and fear.

Last week the Foundation published a statement on its website www.warholfoundation.org, condemning the National Portrait Gallery's removal of the work and on Friday our Board of Directors met to discuss the long-term implications of the Museum's behavior on the Foundation's relationship with the Smithsonian Institution. After careful consideration, the Board voted unanimously to demand that you restore the censored work immediately, or the Warhol Foundation will cease funding future exhibitions at all Smithsonian institutions.

I regret that you have put us in this position, but there is no other course we can take. For the arts to flourish the arts must be free, and the decision to censor this important work is in stark opposition to our mission to defend freedom of expression wherever and whenever it is under attack.

Sincerely yours,

Joel Wachs
President

cc: Ms. Patricia Stonesifer, Smithsonian Chairwoman of the Board
Directors of Smithsonian Institution museums
Board Chairs of Smithsonian Institution museums
(Headline Image: AP Images)

Related
Popular in the Community