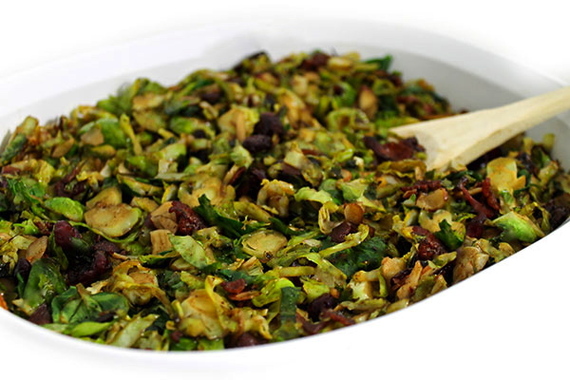 The fabulous flavors come from the sprouts being sautéed with bacon, dried cranberries and sliced almonds. Once sautéed, balsamic vinegar is added. They are so dreamy good! Each serving has 128 calories, 4 grams of fat and 3 Weight Watchers POINTS PLUS. Makes a wonderful side dish to chicken, fish, beef or pork.
1 pound Brussels sprouts (5 cups of whole Brussels sprouts)
6 slices bacon or turkey bacon, chopped (I used Oscar Meyer center cut bacon)
1 teaspoon garlic, minced
¼ cup almonds, sliced thin, slivered or chopped
Small pinch of red pepper flakes
A little salt and pepper, to taste
3 tablespoons balsamic vinegar
1. Slice each Brussels sprout into very thin slices. Set aside.
2. In a large nonstick pan, add chopped bacon. Cook and stir often until crisp. Add garlic and sauté for 1 minute. Add in Brussels sprouts, cranberries, almonds, a pinch of red pepper flakes and a little salt and pepper. Mix well. Sauté for about 2 minutes. Mix in balsamic vinegar and sauté until the sprouts are soft.
Makes 5 cups total. Each serving 1 cup
Weight Watchers (old points) 2
Weight Watchers POINTS PLUS 3
SKINNY FACTS: for 1 cup serving
128 calories, 4g fat, 0mg chol, 7g protein, 20g carbs, 5g fiber, 106mg sod, 10g sugar