 Initial climate data for the U.S. in January is in, and according to NOAA, January 2012 was the fourth warmest for the contiguous U.S. while parts of Alaska experienced record cold.
The average temperature for the contiguous U.S. was 36.3 degrees Fahrenheit, which is 5.5 degrees F higher than the 20th century average. In addition to being the fourth warmest in the 118 years of record, it was the warmest since 2006. Precipitation was .37 inches less than average. Snowcover was the third lowest in the 46 years that such records were kept, with snowfall being much less than normal in the northern Plains, Midwest, and Northeast.
The Pacific Northwest, on the other hand, was pounded with a major snowstorm from the 18th through the 23rd, including snowfall in the more heavily populated regions in western Washington and western Oregon, where snow is a relative rarity. The storm resulted in the loss of power to more than a quarter of a million homes.
The warmest conditions (relative to average) were found in the middle of the country, especially across the northern Plains, where some all-time January record high temperatures were established. In sharp contrast, it was much colder than average across Alaska, where several locations experienced the coldest January on record. In Bettles, the average temperature for the month was -35.6 degrees F.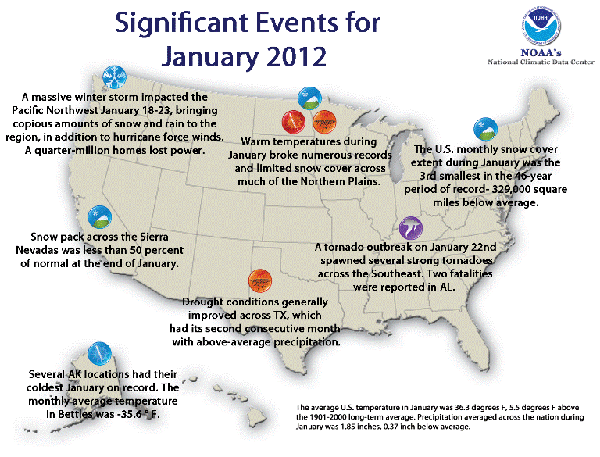 Even though precipitation was below average in general, the second consecutive month with above average rainfall in Texas improved the ongoing drought conditions. And the combination of warmth and abundant moisture resulted in a rare tornado outbreak in parts of the Southeast on the 22nd.
NOAA has not yet released its global climate data, a report that will include data from the extreme winter cold that arrived in Europe during the latter part of the month and has continued into this month. Hundreds of Europeans have been killed to date in what is considered the coldest outbreak since 1991. The extreme cold is expected to continue through much of February.
Related
Popular in the Community