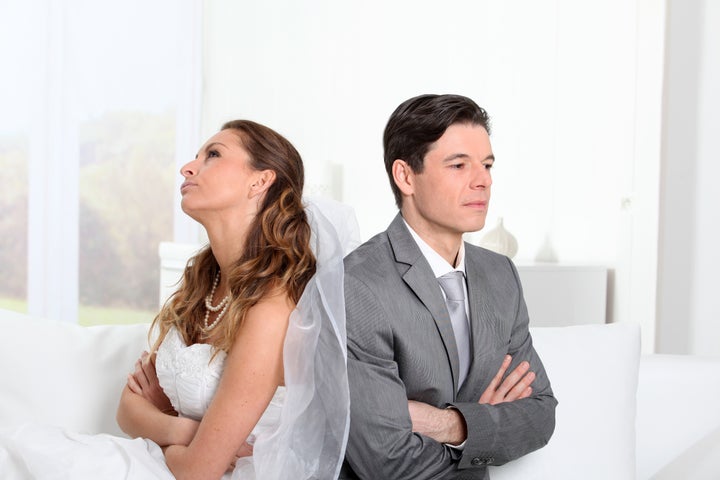 Almost five years ago, I was standing outside the room I was to be married in, wearing my white wedding dress. A veil covered my eyes and the processional was about to begin. I was talking to my soon-to-be-husband's brother's in-laws about having never been to the South, where they all live.
"When you and your husband come out, you can stay with us!" they said graciously. I smiled, feeling truly embraced by them. But my brother-in-law had a different reaction -- screaming.
"If she comes out, she's going to stay with us!" he yelled. "There would be no reason for her to stay with you!" Those were the last words I heard before I walked down the aisle.
It was one of many signs that my marriage wouldn't last. The signs weren't obvious to most people, particularly those who weren't involved in the wedding planning. A lot of the issues that surfaced during my nine-month engagement showed glimpses of what I was getting myself into: A family with mixed-up priorities and a husband who was emotionally immature. I was certainly not ready for what my marriage had in store. Here are nine other signs my marriage was doomed to fail:
THE PROPOSAL: I knew exactly when the proposal was going to happen and how it would happen. I went with him to ask for my father's blessing. He told me when he bought the ring. I even drove to the beach where he proposed. My ex couldn't do anything without someone holding his hand, and had no sense of subtlety, creativity or romance.
RELIGION: My Jewish-but-not-very-religious family suggested a venue where we could serve fish to those who keep kosher -- a common trend at Jewish weddings. My in-laws put their feet down; the venue had to be absolutely, without a doubt, 100 percent kosher. This was strange because they were not strictly kosher and neither were any of the guests. Later I realized that their insistence was not about religion, it was about showing off. My ex followed this pattern in our marriage; I was less of a person and more of a prize.
THE INVITES: We had an agreement that we would invite only family, a few friends from each side and our friends as a couple. I learned then that he had only one friend to invite. If you need to understand a guy, look at who his friends are -- or the lack thereof.
HIS FAMILY: Only a handful of his family members on the invite list were people he saw regularly; the rest he had only seen three or four times in his life. I see my whole family -- cousins and all -- a minimum of four times a year. What kind of family only sees each other at weddings and funerals? This indicated his propensity to keep relationships at an arm's length.
THE WHITE DRESS: I didn't want to wear a white dress to my wedding. I don't look good in white, and I wasn't pretending to be pure. My ex insisted that I wear white as his grandmother was extremely traditional. A non-white wedding dress would not have sat well with her. I acquiesced my wants and desires just to make everyone else comfortable.
THE BOUTONNIERE: "Guys don't wear flowers!" That's what my husband-to-be said when I brought up ordering flower lapels for all the men in the party -- including him. I will never forget this argument -- childish, absurd and strange as hell. The only way he agreed to wear one? I told him that his brother wore one at his wedding.
THE WEDDING PLANNING: I did a lot of the wedding planning on my own -- looking at flowers, testing cakes, visiting the event coordinators. My ex was absent for most of the process. Similarly, when things got tough in our marriage, I had to take care of it. He was nowhere in sight.
THE WEDDING WEEKEND: Throughout the wedding weekend, my in-laws pulled out all the stops for my ex. Actually, it really wasn't for him. Almost everything they did that weekend was organized for my brother-in-law and his wife and kids, from the hotel they stayed at to where they ate. So much so that when I rushed into the dressing room to change into my white dress, I received the nastiest look from my brother-in-law's wife, as if to make certain that I knew this day was not about me.
THE BRIDE: I was not a bridezilla by any stretch of the imagination, but I wanted to feel special on my wedding day. I didn't. I wasn't even excited. That was the biggest sign of all that my marriage wouldn't last. A wedding day is supposed to be the happiest day of a girl's life, and it wasn't mine. What I was most excited about was not that I was getting married to my ex, but rather that my friends and family were together. That is not a good way to start a new life.
Despite all the signs, I went under my chuppah, received my ring and heard the glass smash under my ex's foot. And then, instead of a kiss, he hugged me. Great -- not only was my marriage doomed, but my sex life was going to be a goner, too.
Five years later, the white wedding dress is long gone and so is my ex, who is preparing to walk down the aisle with someone else less than a year after I left. I could spend time wondering why I didn't heed the signs that my marriage would fail, but that would discount the amazing things I learned as a result of it. Although divorce is now a part of my life's journey, the marriage taught me so that's helped me move forward, and when my next wedding day comes, I will be a bit more prepared.
And hey, at least the food was good.
Popular in the Community