Having an emergency fund is the best way to prevent budget busts, but are you prepared for everything? If you think you're above it, think again. These 22 personal finance experts should have their financial life together, yet read on as share their latest budget buster.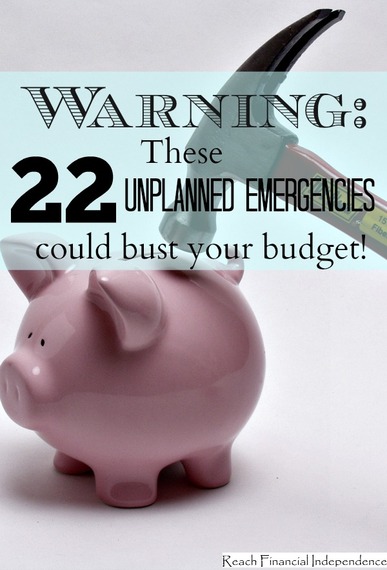 Jordann Brown from My Alternate Life is normally well-prepared for expenses coming her way. But a few years ago she completely forgot to budget for a damage deposit for her new place. "It equalled half a month's rent and I had to take it out of my emergency fund. I've never forgotten about that expense since!" said Brown.
Lance Cothern, founder of Money Manifesto never planned for his dog to need emergency attention on an Easter Sunday. The vet bill for fixing her two broken toenails was about $140 up front and another $150 before all was said and done. "Luckily, our emergency fund covered these expenses, which we quickly replenished" he remembers.
Crystal Stemberger, owner of Budgeting in the Fun Stuff tallied her husband's teeth have wiped out more than $17,000 of the household's cash in the last 2 years. It happened over several visits but still makes her cringe when another filling pops up. Without dental insurance, the couple increased their emergency savings by $5000 for when other dental bills pop up.
Sam, a.k.a. Financial Samurai hired a friend to fix up his house. Things didn't go as planned and he had to hire a more costly professional to build his bathroom all up to the latest code. "The real extra cost was about $15,000", a fourth of the total remodel.
5. Ups and downs of Freelancing
Michelle Jackson, owner of The Shop My Closet Project blog knew you need an emergency fund if you want to work for yourself. But she didn't plan for a big enough cushion. "I ended up dealing with a financial crisis at the end of the year as I waited for thousands of dollars of income to come in. My money had run out. NEVER AGAIN." she remembers.
Just when he had a big project for class, Jon Dulin's 2 year old laptop stopped working. Dulin, who runs Money Smart Guides, ended up going to work earlier to finish his project. "I then used some of my emergency savings for a new laptop and put the rest on my credit card" he says.
7. Last minute emergency travel
Joseph Hogues loves living in Medellín, Colombia. But when his mother started losing her ten-year battle with cancer, tickets to fly his family back home were over $3,000. "I accepted a new credit card offer to take advantage of the 0% no interest for six months on the expense", the Peer Finance 101 founder adds.
Joe Saul-Sehy, the voice behind the popular Stacking Benjamins podcast was the sole earner of his family, with a wife still at school and young twins when his van died. "I ended up asking my father-in-law to cosign a loan for me", a lesson learned the hard way, as he swears to never take a co-signer again.
Lindsey Thurston's husband lost his six figure job last year and the household had to buckle down and cancel services, pay out debt, and lower their general cost of living. They even used retirement savings and dare selling their home to try and start over, says the Cents, Sense and Sensibility blogger.
Dee Schafer's budget was already tight as she was in the process of adopting a baby, when her basement flooded due to heavy rains. The bill was almost $7000. Thankfully, the Color Me Frugal owner says, she and her husband had been squirreling away extra cash in case there were any last minute adoption or child-related expenses. They thankfully were able to pay for both expenses.
Related
Popular in the Community