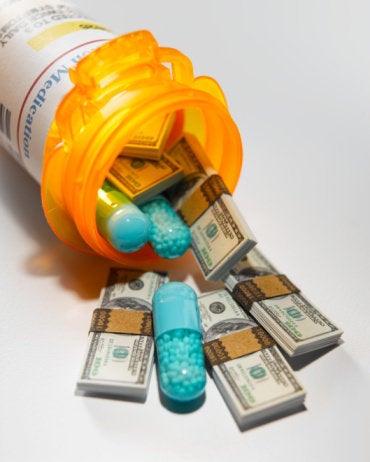 Over the past decade, the Food and Drug Administration has shown itself to be either inexcusably incompetent, something much worse, or both.
There was a time when the FDA was considered the gold standard throughout the world in maintaining drug and food safety. Today, however, the 102 year-old agency's image is tarnished almost beyond repair. Drawing bi-partisan fire from both sides of Congress, the scientific community and within the agency itself, accusations that the FDA has become too politicized over the past eight years confirms this is yet another government agency in need of major reforms that money alone won't fix.
The credibility of the FDA took another major hit last week and had health experts aghast when it declared small amounts of bisphenol A, a chemical used in plastic baby bottles and canned foods, "safe" and "not a threat to infants or adults."
They have got to be kidding!
Bisphenol A, or BPA, is a known endocrine disruptor that has been found to alter the behavior of over 200 genes. Just today, JAMA published a study examining the affects of BPA in 1455 adults ages 18-74, linking the chemical to cardiovascular disease, diabetes, and clinically abnormal concentrations of three liver enzymes. The study noted that exposure to BPA occurs most often through diet, but also through "transdermal exposure and inhalation of airborne dust." This is particularly troubling news for children, who have frequent hand-to-mouth activity and who play close to the ground where airborne dust tends to accumulate.
Ten years ago, Dr. Frederick vom Saal, a reproductive scientist at the University of Missouri, discovered mice were being damaged by doses of BPA that were 25,000 times below what the government considered safe. Over a 150 peer-reviewed studies determined BPA to be toxic at low doses in animal studies and could pose serious health risks to fetuses, infants and children. The chemical has been linked to numerous health problems, including reproductive problems, infertility, obesity, breast and prostate cancer and developmental problems in children.
In a study by the Centers for Disease Control (CDC), researchers found that 90 percent of the participants had levels of BPA that were at or above that which caused abnormalities in animal studies.
Following the release of a 2007 draft report from the National Institutes of Health that determined there was "some concern" about possible health risks to infants, the Canadian government immediately initiated steps to ban BPA use in baby products and became the first country to label BPA "hazardous."
Canada's health minister, Tony Clement, told reporters the government concluded children were being put at risk from the toxic chemical, which affected fish and other aquatic life even at very low levels. "We have immediately taken action on bisphenol A because we believe it is our responsibility to ensure families, Canadians and our environment are not exposed to a potentially harmful chemical."
John Baird, Canada's environmental minister added, "We're not waiting to take action to protect our people. We have concluded that it is better to be safe than sorry."
Isn't it reassuring to know that a chemical considered too dangerous for kids by our northern neighbors was just declared "safe" for our kids and still has a market in the U.S.?
Fortunately, the marketing geniuses at Walmart have more sense than the FDA. Soon after Canada announced their intentions to ban BPA, Walmart officials said they would begin removing all BPA-containing baby products from their shelves. Toys 'R' Us and other retailers also announced they intend to stop selling BPA products.
Confused? How could one country conclude BPA too dangerous for their citizens and another tell the public it is "safe"?
A front-page Washington Post article, "Studies on Chemical in Plastics Questioned" (April 27, 2007) explained how two countries examining the same chemical could come to two very different decisions and how industry influence may have played a role in the FDA's recent announcement.
"Tobacco figured this out, and essentially it's the same model," said David Michaels, who was a federal regulator in the Clinton administration. "If you fight the science, you're able to postpone regulation and victim compensation, as well. As in this case, eventually the science becomes overwhelming. But if you can get five or ten years of avoiding pollution control or production of chemicals, you've greatly increased your product."
When asked about the FDA's position, Dr. Frederick Vom Saal said a flood of recent BPA studies have validated his work. "The scientific community basically said, 'This argument is over,' " he said. "It ended a long time ago. There's only been an illusion of a controversy created by a well-financed public relations outfit. The idea that the FDA tells people this is safe is offensive."
Apparently the hundreds of studies by government researchers were not good enough for this FDA. Instead the agency based its opinion on two industry trade groups, the American Plastics Council (APC) and the American Chemistry Council (ACC).
"It's ironic the FDA would choose to ignore dozens of studies funded by (the National Institutes of Health) - this country's best scientists - and instead rely on flawed studies from industry," said Pete Myers, chief scientist for Environmental Health Sciences. (AP: "FDA Ignores Top Scientists on Toxic Plastics Chemical" 8/15/08)
In other words, the multibillion-dollar plastics industry told the FDA that BPA is safe and evidently FDA officials said, "if you say so, that's good enough for us." This is how the system works at the FDA. They rely on industry-produced data to determine if food, drugs or medical products are safe.
As the mounting evidence against BPA grows, some members of Congress are not relying on the FDA any longer. In April, Senators Schumer (D-NY), Kerry (D-MA), Feinstein (D-CA), Durbin (D-IL), Clinton (D-NY) and Menendez (D-NJ) introduced the BPA-Free Kids Act of 2008 (S.2928). The bill would ban the use of BPA in products made for children under the age of 7.
At a hearing of the Commerce, Science and Transportation Committee, Senator Schumer told the Committee that Congress must act "right here, right now. We cannot wait any longer."
FDA's support of BPA once again puts the agency squarely on the side of industry and at odds with many health experts and scientists who are adamant about the serious health risks associated with the chemical.
In what many believe to be suspicious timing, the FDA decision to stand behind the safety of BPA came just days before the California legislature, under siege by chemical industry lobbyists, planned to vote on legislation that would ban the chemical from baby bottles. California lawmakers rejected the bill by a vote of 31 - 27, citing the FDA endorsement.
The FDA's position on BPA is just the latest in a long list of examples of how the agency is failing in its responsibility to protect the public.

It has become obvious that the public can no longer have confidence in the FDA's opinions. Hopefully other members of Congress will agree that "we cannot wait any longer" and support the BPA bill, and we won't need to depend on Walmart to protect our kids.
Related
Popular in the Community