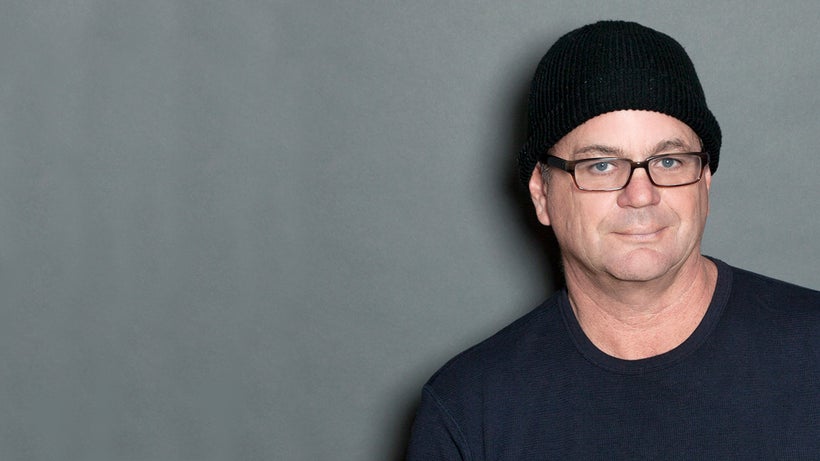 Kevin Lyman has felt like he's been attending his own funeral over the last six days. On November 15, 2017 it was announced the world's longest traveling music festival, Vans Warped Tour, would give its 24th and final cross-country run this summer. Since the news broke, the creator behind the massive production has been getting a range of responses to the decision.
"The messages I was getting overall were 95 percent positive...but some think it's the end of me doing things," Lyman told HuffPost. "It's strange, I've felt like I was attending my own wake in some ways. But I guess in the music business, if you have 95 percent positive ratings after it's all over, that's not bad."
But it's not all over. The Warped Tour founder emphasized that big plans are in the works for the final full-summer tour that kicks off this June. Kevin also teased that the Warped Tour team will be heading across the world in the new year--Warped Japan will be taking place April 2018. Also, there will be a celebration for the tour's 25th birthday in 2019.
Lyman has spent 26 summers on the road now--three with Lollapalooza and 23 with Warped since 1995. Surely you'd think the 56-year-old would look back and feel incredibly accomplished after completing such a feat.
"That's the thing, I've never really looked back. I just always tried to move forward," Kevin explained.
Kevin coupled his mindset with the analogy that Warped Tour is like life: Each day is great for one person, awful for someone else, but it always changes.
Just as in life, dramatic twists and turns have also been common for Warped. Lyman shared a story about an email exchange he had with artist Meghann Wright amidst sexual abuse allegations against singer-songwriter Front Porch Step that arose during the 2015 tour.
"Probably the darkest day on Warped Tour was when I was making the decision whether or not to let Front Porch Step come back and play that one [July 7] show. I was being questioned left and right. But I got an email from [Meghann] who performed that day on the tour. She said, 'Kevin, I know you had a tough day, but that was the day I realized what a strong community Warped Tour was.' Lyman was touched by the message. "That day we got hit by a giant storm. Everyone was helping each other get to safety. She told me that she'd never seen people come together like that before, or since that day."
While this may have been the darkest day in Lyman's professional career, he acknowledges all of the good experiences like Meghann's that have resonated with countless other artists who have taken part in the tour.
Hosting numerous nonprofit organizations has become a fundamental part of Warped Tour's presence. Some of these organizations include Hope for the Day and A Voice For The Innocent, which contribute to causes like suicide prevention and sexual abuse aid. Over the years, Kevin discovered how much he's loved working with the nonprofits that follow the tour.
"With teen suicide at an all-time high, these nonprofits we work with are so important. I love building them, I like helping them, doing whatever I can...What people don't realize is that 90 percent of Warped Tour is not financially driven. There's 10 percent that is all about having enough money to keep it going, but so much of [the tour] really isn't."
While cultivating his passion for nonprofit work, Lyman also acknowledged there are aspects of the production he doesn't enjoy--booking the tour and negotiating with agents.
As the revenues from CD sales and other things have decreased for bands over time, artists have to be on the road a lot more now. Labels are having trouble supporting their clients.
Kevin had a conversation the other day with a band that illustrated his frustration with the effects of this factor.
"I was going to give this band a little bit more money than I'd ever given a band for their first tour, but then they came back and asked for even more money." Kevin took this request as an insult. "I asked why, and they said they didn't have anyone to help them. And I thought, 'Why is all of the burden on me?' I don't get the benefits once the band goes on with their career."
Another one of his frustrations is the "every man for themselves," profit-driven mentality the scene has adopted. Lyman encourages managers to work with their artists to explore other options to make revenue.
"Artists that can develop their outside brands and interests will be around a long time because they aren't just dependant on one thing. For most artists, they're going to have to do something [else] to continue chasing their passion."
Beneath the surface, Warped Tour has always been more than just an occasion to see an incredible lineup of one's favorite punk-rock groups. It's served as a platform for young people who have worked on the tour to discover their passions beyond the music. Working with those nonprofits, promoting brands, and all kinds of opportunities that crank the gears of the Warped machine.
Now that the production will be seeing it's final days, Kevin says it's up to others now to build upon the foundation that Warped Tour has laid.
"I'm hoping that our people are getting together and thinking, 'Okay, how are we gonna move this music scene forward?' I've done everything I possibly can with this format in my life. I'm getting stuck, it's getting harder, I'm just changing what I want to do with my life."
Tickets for the final Warped ride go on sale in a few months. The festival has always strived to have the lowest ticket prices of the summer, and fans will be happy to know that Kevin assures this tradition will continue.
"We're hoping to keep the prices the same. We're working out the finances right now. I would never allow the price to take a huge jump, might be a dollar or two."
While the long-term future manifestations or formats of the tour are unknown, Kevin knows one thing for sure. His journey with Warped has always been about finding the fun. He knows the fun can be found in events like Warped Rewind at Sea. This cruise and music festival combo sailed from New Orleans, Louisiana to Cozumel, Mexico from October 28 to November 1 of this year. Lyman confirmed that presenting the tour in this fashion is still on the table.
Kevin speculated how Warped could be be presented in the years to come.
"Maybe we'll do a one-year-off, one-year-on type thing, maybe I'll pick a city and we'll do a week-long festival with education, nonprofits and some concerts. It could manifest in a lot of ways."
The 24th Vans Warped Tour first takes the stage in Pomona, California on June 21, 2018.
Calling all HuffPost superfans!
Sign up for membership to become a founding member and help shape HuffPost's next chapter
This post was published on the now-closed HuffPost Contributor platform. Contributors control their own work and posted freely to our site. If you need to flag this entry as abusive,
send us an email
.