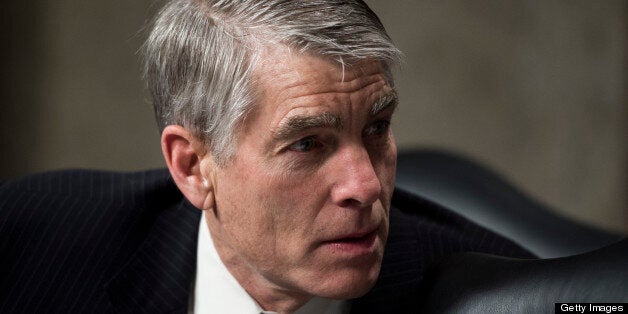 NEW YORK -- Sen. Mark Udall (D-Colo.) said Thursday he was "extremely concerned" over revelations that the FBI continues to believe it can conduct warrantless email searches despite a federal appeals court's ruling that they are unconstitutional.
Using a public records request, the American Civil Liberties Union received a set of FBI documents Wednesday. An internal June 2012 department guide included among the documents shows that the FBI believes it can obtain the contents of emails without a warrant if the email was sent or received through a third-party service.
In at least one case before that guide was written, however, a federal court disagreed: In a 2010 decision, the 6th Circuit Court of Appeals found that emailers using cloud services have a reasonable expectation of privacy and are protected by the Fourth Amendment to the United States Constitution's warrant requirement.
"I am extremely concerned that the Justice Department and FBI are justifying warrantless searches of Americans' electronic communications based on a loophole in an outdated law that the U.S. Court of Appeals for the Sixth Circuit ruled was unconstitutional," Udall said in a statement.
Many email providers, including Google, Microsoft, and Yahoo have adopted the 6th Circuit's reasoning, asking for a warrant every time the government wants access to emails. But others may be less stringent in their requirements, turning over email on the basis of administrative subpoenas that are not given serious judicial review. It's not clear how often the FBI actually applies for full warrants in practice.
Udall is one of a number of senators who have sought to update the Electronic Communications Privacy Act of 1986, which governs how law enforcement agencies get access to emails, to always require a warrant. The Department of Justice has signaled its openness to the warrant requirement -- but according to the latest documents, its apparent position is that until the law is updated, it can continue writing simple subpoenas.
The IRS's Criminal Tax Division had previously taken a similar position to the FBI, but backed down after criticism from Udall. Neither the DOJ nor the FBI responded to requests for comment on Udall's statement.
Udall said the ACLU's disclosures about the FBI documents would "only harden my resolve that we must update the Electronic Communications Privacy Act to protect Americans' constitutional right to privacy."
"Americans' right to be free from 'unreasonable searches and seizures' applies regardless of whether it involves a letter stored in a desk or an email stored online."