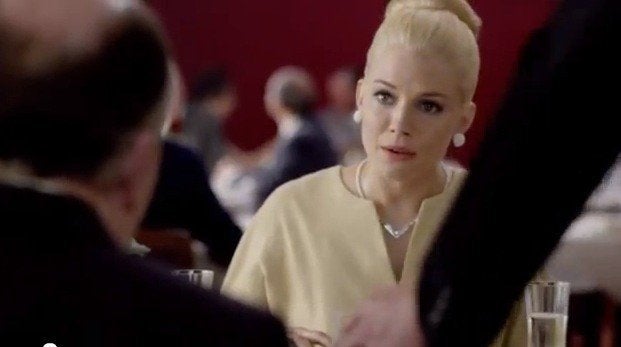 "OH, AND can I have a Cobb salad to go?"
That was Warren Beatty at the Beverly Hills Hotel Coffee Shop recently, having breakfast with one of his kids (at the usual L.A. breakfast-time -- noon.) And he was ordering that Cobb salad to go for his fabulous wife, Annette Bening.
With long-standing marriages and companionships falling by the wayside almost daily -- Danny DeVito and Rhea Perlman are the latest casualty -- I never thought I'd live to see the day when I looked to Warren Beatty as a hopeful sign that not all Hollywood marriages are doomed. Warren and Annette have been married 20 years and have four children.
This star of stars looked fit and trim in a white Lacoste polo shirt and regular Levi's jeans. (We are happy to note that Warren is not trying to wedge himself into those skinny jeans that don't even look good on the very young.)
Overhearing Mr. Beatty's order, our never-shy man-in-L.A. Hal Lifson, who was also breakfasting, recommended the chocolate coconut cake. Warren replied, "I forgot about that! I wouldn't dare walk into the house without a slice."
Annette Bening. She has her cake and eats it too. And we're sure she allows Warren a piece, if that Cobb salad is too filling.
WE MENTIONED earlier this week an unusual TV occurrence that featured several generations of one famous family seen on one night in two sitcoms -- Melanie Griffith's daughter Dakota, Melanie herself and Melanie's mom, the cool blonde beauty Tippi Hedren of The Birds, Marnie and animal rights and preservation fame.
The infamous tale of Tippi's bizarre relationship with her director, Alfred Hitchcock, is being examined in the HBO movie, The Girl. Tippi talked to writer Andrew Goldman about that unhappy time in her life, and it is still shocking to hear what she went through; his sexual advances, Tippi's refusal and Hitch's incredible revenge -- he kept her chained to a long-term contract and would not allow her to work again. "I'd be a really big star if he hadn't stopped my career. There were so many people who wanted me. All he said was 'she isn't available.' That's a mean, mean man." (Tippi did one or two low-budget movies after her contract finally ran out, but by that time, her serene classiness had fallen victim to the grittier styles of Swinging Sixties.)
Goldman asks how she felt when she learned of his death? "Relief," replies Tippi, honestly. But she did attend his funeral! "He ruined my career but he didn't ruin my life... I still admire the man for who he was... there is no one in the world who did films like he did. Nobody."
The Girl
starring Sienna Miller as Tippi, premieres on HBO on Oct. 20th.
HERE'S A favorite story as long as we are looking back at the vagaries of fame:
I used to go to the house of a Dupont heir who gave swell parties and on one wall he had a glass-enclosed case with a pair of worn ballet slippers and an autographed card, reading:

"Dear John, here are some of my old worn-out slippers. I can't think what you want them for." It was signed "Margot Fonteyn" and I would just stand in the hall looking at this, dying of proximity to greatness everytime I visited there.
Finally, a middle-aged Miss Fonteyn had pulled herself together for a last professional outing with the great risen star of Russian ballet, one Rudolph Nureyev. And John McHugh took me to see them dance -- a once in a lifetime event. And, what's more, I met them after and the ballerina was gracious and lovely; Nureyev was bored and smelled simply horrible. He didn't like to wash. He was a kind of Rasputin of charmlessness.
So that was that. I saw them once. I met them. It meant nothing to them, but everything to me. And then I have always cherished this anecdote told me about Miss Fonteyn.
In mid-life at the height of her powers, she was asked about an alternate career and the horror of having to stay in shape and go to the barre everyday. This is what she said:
"You know, in my next life I would like to have a career like Shirley Temple. You work like hell till you are six; you then sit on your ass for the rest of your life!"
DID'JA know that this very week, many New Yorkers celebrated the International Day of the Girl and also launched the 10X10 "Global Campaign to Educate Girls."
Last Wednesday was an unforgettable evening of film, story telling and poetry at the Paley Center. This great work has Queen Rania Al Abdullah of Jordan as its global leader.
The host was none other than international expert Christiane Amanpour, along with novelist-journalist Marie Arana, Afghan activist Shabana Basij-Rasikh and poet Azure Antoinette. They previewed the coming feature film by Richard E. Robbins with narration from none other than Meryl Streep and Anne Hathaway.
So you see, the "names" were first-rate and maybe you'd like to join with Diane von Furstenberg, Susan Lyne, Holly Peterson, Darren Walker, Joan Ganz Cooney and Pete Peterson plus so many others to help. Contact
.
A MEMORIAL service will be held for the popular widow of the late Mike Wallace, one Mary Yates Wallace, and it happens on the roof at the New York Athletic Club, 180 Central Park South, from 6 to 8 p.m. on October 23rd.
Calling all HuffPost superfans!
Sign up for membership to become a founding member and help shape HuffPost's next chapter