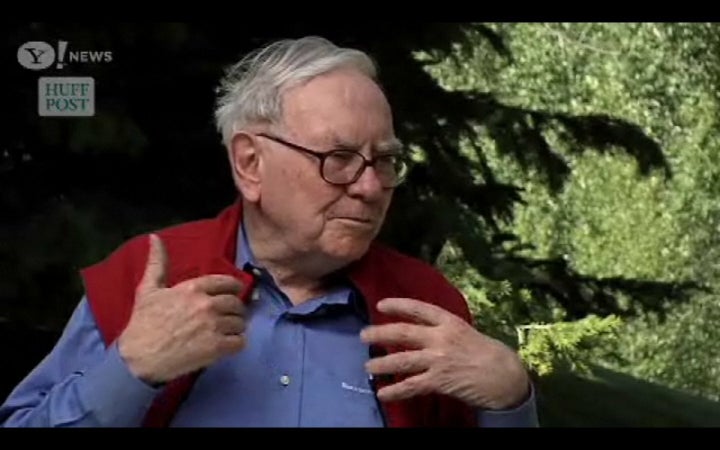 The Oracle of Omaha may not have an iPod, iPad, or Facebook account, but, excluding email, he spends more time on the computer than Bill Gates and says YouTube has won him over.
During a Huffington Post/Yahoo! News interview with HuffPost senior editor Willow Bay at the Allen & Company conference in Sun Valley, Idaho, Warren Buffett explained that the over 12 hours a week he passes playing online bridge means (email aside) he overtakes Gates in PC facetime.
In addition, Buffett admitted he frequently finds himself spending hours at a time on YouTube.
"I watch a lot of things. Sometimes people will tell me there's something kind of interesting to watch, like political gaffes or something like that. Or I might go there and listen to Frank Sinatra sing 'My Way.' So I'll click on that, then I'll see eight other things on the side and Sinatra doing something else, then one or two hours will go by and I've had the time of my life," he said, adding, "I like to see Tina Fey do Sarah Palin. I'll type that in.:"
"YouTube should be charging me a lot of money," he remarked.
Despite his viral video habit, Buffett hasn't taken to all tech.
"I'm slowly entering the 20th century," Buffett joked. Asked about his cell phone, Buffett laughed, "Alexander Graham Bell gave me one of his early ones."
Although Buffett noted he does a considerable amount of research and reading online--"I look up all kinds of things that I used to have to spend a week to get"--he said he would still prefer to "have a book in my hands." "I'll be the last guy in the world reading a real newspaper with a landline phone next to me," he said.
As for Twitter, Facebook, and other social media, Buffett is "not into that."
See the interview with Buffett--and learn more about his tech habits--in the video below.
WATCH:
Videos produced by Anna Robertson and Erin Green for Yahoo! News.
Popular in the Community