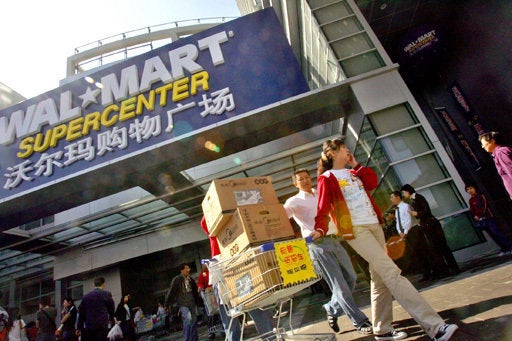 Billionaires Team Up To Bring Sweatshop Goods to America.
Warren Buffet and the heirs of Sam Walton--who make up half of the top ten richest Americans---are linked in a new report critical of the appalling wages and working conditions found in a Bangladeshi sweatshop. Wal-Mart tried to delay the release of this new report.
The billionaires product? A school uniform t-shirt---one of Wal-Mart's brand name Faded Glory garments. The new study from a group called SweatFree Communities says Wal-Mart's business practices are directly responsible for some of the worst working conditions in sweatshop factories in Bangladesh.
Wal-Mart and the Bangladeshi government lobbied SweatFree Communities not to release the report. One of the companies involved in this sweatshop story is owned by investor Warren Buffet. The study was conducted over 8 months in the JMS Garments Factory in Chittagong, Bangladesh. The report, Sweatshop Solutions? Economic Ground Zero in Bangladesh and Wal-Mart's Responsibility, says that Wal-Mart's 'Plus One' principle, which requires suppliers to either lower the price or improve the quality of every single product, every year, has forced factories in poor countries to produce goods faster and cheaper in order to remain a Wal-Mart contractor.
This pressure is passed on to the factory worker, who has to work harder and longer---often for the same pay. Wal-Mart shares much of the responsibility for the workers' poverty and intolerable working conditions. The report was based on interviews with 90 workers in a Bangladeshi factory which produces children's wear predominately for Wal-Mart. Under pressure to finish Wal-Mart orders, this factory forced workers to complete 19 hour shifts. Anyone refusing overtime ran the risk of being fired. Workers lived in a climate of fear, enduring physical and verbal abuse (including being beaten with the clothes they make).
When factory inspectors came, workers were forced to lie about their conditions and wages. Two separate wage records were kept---one real, and one for the inspectors. "Wal-Mart encourages U.S.consumers to 'save money' and 'live better,'" the report says, "but workers in Bangladesh talk about the impossibly high prices of food given their paltry wages...If workers producing Wal-Mart products are to 'live better,' Wal-Mart needs to ensure that its contractors are capable of paying workers living wages, not poverty wages, and that they fully respect workers' right to speak up and organize for better conditions."
JMS Garments has been producing clothes for 14 years. It is a joint venture between U.S., Chinese and Bangladeshi investors. One investor is Garan, Inc, a Manhattan-based apparel manufacturer, which for the past 6 years has been owned by Warren Buffet's Berkshire Hathaway. Wal-Mart accounts for over 90% of Garan's sales. Wal-Mart licenses Garan to produce its Faded Glory school uniform t-shirts. Garan designs the shirts, another company produces them. Garan picks up the shirts when they arrive by boat in America, and delivers them to Wal-Mart.
Warren Buffet and the Walton family rank number 1,4,5, 6 and 7 in the top ten billionaires list in America. The average factory worker at JMS Garments makes $36 per month. They range in age from 20 to 28 years of age. The factory has found that workers older than this are unable to keep up with the daily production target.
In an unusual move, SweatFree Communities sent an advance copy of this Bangladesh study to Wal-Mart in the summer of 2008, to see if the retailer would be interested in working with the group to find solutions. Wal-Mart's "Ethical Standards" team met with SweatFree Communities, and in return for getting an advance copy of the report, Wal-Mart agreed not to reduce its orders with JMS Garments while reviewing the report, and to work towards improving working conditions at the factory.
SweatFree Communities agreed to delay publication of the report until August 31, 2008, and to mention Wal-Mart's efforts to improve conditions at the factory. Wal-Mart has hired a third party to audit the factory, and produce a report by mid November, 2008. Wal-Mart told SweatFree it wanted to make JMS Garments "a model for other factories in Bangladesh."
According to SweatFree, "Wal-Mart has repeatedly urged us not to release the first version of this report. The Bangladesh Embassy to the United States also expressed concern about the report becoming public..."
The workers at JMS Garments have given Wal-Mart a list of six demands:
1) improve the food quality and clean the canteen;
2) abide by the factory referendum results, and establish a Worker's Association (similar to a union) to negotiate wages, hours and working conditions.
3) pay all the legal termination benefits, including benefits for length of service, unpaid wages, and earned leave benefits;
4) pay all workers the legal overtime rate for overtime work;
5) provide transportation to and from the factory;
6) respect all worker rights under Bangladeshi law and Wal-Mart's code of conduct.
SweatFree Communities suggests that Wal-Mart should take 4 additional steps:
1) make public the names and locations of factories and their audit report to make reforms more transparent;
2) make unannounced factory visits;
3) interview workers in safe settings away from their factories, so they cannot be harassed or fired for what they reveal;
4) create a system of rewards for factories that perform according to ethical standards.
Perhaps Rob Walton should have a chat with Warren Buffet about how to use their billions to put pressure on the Bangladeshi government to crack down on substandard working conditions at any factory within their borders---including those producing for Buffet and the Waltons.
As Honore de Balzac wrote: "Behind every great fortune is a crime." America's greatest billlionaires apparently have gotten used to the smell of sweat on their products.
Calling all HuffPost superfans!
Sign up for membership to become a founding member and help shape HuffPost's next chapter