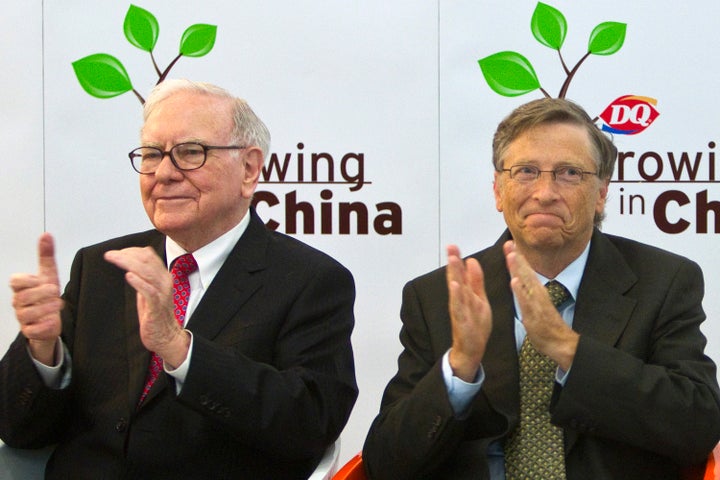 NEW DELHI (By Alistair Scrutton and C.J. Kuncheria) - Two of the world's richest men, Bill Gates and Warren Buffett, will meet the cream of India's rich on Thursday to tap the wealth of a new generation of billionaires for charity in the rapidly developing Asian giant after a similar visit to China.
The visit of two of the world's most generous philanthropists has sparked a renewed debate about the willingness of India's rich to part with their money to support the nation's hundreds of millions below the poverty line.
Gates, the founder of Microsoft and the world's second richest man, has set up a $37 billion foundation focused on health in developing countries, usually targeting common diseases with high mortality rates, such as malaria, polio and AIDS.
The 80-year-old Buffett, dubbed the "Oracle of Omaha" for his formidable investment decisions that have built up a $200 billion empire with Berkshire Hathaway Inc, has pledged to give 99 percent of his wealth to charitable causes.
Much of that money will go to the Bill and Melinda Gates Foundation. Two decades of economic boom have propelled India's industrialists and software moguls to the top table of the world's rich, with two in the top 10 of the Forbes list of the richest people this year.
Gates, arriving in the Indian capital after a visit to the poor northern state of Bihar, said while he had no "measurable outcome" in mind from the meeting, he hoped it would encourage India's richest to emulate other philanthropists.
"It's fair experience that as you get people together to talk about philanthropy, they will hear why other people have committed and agreed to what they're doing. It'll encourage them to do more," Gates told a news conference ahead of his meeting with the Indian billionaires.
The Indian billionaires include software czar Azim Premji, who in 2010 donated $2 billion for education and social projects, and G.M. Rao, the chairman of the GMR group who last week pledged $340 million in charity.
Separately, Buffett will also call on Indian Prime Minister Manmohan Singh on Friday.
In a country where more than 450 million people live in poverty, around 50 billionaires account for 20 percent of India's GDP. In 2010, there were six Indian industrialists on Forbes.com's list of the world's top 50 billionaires. With
that have come some fantastic displays of wealth, including a $1 billion, 27-storey private home built by Mukesh
Ambani of Reliance Industries in the country's financial capital Mumbai. Bentleys now mix with bullock carts and rickshaws on the streets of Indian cities.
But India's billionaires have not been as willing to loosen their purse strings as their American counterparts, according to a study by the consultancy Bain & Co said in 2010. Charitable giving in India probably totaled about $7.5 billion in 2009, according to the study by Bain & Co, equivalent to about 0.6 percent of the country's GDP. That percentage is higher than Brazil's 0.3 percent and rival China's 0.1 percent, but it falls way short of the 2.2 percent in the United States, and 1.3 percent in Britain, the report said. "Our crorepatis (billionaires) have a poor record of giving," India's NDTV said on its website. "They say they will turn up at the event to hear the wit and wisdom of the Oracle of Omaha -- but may send him back with empty pockets."
(Writing by Matthias Williams; Editing by Sugita Katyal)
Calling all HuffPost superfans!
Sign up for membership to become a founding member and help shape HuffPost's next chapter