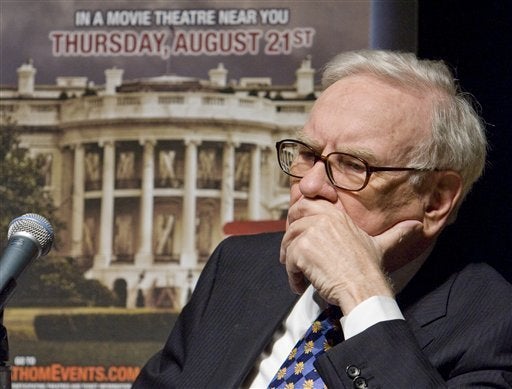 Both candidates lauded billionaire investor Warren Buffett when asked who they would choose as Treasury secretary.

``Warren would be a pretty good choice,'' Obama said, after McCain raised Buffett's name and that of former EBay Inc. Chief Executive Officer Meg Whitman. Buffett supports Obama, while Whitman is backing McCain.
See video of the candidates talking about The New York Times
The Times' DealBook blog followed up on Warren Buffett's name as a potential candidate to succeed Henry Paulson as Treasury Secretary:
Asked about this, one of Mr. Buffett's aides told Dealbook, "I tried to get a response from Mr. Buffett, and I just got a smile."
BIOGRAPHER SAYS WE WON'T SEE TREASURY SECRETARY BUFFETT
Alice Schroeder, former Wall Street analyst and now the author of a new biography on Warren Buffett, has had great access to the Oracle of Omaha over the years. When asked if she thought Warren Buffett would take the Treasury spot, she said she didn't think so:
Not a snowball's chance that Warren would do it. He hates meetings and would never tie up his schedule that way. It would take him away from his #1 interest, which is Berkshire. He prefers to leverage his time by giving advice.
MCCAIN'S TREASURY SECRETARY OPTIONS
"I think it would be someone that Americans would recognize that would inspire trust and confidence," the Arizona senator said. "There's people like (Cisco chief executive) John Chambers, there's people like Meg Whitman, there's people like Warren Buffett," he continued, adding that these people could serve in one of many jobs that would need to be filled.

McCain said he would choose a Republican or Democrat who is highly respected to lead the department. Buffett, 78, who McCain admitted may not be interested in the job because of his age or other factors, has endorsed Democratic presidential candidate Barack Obama.
Calling all HuffPost superfans!
Sign up for membership to become a founding member and help shape HuffPost's next chapter