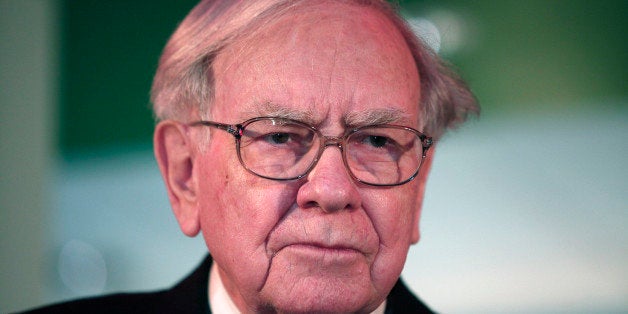 Buffett is the most dominant player in the mobile home business. As chairman and CEO of Berkshire Hathaway, he controls Clayton Homes, the largest U.S. mobile home manufacturer, as well as the two biggest mobile home lenders -- 21st Mortgage Corp. and Vanderbilt Mortgage and Finance. Last week, The Seattle Times and The Center For Public Integrity reported that Buffett's empire relies on predatory practices that trick and trap borrowers into taking on doomed, expensive loans.
Neither Berkshire nor Clayton responded to requests for comment for this article.
The mobile home business, also known as the manufactured housing industry, relies on a business model similar to the subprime lending strategy. About 84 percent of the industry's customers make less than the U.S. median household income, according to the Manufactured Housing Institute, a trade group. And like subprime mortgages, lenders charge borrowers with low credit scores and low incomes higher interest rates, ostensibly to protect themselves from increased risks of default.
The subprime housing loan saga ended in a systemic calamity for the global economy. In response, Congress packed stronger consumer protections into the 2010 Dodd-Frank financial reform law.
The deregulation bill that House Republicans and some Democratic allies will push through next week almost certainly won't result in a systemic crash. But by eliminating protections for many high-cost mobile home loans, it will help protect Buffett and other mobile home lenders from federal penalties if they take advantage of poor borrowers. Americans for Financial Reform, the Consumer Federation of America, and many community organizations oppose the bill.
"Why would we allow the government to say we're going to give the industry legal immunity for the highest-cost loans on the market that are going to the people who can least afford it?" asked Gary Kalman, executive vice president of the Center for Responsible Lending.
Key Democrats on the House Financial Services Committee said they're concerned, although they did not single out Buffett or Clayton.
"There is a long, painful history of some manufactured homeowners facing a broken and predatory financing system," Rep. Keith Ellison (D-Minn.) told HuffPost. "Instead of building wealth, manufactured homeowners see their wealth stripped away through poor-quality loans with high fees and interest rates. If there are problems with the market, the manufactured housing industry should provide public evidence that supports their argument that it should be easier to charge manufactured homebuyers more for a loan."
As soon as Tuesday, the House will likely vote on a bill that would extend government protections to lenders who charge up to 10 percentage points above the prime lending rate on mobile home purchases. At recent interest rates, mobile home lenders could charge about 13 percent, while conventional mortgages are available for less than 4 percent.
High-cost loans are dangerous, and lenders who make them can face harsh financial penalties if they fail to make proper disclosures or avoid predatory features. Those penalties can include the cancelation of the loan and other fines that companies generally do not want to risk. Under Dodd-Frank, if a borrower sues a firm for predatory lending, the lender gets the benefit of the doubt in court -- so long as the loan meets specific consumer protection standards. For mobile home loans, the interest rate on the loan cannot exceed 8.5 percentage points above the prime rate. The bill pending in the House would raise that to 10 points, and effectively exempt mobile home sales agents from rules intended to ban kickbacks to loan officers that steer borrowers into expensive loans.
The standards for mobile home loans are already much looser than those for traditional mortgages. Since the loans for mobile homes are generally much smaller than those for other houses, lenders say they have to be allowed to charge higher interest rates to secure a reasonable profit and cope with a higher volume of defaults. When the Dodd-Frank rules took effect in January 2014, the mobile home industry insisted that the government was ravaging the industry and restricting loans to poor people.
But Buffett's empire, at least, seems to be doing just fine. Clayton earned $558 million last year, according to Berkshire's annual filing with the Securities Exchange Commission, up from $416 million in 2013, as its home sales climbed to 30,871 from 29,547.
Last year, when a similar bill came up in the House Financial Services Committee, Ellison proposed an amendment that would have required the Consumer Financial Protection Bureau to study access to credit in the mobile home industry. Republicans shot it down.
"The industry will only provide data if I promise to keep it confidential," Ellison told HuffPost. "The American people deserve empirical evidence."
Nevertheless, 10 Democrats on the Financial Services Committee voted in favor of the bill during a markup hearing in late March: Reps. Brad Sherman (Calif.), Gregory Meeks (N.Y.), William Lacy Clay (Mo.), David Scott (Ga.), John Carney (Del.), Terri Sewell (Ala.), Patrick Murphy (Fla.), John Delaney (Md.), Kyrsten Sinema (Ariz.) and Joyce Beatty (Ohio). All of the panel's Republicans supported the measure.
Consumer advocates said they worry that strong Democratic support on the House floor could pressure Senate Democrats to support the legislation, or even President Barack Obama. Even if the bill were to die in the Senate, or succumb to a presidential veto, dozens of Democratic yeas could help Republicans pack it into a government funding bill. In December, the GOP successfully enacted government subsidies for risky Wall Street derivatives by adding them into must-pass annual budgeting legislation.

REAL LIFE. REAL NEWS. REAL VOICES.
Help us tell more of the stories that matter from voices that too often remain unheard.
BEFORE YOU GO
PHOTO GALLERY
Adorable Warren Buffett Photos