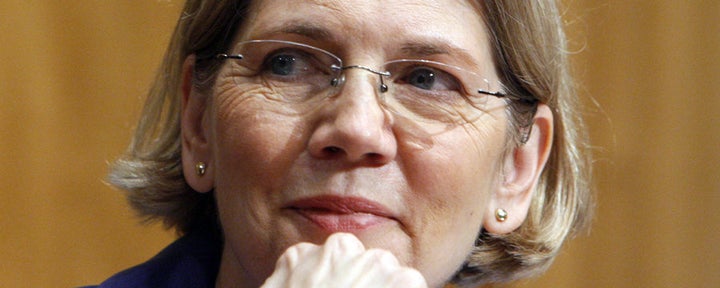 Elizabeth Warren made it clear to the White House while it was debating her nomination to the Consumer Financial Protection Bureau that she was not interested in a five-year term to run the agency. Barney Frank, a Warren ally, delivered that message to the White House, he told HuffPost in an interview Thursday.
"She always said she didn't want to be there as a permanent director. Some of the liberals are worried about it. It's almost an insult to Elizabeth. She wouldn't take this if there was the slightest impediment to her doing the job," he said.
An administration official said that Warren will be officially named on Friday as an "assistant to the president," the same title that Chief of Staff Rahm Emanuel and other top officials hold, as well as a special adviser to the Treasury, overseeing the establishment of the CFPB.
There were extensive and nuanced discussions with the White House, said a source familiar with them, and the interim nomination emerged as her favored choice, as Frank says, but she has still not foreclosed the option of a full nomination or told the administration that she would flatly refuse one.
"Frankly, on her behalf, I talked to David Axelrod earlier this year, and I said, 'You know, Elizabeth doesn't want a full five year term. She'd like to set this up,'" said Frank. "She told me that, and I told Axelrod that."
The administration, however, still has the option to nominate Warren to a permanent position.
Frank said that he was "delighted" by the administration's choice. "I want to give credit to Tim Geithner for working this out. There's absolutely no chance that she will be anything less than fully independent. She wouldn't have taken the job," he said.
The administration's announcement has been greeted with some skepticism in progressive circles, as Frank acknowledged. Bob Kuttner, a co-editor of The American Prospect, was one such skeptic, but as the outlines of her new position become clear, he has embraced it. "This strategy is a win-win, on several grounds. It gives Warren full authority to set up the agency, without having to run the gantlet of confirmation hearings and a likely Republican filibuster," he wrote in a HuffPost blog post Thursday. "This way, Warren will be able to get the agency quickly up and running in a manner that serves both consumers and progressive politics. Early directives to bring greater simplicity and transparency to credit documents will be extremely popular. Politically, the carping by the banking industry and its Republican allies will remind the public which side the GOP is on."
Frank said that she'll have more than enough time to set up the agency and get it moving in the right direction before she heads back to the Harvard faculty or elsewhere in politics. "There's no question that she'll be in there long enough," he said. "She's got two-plus years to do it. That's more than enough time," he added, referring to the rest of Obama's first term, which, of course, could be the first of two.
Warren allies, however, are still pushing for a permanent nomination. "While this is good news for American families, it is my hope that President Obama will nominate Warren to a permanent position to head up the CFPB," said Sen. Jeff Merkley (D-Oregon), shortly after the news broke on Wednesday afternoon. "She is more than deserving of the job and the Senate should have the opportunity to confirm one of the nation's strongest consumer advocates."

Popular in the Community