Many years ago I lived in Winston-Salem, N.C., which is a wonderful mid-sized Southern city, but I just recently heard about Warren Moore. His passion for singing and playing instruments began as a child in church. From there, he never looked back, and earned both his undergraduate and master's degrees in music education. His enthusiasm for music was infectious: when he began teaching at Winston-Salem/Forsyth County Schools, the marching band had 14 students and the concert band had 16. By the time he left in 2011, there were 108 in marching band and 300 in concert band. One of his schools, the Philo Magnet Academy, even named him teacher of the year in 2007. Despite his love of teaching, Moore felt he owed it to his students to leave education after his eyesight unexpectedly and abruptly deteriorated. He had been born with a condition called Coloboma, which results in underdevelopment of the retina and iris. Though that condition was manageable for him, he developed cataracts in his late 30s.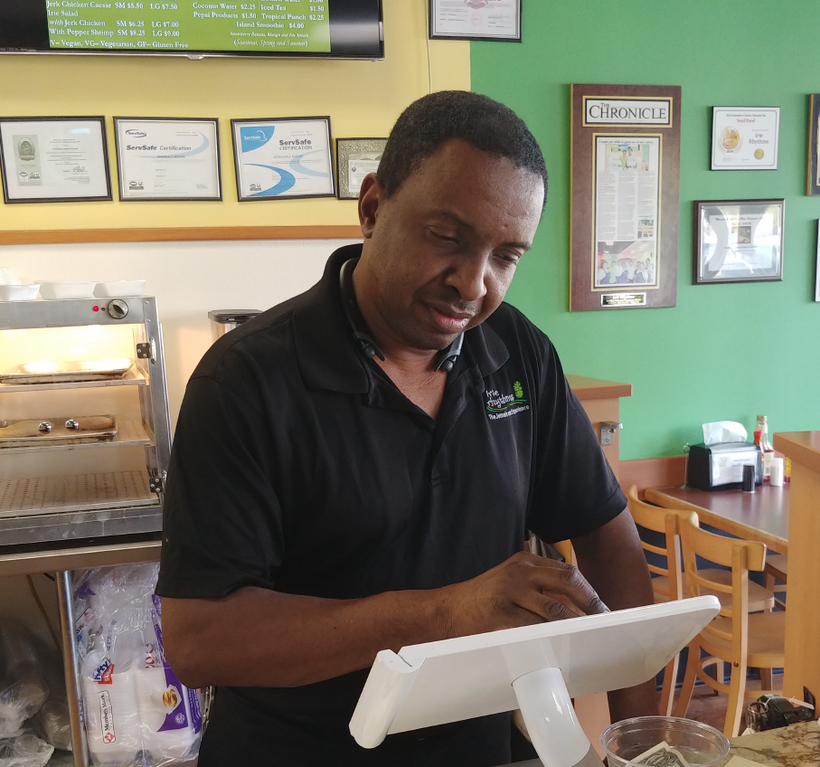 "It was a surprise. I knew how to deal with limited eyesight, but hadn't counted on the cataracts," says Moore. "I didn't want to shortchange my students, so I had to reinvent myself."
Ever since Moore met his wife Georjean, he had been raving about her cooking. His pitch to her was simple: "You cook it, I'll sell it." Their first venture was Blue Note Catering. A few years later, after Moore completed the blind food service vendor training program, the husband-and-wife team won a contract to run their own Blue Note Cafe in the Hiram Ward Federal Building in downtown Winston-Salem. Their customers included a steady stream of U.S. Marshalls, federal judges, and staffers from the state's veterans administration. "It was an absolute joy to work there every day," says Moore. "The individuals we served in that building were some phenomenal people, and seeing them every day, I made lifelong friends."
After the Hiram Ward building contract ended, Moore and his wife reinvented themselves again by opening a Jamaican Soul food fusion restaurant on the other side of town, about 20 minutes away from their former Blue Note Cafe. Despite only having a half-hour lunch break, his former customers still regularly make the drive in the middle of the day for their fix of great food that is both familiar and unique.
Moore's flair for selling his wife's cooking is hard to dispute. Since opening Irie Rhythms three years ago, the restaurant's "Winston Meets Kingston" food concept regularly earns accolades and attracts customers old and new. In 2016, Irie Rhythms was voted "Best Soul Food" restaurant in an annual reader's choice awards. And the "Best of Winston-Salem Awards" recognized it as one of the top three Caribbean restaurants in the entire 12-county region.
"In music or in food it's the same: if you have a great project and passion for what you do, it draws people in," says Moore. "Whether I'm teaching kids how to play an instrument, or introducing a new cuisine to the community, it's using the same skills and creativity."
Calling all HuffPost superfans!
Sign up for membership to become a founding member and help shape HuffPost's next chapter
This post was published on the now-closed HuffPost Contributor platform. Contributors control their own work and posted freely to our site. If you need to flag this entry as abusive,
send us an email
.