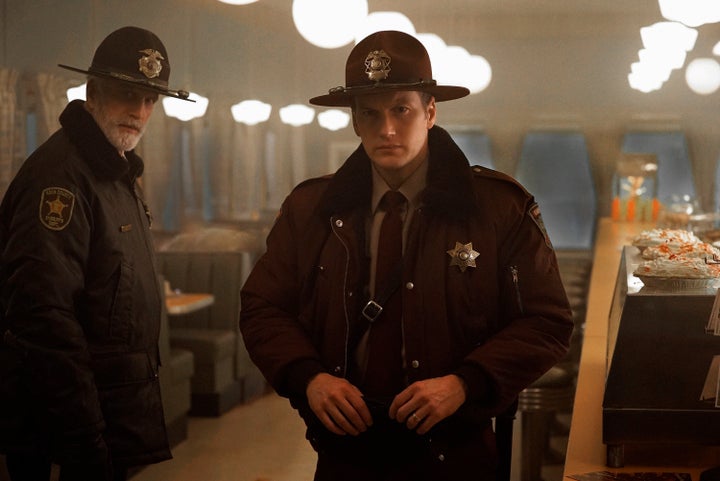 "We're making a 10-hour movie," executive producer Warren Littlefield tells The Huffington Post over the phone when describing the idea behind an anthology series ahead of the Season 2 premiere of "Fargo" on Monday night. It's an apt descriptor for the critically acclaimed FX show, whose first season followed the havoc wrought by Billy Bob Thornton's serial killer character upon the small-town lives of northern Minnesotans.
"Fargo" the TV series achieved the nigh impossible balancing act of paying homage to the 1996 Coen brothers film while showing television audiences the benefit of extrapolating a similar story from a one hour and 38 minute running time into an entire season of character development, gut-wrenching tension and the squirmy, dark thrill of seeing the splatter of bright red blood on untouched white snow. The result of that achievement? Emmys, Golden Globes, critical success and a devoted fan base ready to take the ride all over again. With a bang-up second season cast (Kirsten Dunst, Nick Offerman, Patrick Wilson and Ted Danson are just some of the faces you'll see in the premiere episode) and an anticipatory thumbs-up from the media, we can't wait to see the dark corners of the Midwest -- and the human mind -- "Fargo" takes us to this time.
Littlefield, who was also the president of NBC Entertainment during the time of "Friends," "Seinfeld," "ER" and the height of '90s "must-see TV," spoke to the cable series' aim to live on creatively past its initial season run and the cultural forces driving this round's cast of characters.
Season 1 did a great job of paying homage to the original film without being a reproduction of that story. Does Season 2 have that same aim?
Because we're telling Lou Solverson's story, we are connected to Year 1 by Year 2, and honoring that same character and sense of history that Keith Carradine gave us. Now Patrick Wilson [playing Lou Solverson] in 1979 brings that story, the massacre of Sioux Falls, to life. We like that there's connectivity to the original -- I'll call it a work of art -- from the Coens. We're anthological, and anyone who comes to "Fargo" Year 2 doesn't have to have seen Year 1. It would be great if they did, but it's not a requirement.
How early on in the show's conception was it envisioned as an anthology series?
That was really when [writer and producer] Noah [Hawley] and I first talked about adapting "Fargo." That's really what the conclusion was, that it would be a tricky proposition, but the idea of having all original characters and an original story felt like we wouldn't disappoint the audience. We wouldn't be trying to present to them Marge and not have Frances McDormand. We would try and capture -- I think we like to call it the "Coen DNA" -- "Fargo" as a state of mind, to capture that sensibility of people in the dead of winter. They've got so many layers of clothing on to try and brace the elements, to prepare themselves for what life throws at them, very emotionally and physically covered up. We try and reveal their stories and watch them cope with all forms of trial and tragedy.
Because it is an anthology series, is there the fear that -- because of the mostly new set of characters, save for Lou -- it's a sort of a new gamble on a new series?
Absolutely, there's a fear. We go to the edge of a cliff and we leap off of it. Most television series, the more time you have at the end of each season, even at the end of each episode: You're learning, you're evaluating, you're building. You don't have any of those things built in. We're making a 10-hour movie, with an entirely new cast, with new stories, new characters, new chemistry: All of that, we have to find. We're humbled by how difficult that can be. Again, I think we're kind of wildly turned on by it at the same time.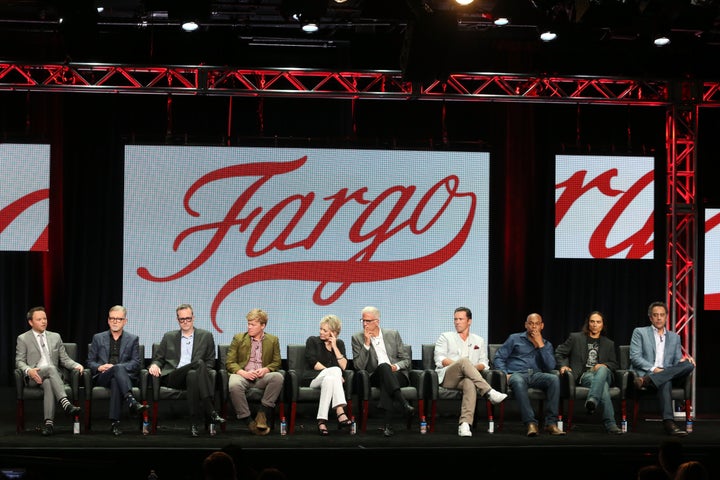 With the new season being set in the '70s, does that feeling of a sort of national unrest that was present then feed into the new season?
Yeah. [At that time,] we're ushering in the Walmart-ization of America, we're ushering in that we have to wait in line for gas. Jimmy Carter is struggling with all kinds of international and economic issues. It felt like we hadn't lived before. It's a very uneasy time. But then, on the horizon, it's Ronnie Reagan, who says, "We're the greatest country that ever lived. There's no problem that we can't solve if we just set our minds to it." So there's this kind of salve, this presence that rises in the West and comes to the Midwest. So we usher that in, and we know that America wants it and embraces that presence in the midst of the chaos we're living with. We try and capture both of those: the world as it was then and what's coming.
Jumping back a little bit, you mentioned that the cold environment in "Fargo" causes people to be covered up emotionally and physically. How much does that environment play into the unraveling of otherwise normal people doing these terrible things on the show?
I think it's an interesting look at a place. It can be wrapped pretty tight. We can say that, again, physically, in that clothing, and emotionally. A character like [Kirsten Dunst's] Peggy Blumquist, who there are scenes of Peggy wondering, is this the plan for her? Is this who she's meant to be? She has hopes and dreams of going west, and palm trees, and she hoards magazines. You know that there's something that's wound pretty tight in the first hour. And, then, boom: It kind of snaps. There's a moment where Rye Gerhardt steps in front of her car on a snowy night and everything changes.
Were there any other characters from Season 1 that writers considered bringing back?
In some ways we get a little bit of Molly [Solverson, from Season 1]. She's only 6 years old, as Lou's daughter. But for everyone that fell in love with Allison Tolman's portrayal of Molly, we get a little bit of a sense of: How did she grow up? What was the household that she grew up in? That kind of origin story for her echoes back to last season, what we presented. You can come to that fresh: You don't have to know last year, but it's kind of nice if you do. Now you see her world, and the influences on her life, and her mom.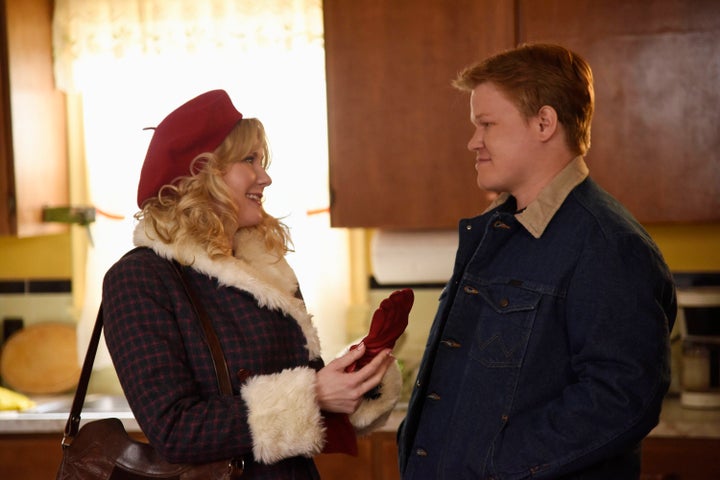 For a quirkier series like "Fargo," do you think that it could have been made on a major network, either today or during your years at NBC, or is it more suited to this sort of new breed of shows on cable networks and streaming services?
I have to say, our partners at FX give us tremendous support and creative freedom. Imagine a broadcast network [showing Season 2's] opening scene. They would call it "tele-cide." It would not be allowed. And yet what it echoes, of where we're headed, there was never a balk or a flinch from FX. It was like, "We love it. This is great." We don't think in any way that we're gratuitously violent, but there are violent acts in this world. Lou Solverson comes home from Vietnam. He thinks he's left some of that madness and destruction behind: In fact, it's right in his backyard. The kind of freedom that we have to present a violent world, and also how Lou stands up to it … The amount of time we're given to explore characters -- just moments to let the camera linger and sit and be with a character -- that's not really a network pacing, not a network's bread and butter. I think we're in a very good home.
In this way, do you think "Fargo" faces less pressure than a big network banner show, and how do you define success for the series?
I think success, for us, is satisfying ourselves creatively -- and we are -- satisfying our partners at FX and MGM, [who] are wildly excited about what we did, and satisfying the viewers. We hope to bring new characters into their lives, tell them a new story, and have them completely wrapped up in our world and in our characters, and then give them a satisfying conclusion to the time they've invested. We're not immune to wanting it do well in its network presentation. But really, [FX CEO] John Landgraf said to us, this is how this works for us: We want you to do something that, for the next decade, will be consumed all over the world across multiple platforms. We do care how well it does initially on our network, but we're your partners. If you create something, like the Coen brothers did with their film, that generations will come back to, and it will be consumed just the way I described, he said, that's a good business for us. And that's what we'll consider success.
I think, particularly in today's world, when television critics single us out and identify us as worthy of the audience's time, that's really, really important. We know: We live in a world where there's an infinite number of television choices, quality scripted dramatic choices. Being identified by critics as being worth your time: that's essential.
This interview has been edited and condensed.
"Fargo" Season 2 premieres Monday, Oct. 12, at 10 p.m. ET on FX.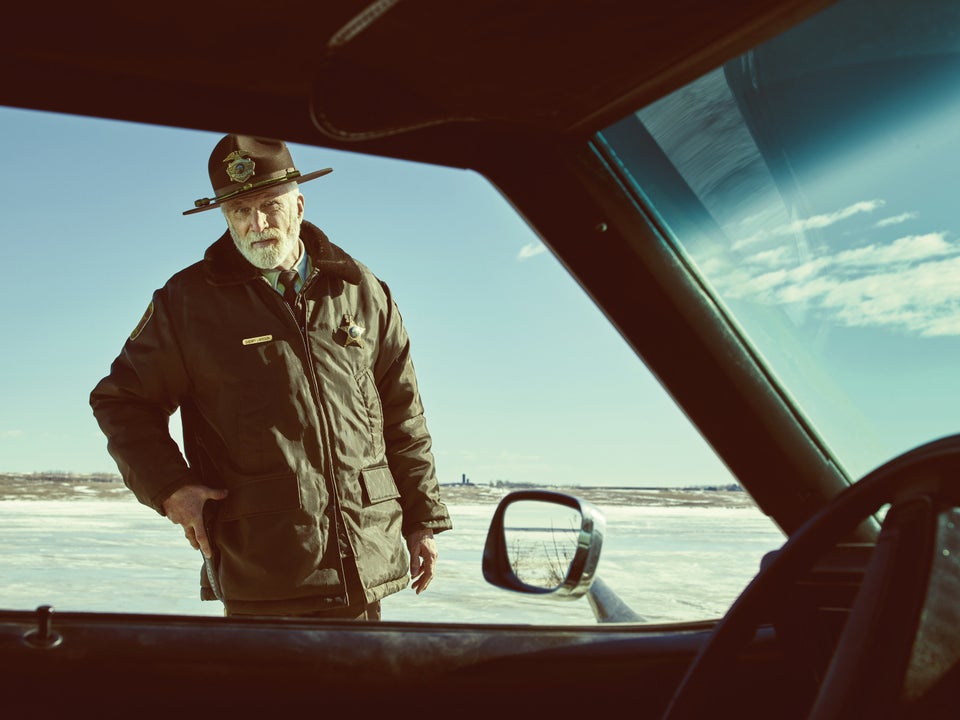 "Fargo" Season 2
Popular in the Community