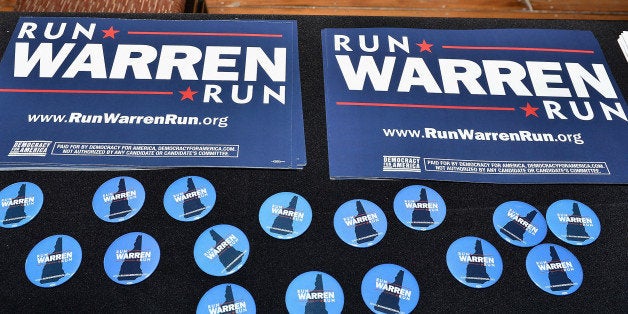 There's something odd about the early polls on the 2016 presidential primaries.
No, it's not just that the first primary is still over eight months away. It's the people the polls are testing as candidates. Recent trial heat questions exclude some who say they are running but include others who insist they're not.
Why ask about Warren but not Trump?
Especially in the early months of a presidential race, when most of the eventual candidates haven't even declared their candidacy, pollsters have to make judgments based on what these individuals are doing, prior poll results and their own experience. The Huffington Post talked to a few pollsters about how these decisions are made.
They said they try to monitor who is developing a campaign structure, visiting critical primary states, drawing crowds and -- of course -- garnering support in the polls. Particularly in the early primary states, the views of political insiders on who counts and who doesn't also play a significant role. According to Andrew Smith, director of the University of New Hampshire Survey Center, "There's a really nice old cadre of people who've been involved in this racket for a really long time that I can talk to about those things."
Pollsters often have to balance their own insights with what the media want. As Barbara Carvalho, director of the Marist Poll at Marist College, said, "When we partner with a media source, the media source generally has their own approach for determining which candidates are included in vote preference questions."
But there aren't any firm rules. Smith noted that "the criteria as to who to include and who not to include gets kind of fuzzy."
Opinions about polling on Warren, the avowed non-candidate, are mixed. Some pollsters think her comments should be taken at face value. Carvalho cited her repeated denials and said, "Until she indicates otherwise, she will not be included."
Others ask about Warren simply because of the so-far-anemic Democratic presidential field. As Tom Jensen, director of Public Policy Polling, said, "I've given a lot of thought to whether we should continue keeping Biden and Warren in there and for now have erred on the side of leaving them due to the lack of other prominent Democratic candidates." Besides former Secretary of State Hillary Clinton, of course.
Smith has a different view on why to include Warren: "The fact that there is a fairly significant draft Elizabeth Warren campaign in New Hampshire that's being run by seasoned New Hampshire political pros is a strong indication to me that Elizabeth Warren hasn't really put her foot down and told them in no uncertain terms that she's not running. I think that door is open a little bit further than Warren is indicating right now."
Opinion regarding Donald Trump is more definitive: Pollsters' best guess is that he's not really going to run. Smith, whose surveys have included Trump at the request of Smith's media partner, doesn't think he will run. Carvalho and Jensen echoed that sentiment and agreed that Trump should not be included unless he makes more definitive moves toward an actual candidacy.
Only one academic pollster, who asked not to be named, thought Trump should be included in polls. "He has made multiple appearances in early states, spoken at conservative forums including straw polls, and has fundraising capacity to be a serious candidate," the pollster pointed out.
Another disincentive to adding Trump is that the list of potential Republican presidential candidates is already long. None of the pollsters mentioned this specifically as a reason, but Smith noted that his last poll included 18 potential GOP candidates. David Paleologos, director of the Suffolk University Political Research Center, said that the ideal number of candidates on a question about primary support would be eight or fewer. Carvalho said that five would be ideal.
"If you get past seven or eight candidates," Smith said, "it's very difficult for people to do much in the way of evaluating them, because even in New Hampshire, the voters aren't paying any attention to this race yet. They won't be paying any attention to this race for months to come."
In other words, poll results today say very little about who will ultimately win voter support in primaries. But that certainly doesn't mean ordinary Americans should ignore the polls. Given all the sources of information that pollsters are drawing on, their decisions about whom to include might just be the best way to track which candidates are most serious about seeking the White House.

Calling all HuffPost superfans!
Sign up for membership to become a founding member and help shape HuffPost's next chapter
BEFORE YOU GO
PHOTO GALLERY
Donald Trump