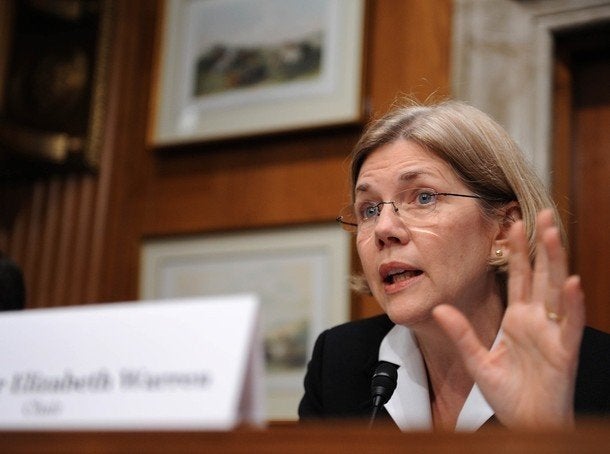 In the next few weeks the Obama White House will introduce a sweeping package of regulatory reforms designed to prevent excesses and pitfalls in an economy that has exhibited both. Within that package, Democratic officials say, should be a version of a Financial Product Safety Commission to specifically look out for consumers' well-being.
The concept, discussed by the president's economic staff and Treasury Department over a recent dinner, is relatively straightforward: a consumer protection agency for the world of credit and stocks. And it makes such obvious politics, in light of the failure of past regulatory agencies, that it begs the question: what, exactly, took so long?
Two years ago, the few people discussing a consumer safety commission for Wall Street were primarily in the world of academia, think tanks, and advocacy groups. Skepticism about the economy's future still was unfashionable. The housing market was slowing, but the extent and basis of its failings had yet to be fully understood. Financial portfolios and retirement funds were months, even years, away from being wiped out.
In the summer of 2007, Professor Elizabeth Warren, then of Harvard, penned a piece for Democracy: A Journal of Ideas. She led with what is now (in the wonky world between economics and politics) a famous analogy.
It is impossible to buy a toaster that has a one-in-five chance of bursting into flames and burning down your house. But it is possible to refinance an existing home with a mortgage that has the same one-in-five chance of putting the family out on the street -- and the mortgage won't even carry a disclosure of that fact to the homeowner.
As Warren saw it, consumers would greatly benefit if an independent commission existed to create safe harbors for credit card agreements or ensure that mortgages didn't keep individuals confused about interest rate hikes. More importantly, it would be proactive rather than reactive.
"Three or four years down the line firms will come up with some new idea that they haven't thought of yet that will have some destabilizing impact on the market," said a Warren confidant. "Rather than waiting for Congress to come back and take action, you would have a regulatory agency already set up."
At the time, few in the world of politics were thinking along those lines. Banking regulators and agencies like the Securities and Exchange Commission had oversight power that affected consumers. Industry groups, meanwhile, were decidedly unwilling to stomach additional regulation.
They still may be. But in the fall of 2008 a few things happened: Wall Street collapsed and Warren was appointed chair of the Congressional Oversight Panel monitoring the Troubled Asset Relief Program. Suddenly, her proposal had some institutional credibility.
Senator Dick Durbin was one of a few members of Congress who, independently, had been championing the notion of a consumer protection agency. And in November 2008 the Ivy League academic and Illinois Democrat started talking. "The two of them had an existing relationship," said an aide to Durbin. "When it comes to these economic issues they had spoken several times over the past couple of months and this was something that had come up in a bunch of conversations."
Durbin wasn't alone. A few months later, Senator Chuck Schumer (D-N.Y.) and his staff began discussing the need for a regulator, in the current framework, to look at things from a consumer's perspective. The senator, according to his press secretary Brian Fallon, "approached Professor Warren to discuss his interest in introducing her proposal as legislation. He learned that Durbin was already of the same line and so we reached out to Durbin's staff."
The two senators, in turn, looked for someone to push the process forward in the House of Representatives. They had a natural ally: Massachusetts Democratic Rep. Bill Delahunt, who lives with Schumer, Durbin and Rep. George Miller in an apartment on Capitol Hill. The group brought on board one more member of Congress, Rep. Brad Miller (D-N.C.), and another member of the Senate, Ted Kennedy (D-Mass.), before hosting a press conference on March 10 to introduce their legislation, titled the Financial Product Safety Commission Act. Warren was in attendance.
As things moved forward in the legislative branch, Warren was pitching the concept to the executive. According to sources with knowledge of those conversations, she began having an effect. The Treasury and the White House started having internal conversations of their own. And, in the occasional public forum, the gist of those conversations would surface. On March 20, President Obama appeared on "The Tonight Show" with Jay Leno and practically plagiarized Warren's Democracy article.
"When you buy a toaster, if it explodes in your face there's a law that says your toasters need to be safe," he said. "But when you get a credit card, or you get a mortgage, there's no law on the books that says if that explodes in your face financially, somehow you're going to be protected."
A week later, Treasury Secretary Timothy Geithner submitted written testimony to the House Financial Services Committee in which he noted that the "huge gains in increased access to credit" that America witnessed in recent years "were overshadowed by pervasive failures in consumer protection, leaving many Americans with obligations they did not understand and could not sustain."
The question was no longer how to give a once-quaint proposal on consumer safety a more public presence. Now, it was how to make it law. On April 22, Durbin, Schumer and Kennedy wrote Geithner encouraging him "to include our proposal to establish a Financial Product Safety Commission in the Administration's plans for reviving the American financial system."
"Regulators cannot effectively manage systemic risk and restore the confidence of American families in the financial system without making sure that the financial products themselves are safe," they added.
As it stands now, the bill seems likely to be part of a much larger package for regulatory reform to be pushed by the Obama White House in the coming weeks. Whether the language remains the same is unknown. The Treasury Department is debating whether to give the proposed agency oversight over mutual funds in addition to mortgages. Credit cards may not fall under its purview, in light of the new regulations for this industry passed by the Senate this week.
Nevertheless, economists are excited by the prospect of a Financial Product Safety Commission. "The culture within the regulatory agencies is critical," said Mark Thoma, an economics professor at the University of Oregon. "That culture has to change from where it was before, regulators have to be willing to step in and take control and in doing so have the support of those above them in the command chain, and that may be hard to accomplish without a big internal shakeup. Initiatives such as these provide a means to reorganize -- and hence 'shake-up' -- the existing culture and move it in a positive direction."
And while the number of members to serve on a prospective agency remains debated, already there is a name being floated to be its chair: Elizabeth Warren.
Popular in the Community