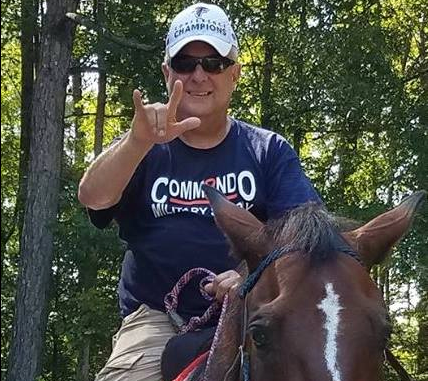 Sam Rhodes is no stranger to the toll that war can take on a person's mental health.
"I spent 30 months in combat. It affected me more than most," Rhodes, 56, told HuffPost. "I considered taking my own life, and I was getting ready to do that. I'm still working through that. It's a tough battle."
In 2008, Rhodes found that working with horses helped him cope with these feelings and gave him a new sense of inner peace and purpose ― and he wanted to share that with others affected by PTSD.
He now runs a nonprofit called Warrior Outreach, which offers free programs that teach veterans and their loved ones the basics of horse riding and care. He operates out of his ranch in Fortson, Georgia, about 30 miles from Fort Benning Army Base.
Warrior Outreach is well-known in the area, attracting thousands of people a year. They come to ride the 20-acre ranch's trails, to work in the barn, to train newcomers ― or just to kick back and enjoy the scenery. Rhodes and his team of volunteers also hold music events on the ranch and visit veterans at their homes to help with repairs.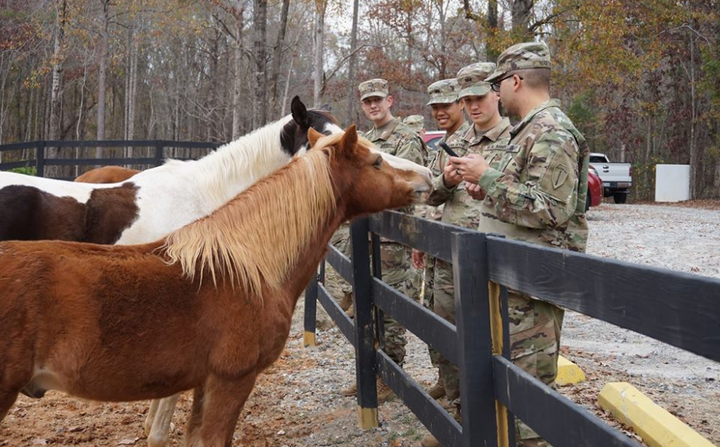 "Last year alone, over 16,800 people were touched by our program in some way," said Rhodes.
Between 11 and 20 percent of soldiers returning from Iraq and Afghanistan have PTSD, according to the United States Department of Veteran Affairs. The condition can occur after a traumatic or life-threatening experience and may cause prolonged periods of anxiety, jumpiness, bad memories and disturbed sleep. It can also affect personal relationships, Rhodes said, noting his painful divorce from his first wife.
"I didn't really want to be married anymore, after I came back from combat," he said.
He hopes that Warrior Outreach can give soldiers with PTSD the opportunity to rebuild their confidence, reconnect with their families and build new relationships with others who have gone through similar traumas.
Warrior Outreach's horsemanship offerings are similar to official equine therapy programs offered by private groups across the country. Rhodes founded the nonprofit by partnering with Tennessee-based Heartland Therapeutic Programs, which develops alternative mental health programs and has worked with the VA and other veterans organizations.
The VA offers some alternative therapy programs for veterans with PTSD, including animal-assisted therapy. However, the department notes on its website that more research is needed to assess the effectiveness of alternative programs. The VA lists talk therapy and medication as effective treatments for PTSD and says that less traditional approaches could be combined with those treatments or used for people who refuse treatment.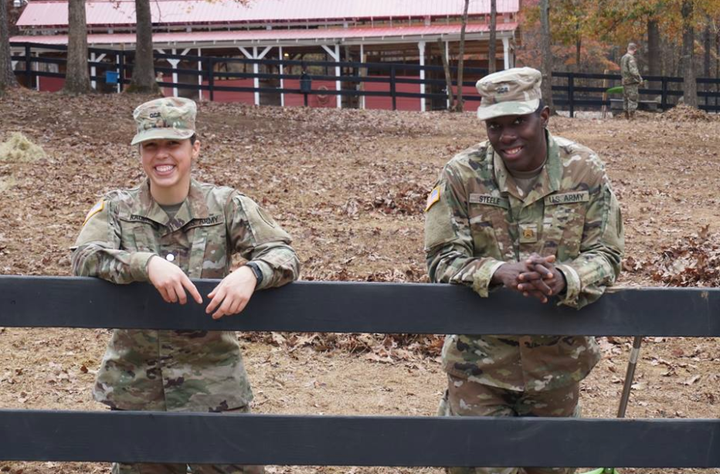 Rhodes is acutely aware that his program is limited in scope. "I'm only one person," he admits.
"For me, it's more about the atmosphere," he added. "It's more about the exchange between the siblings, the exchange between the spouses. The engagement. A lot of times you'll have this hard-core soldier walk up there — they think they're a rock, that they're all this and a bag full of Doritos, and when it gets down to it, they're really not."
He and his current wife, Cathy, have poured their savings into Warrior Outreach, expanding their property, erecting a barn for the ranch's 17 horses, even building a community center and a music pavilion.
"You'd have to see it to believe it," Rhodes says proudly.
Rhodes still works full time at Fort Benning as the Ready and Resilient program manager at the Maneuver Center of Excellence, where he helps promote a culture of strong mental health and suicide prevention for service members and their family.
He says that by the time he's ready to leave for his job in the morning, sometimes there are already several volunteers working outside on his property. When he returns home in the evening, he'll often put in several hours of work on the ranch.
"Every second of my life for the last nine-plus years has been dedicated to trying to save the next guy," he told HuffPost.
"People tell me, 'Sam, you can't save everybody.' But I damn sure can keep trying. I'm not gonna give up," he added. "It's painful, but I just want to do it."