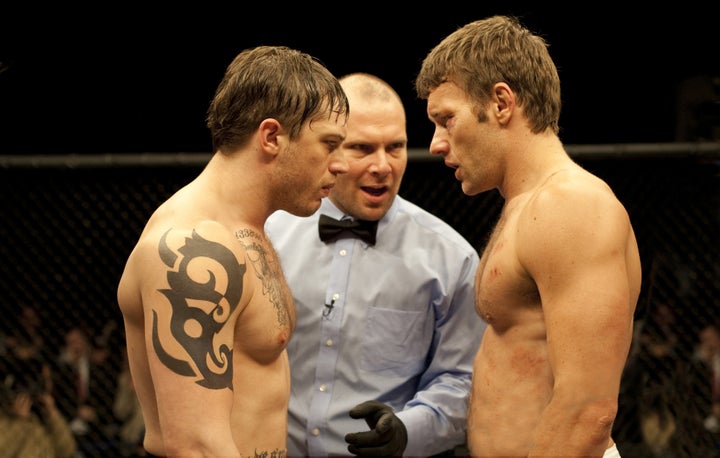 "It could be a movie about chess or two brothers competing in the knitting championship," Joel Edgerton says, musing on the boiling point tension in "Warrior," the new film in which he stars. "The actual sport is not the most important thing, but because of the great family drama, it makes the fight so much better."
Directed by Gavin O'Connor, the film marries the deep wounds of a broken family and the violent discipline of mixed martial arts to create a narrative that strikes at the physical and emotional core. Edgerton plays Brendan, a former ultimate fighter-turned-high school physics teacher behind on his mortgage and secretly fighting at a local bar to make ends meet. His personal and professional worlds collapse when first, he gets caught in his moonlighting gig and suspended from school and, soon after, he finds out that his estranged younger brother Tommy (a brooding and broken Tom Hardy) has reappeared after taking off for the Marines years ago.
It's their father, Paddy (a resurgent and desperately gravelly Nick Nolte), who delivers the news to Brendan, stoking up more bad feelings. A just-recovering alcoholic, his abusive treatment chased Tommy and their mother away, while Brendan stayed in town to graduate and marry his high school sweetheart. Brendan hasn't spoken with Tommy since he left -- 14 years ago -- and despite hanging back, Brendan no longer has a relationship with Paddy, either.
While the film presents limited details within the backstory – how Paddy abused the boys, for example, goes unsaid – O'Connor still pushed his stars properly establish their characters so that they could more easily slip into their bitter skins.
"We did a lot of character work before we shot the film just to make it smell real, especially when you're dealing with a family and there's a history with people," the director told The Huffington Post. "I don't know, you go to a movie sometimes and it feels like they just glean the surface so I try to be really diligent about connecting emotional lines and doing back story and doing character biographies and having the actors do that."
Tommy, who harbors a seething hatred for his dad, quickly becomes bent on reclaiming his old high school wrestling glory so that he can enter a massive MMA fighting tournament. That he needs his old trainer presents a problem; it was Paddy who turned him into such an unstoppable fighting force. The detente is awkward, to say the least.
Flying out to California to meet with O'Connor, Hardy and the director reworked the character into a war hero harboring dark secrets about his past – some of which are never revealed to the audience. Tommy began as an inmate incarcerated in Mexico who went from prison to prison, brawling in prize fights before he escaped his detainment; in the final draft, he was a scarred veteran who , as Hardy describes him, "loves a lot and has been let down." That he works out his anger in the fighting cage is indicative of his duality: his secret motivation for entering the tournament is to win a $5 million prize for the family of his fallen best friend.
It was perhaps easier for Hardy to play a character with that arc because, in many ways, he already had it in him. His best friend is a military veteran, and had it not been for his own acting career, he may have enlisted himself – or, stayed enlisted, as it were.
"I've got a lot of friends in the military so I represent [in the role]. You know, friends of mine who are involved in that and just how they talk to me about the army... I wanted to join the Airborne myself... I signed up for about a half an hour, had to talk my way out," he laughed, remembering his agent's reaction when he found out that he had, in order to go on a certain weekend trip, enlisted in the armed forces.
Jennifer Morrison, who plays Brendan's loyal wife Tess, saw a different entry into the story; not charged with taking on long-simmering family resentment, it was her character's dilemma of wanting to support her husband, but not let him get manhandled in the ring, that immediately made the role attractive.
"I was really connected to the idea that she was in conflict at all times," Morrison professed. "She was wanting so badly to love and support her husband in any way that he needed to be loved and supported but she also needed to fiercely protect her family and protecting her family might mean going against what he wanted."
In that vein, the couple's financial troubles also helped her personalize the her part.
"I feel like all of us have family members going through those situations or we're going through them ourselves or know someone who is," the actress said. "It's just such a crazy time right now that it was just a very relevant circumstance that this family was in and it was going to bring up conflicts and fights and all sorts of things that they may not have been used to dealing with each other because it was never a problem before."
For his part, Edgerton also felt a deep respect for his character's financial woes, admiring the everyman who decides to enter the very same tournament to earn the prize money and save his family's home. He's not a physical monster like Tommy -- Brendan is an underdog to Tommy's out-of-nowhere favorite -- and fights more out of desperation than rage.
"What I love about him as a character is, [he asks] what are the tools in your box that will help you fix the situation you're in? And Brendan is willing to pull all the tools out and do whatever it takes," Edgerton said. "And I think we relate to that because when we're backed into a corner, it's amazing what we'll achieve, it's amazing what kind of soldier we'll become if we're put in a fight. And Brendan to me is one of those guys."
That the movie is about fighting, not competitive knitting, does of course matter; as the brothers descend upon the nationally televised tournament, it becomes obvious just how hard each actor worked to reach elite levels of physicality and learn the difficult intricacies of the sport. Just listening to Hardy talk about their daily routine is a drain.
"Two hours boxing, two hours jujitsu... two hours choreography and two hours weight lifting everyday, 6-7 days a week," he rattled off, just touching on some of his difficult routine. "And then we had to maintain, we had to make weight and then we had to carb deplete when we were shooting so the whole process [was] pretty arduous."
The diet, too, was a sacrifice. At least from Morrison's point of view.
"I mean, I don't think I saw Joel eat anything but grilled chicken and broccoli six times a day for a month," she laughed. "I was like, I don't know how you will ever look at chicken again, this is ridiculous. I didn't even want to eat chicken after watching him eat so much chicken."
Of course, poultry overdose was the least of Edgerton's struggles; during a fight sequence, he was thrown and landed the wrong way, rupturing his MCL. His reaction, though, was befitting of the gritty character he portrays in the film.
"I was like fuck, this is going to jeopardize the movie and my place within the movie," he remembered thinking. "I had to be out six weeks, for the sake of rehabilitating myself, the advice of the doctor, and also the insurance. I couldn't do anything for six weeks, but I kept training, I was in the pool, I kept weight training."
That speaks to the fact that, unlike many fight movies, the production pulled no punches when it came to making the action as real as possible. The authenticity comes thanks to O'Connor's passion for the sport, which he chronicled in a 2002 documentary called "The Smashing Machine," about UFC pro Mark Kerr. The intricacies and skill required weren't lost on Edgerton.
"Fighting in the ring or cage is very much different from fighting in the street," he said. "Fighting in the street is very much fueled by anger, pride and male dominance and ego. Not to say that some of that doesn't come to play in the cage, but it's a sport, it's strategy, and the more I got to know any of the fighters, I realized that that's the way they're coming at it, they're coming at it much more controlled. When they get punched in the face they aren't getting angry and coming back, they're seeing it as a big game of physical chess."
Ultimately, though, the fighting proves to be more than just strategy. The estranged brothers, of course, end up meeting in the final match of the tournament, with the money and any sort of reconciliation on the line. To O'Connor, more than being just sport, the battle said more than any final, emotional speech could ever muster.
"They grew up in a home where they were raised to communicate through violence so that's how they repair the damage of their past," the director explained. "In five rounds, each punch, each kick, each strike is a word, is a sentence, is saying something and, in essence, [one] needs to die at the hands of his brother to be reborn."
"Warrior" hits theaters on Friday.
WATCH
:
REAL LIFE. REAL NEWS. REAL VOICES.
Help us tell more of the stories that matter from voices that too often remain unheard.