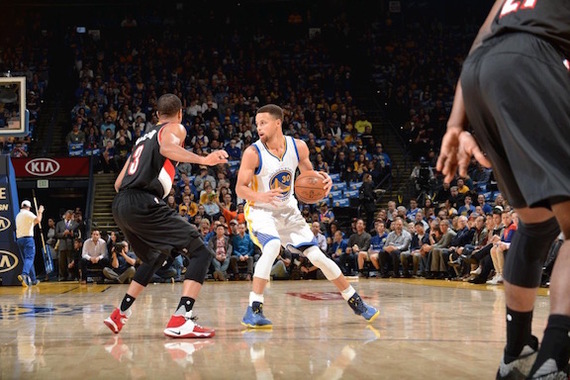 Oakland, CA - The last time these two teams met, Damian Lillard dropped fifty-one points and gave the Golden State Warriors their worst loss after the NBA All-Star break. But tonight, the Warriors got their revenge and handed the Portland Trailblazers a 128-122 loss, to record their 47th consecutive home win.
"I don't think there was revenge," Warriors head coach Steve Kerr said. "I think there was respect."
The Warriors were embarrassed after Lillard single-handedly outplayed and out-scored them. The Trailblazers 32-point victory last month in Portland was all but forgotten. There was no doubt Golden State circled this game on the calendar. Klay Thompson wasted no time and came out early dropping back-to-back three's.
Both Thompson and Stephen Curry combined for 71 points and went 15-for 25 from the 3-point line. Curry finished with 34 points while Thompson had 37. Last Monday against the Orlando Magic Curry became the first NBA player to make 300 3's in a season. Tonight his seven 3's pushed his total to 311.
"Klay came out blazing. Me, not so much," said Curry. "It took me a while to get into it. He brought a lot of energy on both ends of the floor. We kind of fed off of that. It was a huge pick up considering how poorly we played against them last time."
Lillard who had a phenomenal month of February made a clear statement to those who over looked him for not being added to the NBA All-Star game. But tonight he went flat, scoring 17 points on 5-for-19 shooting. Golden State's defense smothered Lillard leaving him missing shots he'd normally make especially in the first half.
Donning the comparisons to Curry in their last meeting, Lillard had no open shots and was unable to control Portland's tempo who trailed 20 points early in the first quarter. Lillard had two 50-point performances in the month of February couldn't keep that momentum going.
Thompson had a big part in Lillard's struggles. He was assigned to guard the point guard and forced him to miss shots from all over the floor. With a few losses this season the reigning NBA champs don't take to kindly to being blown out by their opponents. So it was pretty obvious they were coming out tonight with vengeance.
"He just had a great game last time we played them," Thompson said. "I just tried to take away that 3 ball. He's got range like Steph."
"They're a championship team, and they play like it," said Lillard said. "Offensively, we didn't shoot the ball well. They disrupted our offense. They switched it up a little bit on us. They just outplayed us."
Offensively a good effort from all followed by great defense in the second half, Golden State had no worries while maintain their 20-point lead through the fourth. Draymond Green added 17 points, 13 rebounds and seven assists while making all nine of his free throws.
Portland is now an after thought as Golden State looks to continue their winning streak when they host the Phoenix Suns tomorrow. Andre Iguodala, a key component off the bench had a nasty fall and limped off the court in the third with a sprained left ankle. His X-rays were negative, and is listed as questionable for tomorrow's game against the Suns.
Calling all HuffPost superfans!
Sign up for membership to become a founding member and help shape HuffPost's next chapter