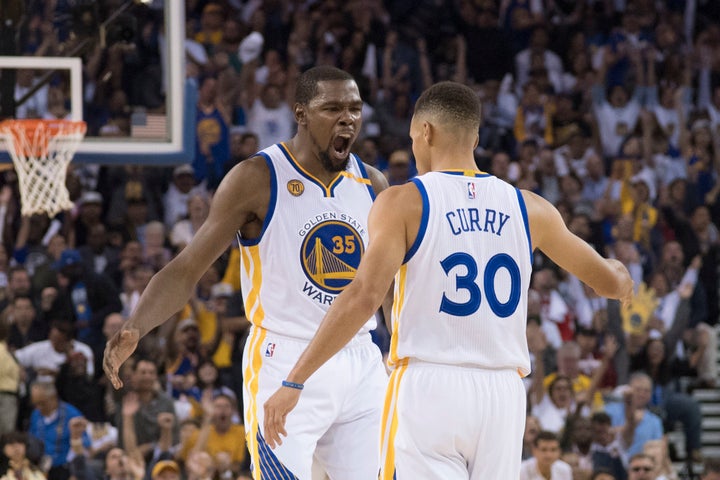 Draymond Green is the positionless, mercurial All-NBA selection for the Golden State Warriors. And in case you haven't heard, he isn't one to mince words. So when he tells reporters that "teams are trying to punk" the Warriors, he means it.
But whether or not Green appreciates the fact, there's a good chance that such treatment will only accelerate the team's growth. That's what happens when the NBA's all-time winningest single-season team goes out and poaches Kevin Durant, creating an embarrassment of riches the rest of the world can only envy.
During the Warriors' 106-100 defeat of Phoenix last week, Suns guard Brandon Knight knocked over Stephen Curry after he made a 3-pointer. It was a blatant foul, but officials didn't call it as such. Curry retaliated, shoving Knight into the stands and receiving a personal foul.
In sports, one year can make all the difference, and the Golden State of today compared to last season is a perfect example. As Jerry West ― who serves as a consultant for the franchise ― told me recently, the term "villain" aptly describes the new-look Warriors. The 2015 and 2016 Warriors, by contrast, were anything but. West should know: He was the last member of the organization to speak with Durant before he signed.
Hard as it may be now, the 3-1 Warriors can take solace in the fact that they are no longer the league's darlings.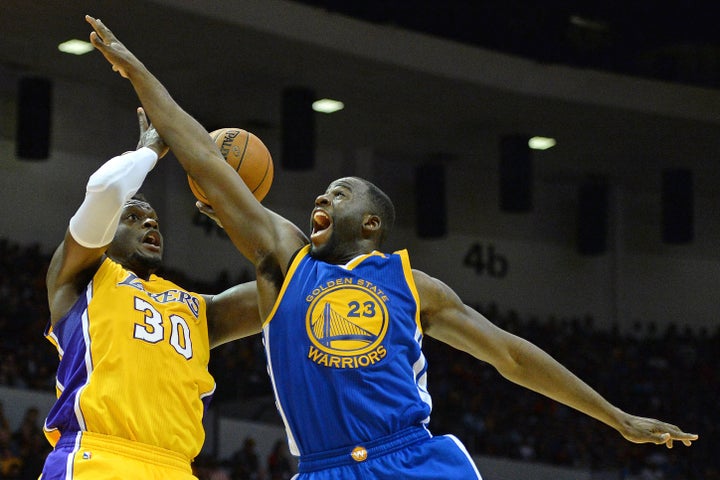 Perhaps it's not exactly the same thing, but the Miami Heat faced similar antipathy when the Big Three were formed in 2010. In LeBron James, fans saw a young superstar ― entering his prime and supposedly "chasing rings" ― and responded with a flood of vitriol that ended up poisoning the team's public image.
Last week, during Durant's second game with the Warriors ― a 122-114 road win over New Orleans ― he picked up a technical foul after shoving Pelicans guard Lance Stephenson. Apparently, he felt Stephenson was being overly physical. 
"They're going to come at us physically," Durant said after the game. "We took it tonight. That team was pressuring us to try to get us out of our stuff."
The truth is that as talented and imposing as Golden State surely is, the acquisition of Durant signals massive changes in the way this team will operate, and not just offensively.
Durant is a wonderfully versatile defender who can protect the rim, but he's a very different defender from the more physical Harrison Barnes, who's now in Dallas. Andrew Bogut, an elite rim protector himself, has also gone to the Mavs. 
From an offensive standpoint, Durant's ability as a spot-up shooter is world-class. But does that mean Klay Thompson won't receive the same number of shots ― or the same types of shots? Does it mean Draymond Green will be less of a playmaker, given Durant's creative abilities? And what does it do to the maestro himself, Mr. Curry?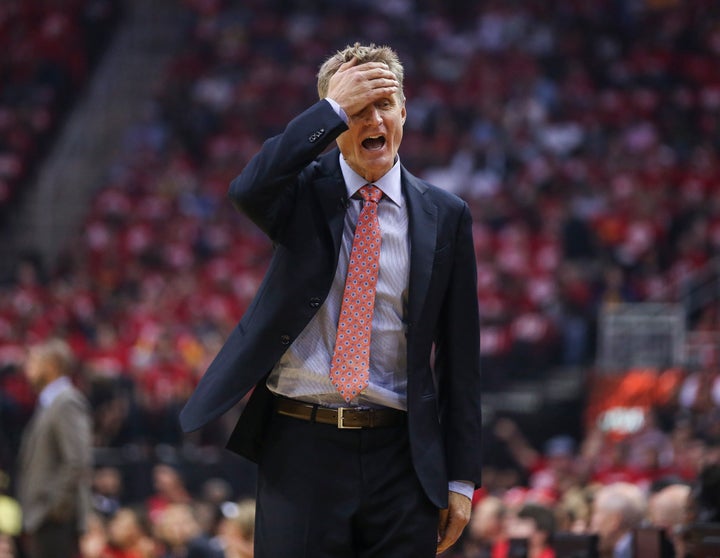 These are all things that take time to figure out ― and the process doesn't get any easier when you're the game circled on everyone else's schedule, as the Warriors will be for the foreseeable.
"This is not coming easily," head coach Steve Kerr said following the win over the Suns ― a win that uncharacteristically featured 16 Warrior turnovers. "We have a new team and a lot of different faces, but even for the returning guys, it's a different mix."
It's worth remembering that it took 25 games for the Dubs to take their first L in 2015. It took all of one for it to happen this season.
"Our offense is not going right now like it will," Green said after the Suns game.
Predicting the NBA is a tough business, but it seems safe to assume Green isn't wrong.
Keep in mind that Miami's Big Three limped to a 9-8 start in 2010, only to reach the finals that season and then win two consecutive titles in 2012 and 2013. For a team with the Warriors' star power, early challenges like what we've seen could very well give way to growth and success down the road.
"We'll find our stride eventually," Kerr said.
REAL LIFE. REAL NEWS. REAL VOICES.
Help us tell more of the stories that matter from voices that too often remain unheard.