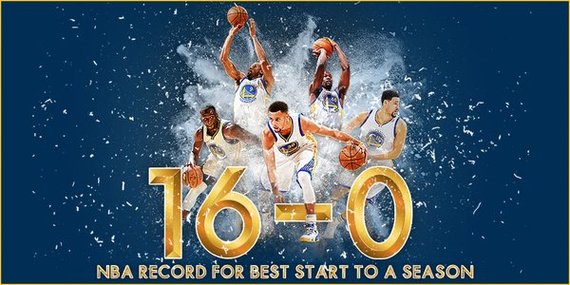 Oakland, CA -- It was bound to happen. But no one thought it would come this soon. The Golden State Warriors have surpassed some of the best teams the NBA has ever produced. After winning the NBA Championship last season, this young team keeps out-dueling every opponent they face yet there's still 66 more games to left in the season.
Tonight the Warriors set the best record in NBA history with 16 wins after embarrassing the Los Angeles Lakers 111-77. A night where one of the NBA's best player, Kobe Bryant shot 1-of-14 for just four points matching the worst shooting performance of his career. But Bryant kept the humor light in acknowledging nothing could be done against a dominant team.
"I could have scored 80 tonight, it wouldn't have made a damn difference," said Bryant.
Golden State has been unstoppable since the season started. At this point no one knows when that first loss will come. Some predict it will be the Christmas game against LeBron James and the Cleveland Cavaliers while others await the San Antonio Spurs. Until then no team has come close to amassing the amount of confidence and determination as the Warriors.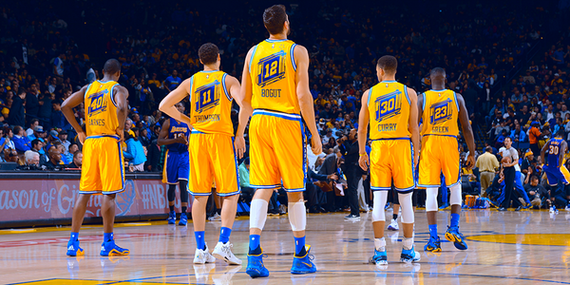 "If we don't win an NBA championship, who cares about the 16 games?" Draymond Green said. "At the end of the day, it's 16 wins in a month. We set NBA history, in the history books. But, it's still 16 regular-season games."
The goal is another NBA Championship and Golden State knows they did not win that by beating the Lakers tonight. It's safe to say a team with a record of 2-11 prior to the opening tip had no chance against such a peerless team. The Warriors now chase the 1971-72 Lakers who won straight 33 games (which was the longest winning streak in professional sports) or the 1994-95 Chicago Bulls 72-10 season record. Which ever comes first will be another astounding feat.
"There most likely will come a time when we take a loss and have to deal with the emotions of that," said Stephen Curry. "We're probably not going to go 82-0 and we're probably going to lose a couple games in the playoffs."
The reality of basketball is just that: A loss is coming, but when? Who knows when that day will come? In the meantime, the NBA MVP and Golden State will continue to get better every game. The Warriors won their 20th consecutive regular season game. They are the sixth team in league history to achieve this while extending their regular season home winning streak to 27 games.
Calling all HuffPost superfans!
Sign up for membership to become a founding member and help shape HuffPost's next chapter