Mark Stevens, a minority owner of the Golden State Warriors who shoved Toronto Raptors guard Kyle Lowry during Wednesday night's NBA Finals game, has been fined $500,000 and banned from all NBA games for a year.
"Stevens' ban is effective immediately and carries through the 2019-2020 NBA season, including the postseason," the NBA and the San Francisco Bay Area team said in a joint statement Thursday afternoon.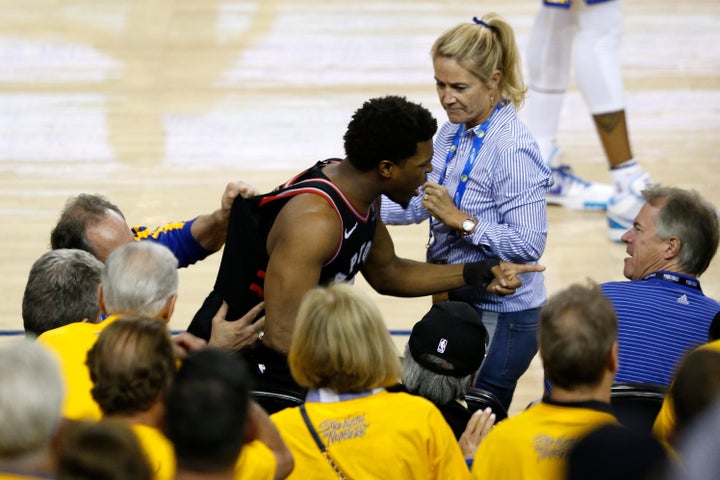 Stevens, a venture capitalist, pushed Lowry early in the fourth quarter of the third game of the finals when the Raptors player chased down a loose ball and accidentally collided with fans on the sidelines. When Lowry tried to stand up, Stevens reached over and shoved him in the shoulder.
The Warriors removed Stevens from the game shortly thereafter and said the next day that he would be banned from the remaining NBA Finals games.
Stevens issued an apology Thursday evening, saying he was "embarrassed by what transpired" and had reached out to Lowry to apologize.
Earlier on Thursday, the Raptors player called for Stevens to face harsh consequences.
"He's not a good look for the ownership group they have," Lowry said. "A guy like that showing his true class, he shouldn't be a part of our league. There's no place for that."
The National Basketball Players Association also called for the incident to be taken seriously, saying it believes in a zero-tolerance policy when it comes to verbal or physical assaults on players.
This article has been updated throughout.
Popular in the Community